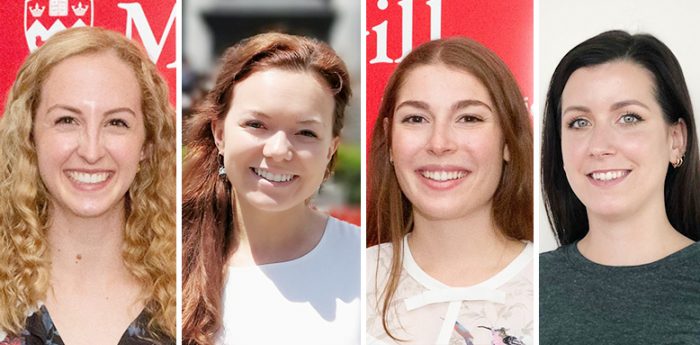 By Christina Kozakiewicz, Ingram School of Nursing

Nursing students Shelby Adams-Perron, Jasmine Alami, Kina Massarotto and Cassandra Veilleux are among the nearly 200 students who officially graduated from the Ingram School of Nursing at the Spring Health Sciences Convocation Ceremony on May 28, 2019. Shelby, Jasmine, Kina and Cassandra, each received awards recognizing their individual achievements realized throughout the course of their nursing studies at McGill. In celebration of Spring Convocation, they shared their thoughts with us about why they chose to study nursing, what they plan to do in the future, and what they would say to anyone contemplating pursuing an education in nursing at McGill.

What made you choose nursing as your future profession?
Shelby Adams-Perron:

I originally went into nursing in 2014, when I started my DEC in Nursing at Dawson College. I chose Nursing because I knew I wanted to do something that challenged me and helped people every day. I wasn't sure initially if nursing would work out, but I ended up loving it and continuing on to my Bachelor of Nursing at McGill.
Jasmine Alami:

I've always known that I enjoy working in collaboration with people, but it's while I was volunteering at the hospital during my Bachelor's at McGill that I uncovered the amazing work nurses do for patients. I knew then that I wanted to be a part of this beautiful profession, which allows me to improve patient's health on so many levels. Nurses are in a perfect position to effect positive change within the healthcare system, which, to me, is important and gratifying work!
Kina Massarotto:

I decided to become a nurse because I have always considered that health is our most valuable asset, the foundation on which everything rests. I quickly learned that a career in nursing would enable me to help people reach, maintain or regain optimal health by accompanying them through their care trajectory. I wanted to practice a profession that would allow me to do undertake concrete actions every day, and to have a positive impact on the patients who will cross my path. The many faces of the profession attracted me! Nurses are present in all walks of life and play a critical, multi-faceted role, many of which are not well known: teaching, assessment, coordination of care, planning and follow-up, in addition to the delivery of nursing and medical treatment. I saw the nursing profession as a world of opportunity and infinite learning and I wanted to dive into it.
Cassandra Veilleux:

I have always had a keen interest in the health sciences, especially in hospital environments. For some reason, I always feel at home whenever I set foot in this type of setting. When my roommate began studying nursing, she would come home and tell me all about her exciting and rewarding experiences, and that's when the idea of becoming a nurse myself started to take shape. When I applied to the Master's in Nursing program at McGill, I did not expect to receive a letter of acceptance, and when it became reality, I was so excited about becoming a nurse that I immediately knew that it was my calling. After much thought and after consulting with my closest friends, it became clear that I already had many strengths suitable for this profession and it was easy to imagine my future as a nurse.
How does winning your award make you feel? Shelby Adams-Perron
, recipient of the
Barbara Ann Altshuler Prize
, awarded by the Ingram School of Nursing to an undergraduate nursing student on the basis of clinical and academic achievement
:

Winning this award came as a surprise, and I'm very happy. I had no idea I would be winning an award, but it feels really good to be recognized for all my hard work and dedication over the last two years.
Jasmine Alami
, recipient of the
F. Moyra Allen Memorial Award
, established in honour of the distinguished career and international renown of F. Moyra Allen, B.N., Ph.D., Emeritus Professor of Nursing, awarded by the School to a graduate of the Master's program who shows potential for a distinctive career in the study and practice of nursing:
It's a bit surreal! I feel extremely thankful to have been selected for this award. It's a reflection of my hard work, and that of my peers, over the course of the past three years. Women like Dr. Moyra Allen shaped Canada's healthcare and the nursing profession itself, and I can only hope to provide such a contribution through my own career.
Kina Massarotto
, recipient of the
Pearson Book Prize
, awarded by the Ingram School of Nursing to a graduating student with a high GPA:
To receive this prize is a real honour. At McGill University, I am surrounded by talented and passionate individuals, so knowing that I stood out in my own way touches me a lot. I take it as an indication that I am on the right track, and that all the sacrifices and the efforts made are recognized.
Cassandra Veilleux,
recipient of the
Evelyn Rocque Malowany Convocation Prize
, awarded by the Ingram School of Nursing to a graduating student who has demonstrated initiative and leadership in the profession:
In all honesty, when I got the news that I received this award, I was speechless. I was not expecting this at all, and I'm so honoured. I would have never thought that I would receive this kind of acknowledgement, so I feel very fortunate and I thank all those who nominated me!




What are your plans for the future?

Shelby Adams-Perron:

I plan to work for the next couple of years on a general medicine floor to gain nursing experience, and then to eventually apply for the Master's program, Primary Care Nurse Practitioner or Acute Care Nurse Practitioner.
Jasmine Alami:

I am starting my career as a nurse on the inpatient surgical unit C8 at the Royal Victoria Hospital. I'll also be working on publishing my Master's research project. And of course, I will continue involving myself with provincial healthcare organizations to keep promoting progress in patient care and in the nursing profession!
Kina Massarotto:

I'm starting out as a Clinical Nurse in the Emergency Department at the Royal Victoria Hospital. I hope to work there for some time, in order to gain experience, and then I would like to continue my studies at the Master's level, when my professional identity will be more developed. In addition to emergency care, I have a keen interest in mental health and community health.



Cassandra Veilleux

:

In the near future, I will be starting my nursing career at the Royal Victoria Hospital in a unit covering seven different departments including general surgery, gynecology, urology and oncology. Alongside this, I will remain on the lookout for different opportunities that would allow me to become the best version of myself as a nurse!
What would you say to anyone considering going to McGill to study Nursing?Shelby Adams-Perron:

I would say to do it. It is definitely a lot of hard work and long hours, but you will get amazing experiences and opportunities that will make you a better nurse. Nursing is a challenging but worthwhile profession, and McGill is a good place to start your nursing career.
Jasmine Alami:

If you're ready to push yourself, and to be part of a School that promotes nurse's ingenuity and autonomy, definitely go for it. You will learn the centrality of the patient and their family in all of healthcare. You will learn what influence you can have on your patient's lives, but also on your units, your hospitals and the system at large. There will be countless opportunities to get involved and advance your knowledge: take them!
Kina Massarotto:

Move forward with confidence in the direction that inspires you! The more you invest in your studies, the more you will get out of them. It takes strong motivation to work in the nursing profession. Always remember why you do what you do, and you will see that the sacrifices and efforts are well worth it. I would also say to Francophones, do not to have any fear of studying in an Anglophone university. I am francophone and I quickly felt at home at McGill. This is one of the best universities in Canada and I think its reputation is well deserved.
Cassandra Veilleux:

To all those who are hesitating or who do not know if nursing is the right fit for them, I strongly recommend that you apply, and make the jump. From there, if you get accepted, it takes less than two months for you to set foot in a nursing environment and to get a real sense of your future profession. This time will help reaffirm your choice. And the more time that passes, the more we learn, the more we discover and the more we realize what is really meaningful to us among the many choices we are offered. So… what are you waiting for? 
Congratulations to all our Nursing graduates!

May 31 2019