McGill Medicine grad also named co-winner of the Lou Marsh Trophy as Canada's athlete of the year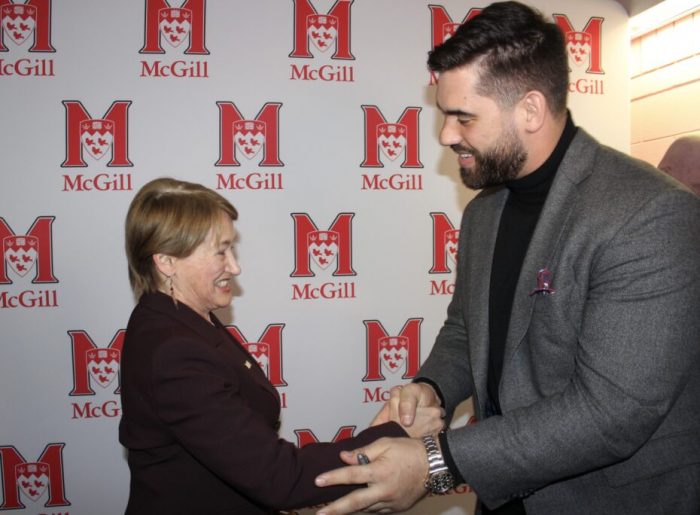 Source: McGill Reporter

Even though he has not played a single down of football since his Kansas City Chiefs defeated the San Francisco 49ers 31 – 20 in Super Bowl LIV on February 2, Laurent Duvernay-Tardif is one of five athletes named Sportsperson of the Year by Sports Illustrated.

Duvernay-Tardif, who earned his medical degree from McGill in 2018, is on the cover of the December issue of SI, along with fellow honorees LeBron James, Breanna Stewart, Patrick Mahomes and Naomi Osaka. The issue is titled The Activist Athlete: Five Who Inspired in 2020.

Duvernay-Tardif was touted for his selflessness and service, putting his professional football career on hold and working on the frontlines of the COVID-19 pandemic as a volunteer at a local long-term care facility.

"As one of few Canadians to win an NFL title, a key protector of MVP QB Patrick Mahomes and the starting right guard on a burgeoning dynasty in Kansas City, Laurent was already a sports hero," writes Dr. Jenny Thompson in her Sports Illustrated essay on Duvernay-Tardif. "But it's like he could see that now, more than ever, our society needs medical heroes, and it doesn't matter whether you're the one making decisions in the intensive care unit, or you're giving orderlies and nurses a much-needed break. He's more of a hero now than he ever would be on the field."

"As athletes, we have the power to make a positive impact in our society," Duvernay-Tardif tweeted following news of the award. "To be recognized for my involvement off the field by one of the biggest sport awards means everything to me."

The native of Mont-Saint-Hilaire dedicated the SI award to "all the healthcare workers who have been making huge sacrifices in order to protect and care for others."
Pandemic changes everything
Ten short months ago, the world was a very different place.

On February 2, 62,000 fans packed Miami's Hard Rock Stadium to watch Duvernay-Tardif and his Kansas City Chiefs win Super Bowl LIV. Three days later, a crowd that media outlets estimated between 800,000 and 1 million people squeezed into downtown Kansas City to cheer their conquering heroes.

Arriving back in Montreal, Duvernay-Tardif's got a hero's welcome at Fête des neiges; hosted several blood drives as spokesperson for Héma-Québec; and returned to McGill for the unveiling of a banner in his honour. Finally, on February 18, he received a standing ovation as he was awarded the Medal of Honour at the National Assembly.

Wherever he went, the massive offensive lineman drew a crowd, with adoring fans squeezing in close to pat his back, hug him or shake his hand. It was a time with no masks, and no social distancing.

One month later, on March 11, the World Health Organization declares the COVID-19 outbreak a pandemic and everything changed.

Duvernay-Tardif, trained as a doctor, did not hesitate, answering the all-hands-on-deck call of Quebec Premier François Legault. By April, he had traded his helmet and shoulder pads for a face shield and scrubs, committed to help some of society's most vulnerable people.
"Well done, doctor"
In July, Duvernay-Tardif became the first NFL player to opt out of the 2020 season due to COVID-19 concerns. "Being at the [COVID-19] frontline during this offseason has given me a different perspective on this pandemic and the stress it puts on individuals and our healthcare system," said Duvernay-Tardif at the time. "I cannot allow myself to potentially transmit the virus in our communities simply to play the sport that I love. If I am to take risks, I will do it caring for patients."

"We… need more people like Laurent," wrote Dr. Thompson in her SI essay. "Most who go into medicine do so because they love science, sure, but also because they love people and humanity, because they want to make a difference in the world. Clearly, that is coming through for him right now, as he forgoes the glory inherent in defending a Super Bowl title to help his fellow humans, to wade back onto the front lines and fight COVID-19 at that long-term care facility in Quebec, while also studying public health at Harvard. His choice was difficult but admirable, in the most staggering way, and he should be celebrated not for his accomplishments on the field but for the choice he made in 2020 to leave the gridiron for something more important. Well done, doctor."

****

Duvernay-Tardif was honoured yet again when, on December 8, he was named co-winner of the Lou Marsh Trophy as Canada's athlete of the year. Alphonso Davies is a professional soccer player on the Bayern Munich club in Germany's Bundesliga. The 20-year-old Davies became the first Canadian to win a Champions League men's title.

"I think that as a Canadian athlete winning this prize, this distinction is by far is the greatest sports homage I can receive. I'm truly honoured," Duvernay-Tardif said at a virtual press conference.

"In the context of the pandemic, to give such an award for sports accomplishments but also for sacrifices done outside the field, I think it's a beautiful combination," said Duvernay-Tardif. "When I opted out (of the NFL) in July, my goal was to help, to contribute," Duvernay-Tardif said. "I'm part of a movement, one of thousands of people who went to work in long-term care facilities and hospitals, retired nurses, doctors, health-care workers. I took a lot of pride in being part of that."

"To be recognized among those great athletes, I'm grateful. I made those sacrifices like thousands of others and I think the only reason I got those awards was the Chiefs happened on win the Super Bowl in 2020," said Duvernay-Tardif. "These awards also recognize all those workers on the frontline and I am accepting these awards on behalf of them."

December 9 2020