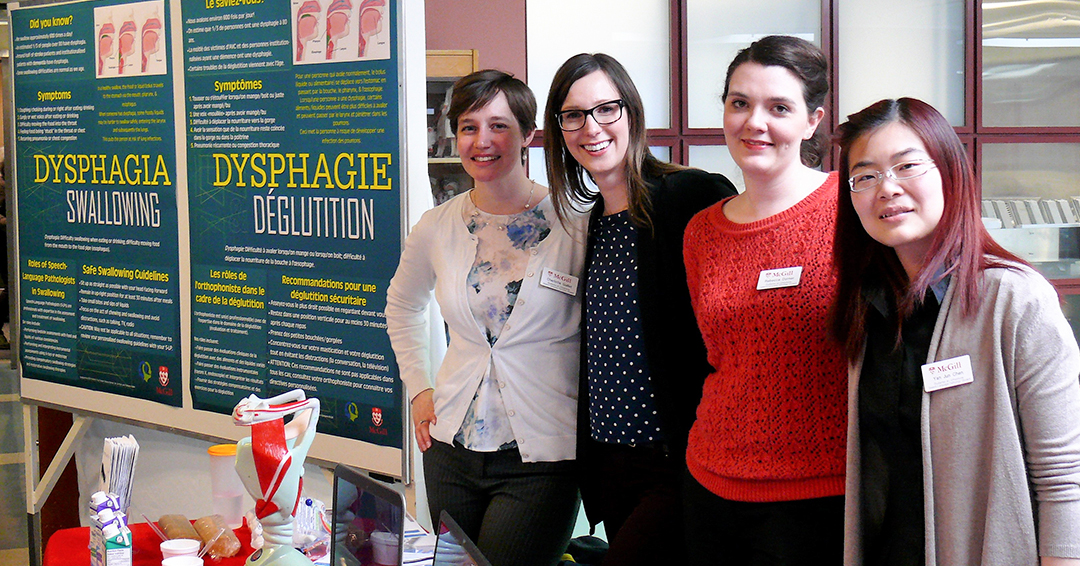 The newly restructured master's program in speech-language pathology will keep McGill's School of Communication Sciences and Disorders at the forefront of innovation in an evolving field, while prioritizing students' needs with a more balanced workload  
In the past 20 years, the pace of change in speech-language pathology has accelerated rapidly in response to clinical innovations and demographic shifts. Recognizing the need to re-imagine its educational model for a new generation of students, McGill's School of Communication Sciences and Disorders (SCSD) initiated an ambitious overhaul of its flagship graduate program. In Fall 2022, the new MSc(A) in Communication Sciences and Disorders; Non-Thesis; Speech-Language Pathology will welcome its first batch of students.
"This redesign was a long time coming," says Susan Rvachew, PhD, Associate Dean and Director of the SCSD. "It's important that our programs are known for embodying excellence in the field, and to maintain that excellence, we knew we had to change the way we were teaching our students."
The new MSc(A) program is carefully designed to align with profession-wide changes in content, pedagogy and inclusivity.
Smarter content, balanced course load  
In order to keep pace with changes in the profession in recent years, the SCSD has gradually added content to the MSc(A) program in a wide range of subjects, including swallowing disorders, genetics, autism spectrum disorders, literacy and dyslexia, counselling, cultural competency and interprofessional education. "The scope of responsibility for a speech-language pathologist seems to widen a little more with every passing year," Rvachew reflects. "When I was certified as an SLP in the 1980s, we didn't address issues like literacy or swallowing disorders. Now they are a significant part of the job."
While additions to the MSc(A) curriculum have successfully prepared students for the demands of a career in SLP, they have also placed an unsustainable burden on students' time. Rvachew estimates that before the redesign, classes, study time, and clinical practice required 50 to 60 hours a week. "The load was too heavy for our students and not sustainable," she says.
The new MSc(A) program still requires 82 credits over the course of 24 months, but the introduction of a new summer term significantly reduces the course load in the fall and spring. To account for additional courses in subjects like counselling and essential competencies, portions of the previous curriculum are streamlined and condensed.
Achieving competence
According to Rvachew, it's not just the scope of responsibility that has evolved rapidly in the SLP profession. The way in which the health professions train the next generation has also shifted. Traditionally, students have only undergone competency assessments in their clinical rotations. In the redesigned program, their academic classes will also feature a more competency-based approach.
"This approach switches the focus from knowledge areas to building competencies in serving specific populations," explains Rvachew. Where a question on an SLP licensing exam in years past may have asked students to name symptoms of dysarthria, for example, today's exam will ask students to answer treatment questions about the case of 85-year-old woman who has experienced a stroke. In four essential competencies courses, students will select workshops they need to achieve required clinical competencies and build a portfolio of competencies achieved to carry with them into a clinical setting. The building of this portfolio will ensure that students enter clinical practice with confidence to apply clinical competencies to a broad range of cases.
Promoting inclusion
As the scope and pedagogy of the SLP profession have evolved, so has the demographic makeup of the patient population. Rvachew cites the Truth and Reconciliation Commission in influencing the SCSD's decision to prepare students to serve Indigenous communities. She also points to equity initiatives inspired by Black Lives Matters in schools where students receive SLP services. In the new MSc(A) program, courses and units on cultural competency will equip students to effectively serve a more diverse range of patients, particularly those from historically underserved populations.
"While we haven't witnessed the new program in action just yet, we're confident that it will improve the educational experience for our students and patients alike," says Rvachew. "By aligning the program with the changes we're witnessing in our profession, we will solidify our reputation as leaders in excellence and innovation. It's an exciting time to be an SLP."
December 9, 2021