David Saint-Jacques becomes the second member of the McGill community to perform a spacewalk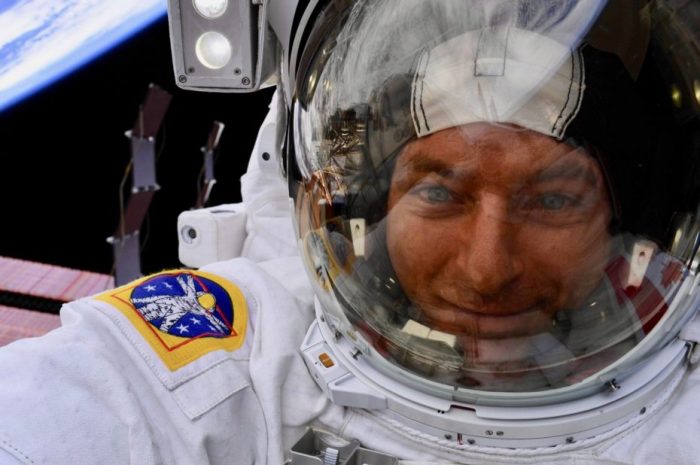 Source: Neale McDevitt, McGill Reporter

On April 8, David Saint-Jacques, an Adjunct Professor of Family Medicine, became the fourth Canadian astronaut – and the second McGillian – to take part in a spacewalk.

Just after 7:30 am, Saint-Jacques and NASA astronaut Anne McClain stepped outside the International Space Station (ISS), the giant floating lab orbiting some 408 kilometres above Earth.

The pair successfully tackled a number of tasks over the course of six hours and 30 minutes, including relocating a battery adaptor plate, upgrading the station's wireless communication system and connecting jumper cables along the midpoint of the station's main truss to give Canadarm2 an alternative power source.

Canadarm2 is a robotic arm that is essential to the maintenance of the space station. the cables would permit the arm to make repairs in case of an outage without requiring a spacewalk.

Back aboard the ISS, Saint-Jacques was quoted as saying the spacewalk was "a glimpse of the future as we venture further into space." He said the international effort was an excellent example of collaboration.

"Because when we manage to look beyond our differences, we achieve things that seem impossible," said Saint-Jacques. "That's how we progress."
McGillians in orbit
"All and all, a very busy spacewalk," said retired astronaut Dafydd "Dave" Williams from Canadian Space Agency headquarters in Saint-Hubert.

Williams talked about the steady, deliberate speed with which the astronauts went through their assigned tasks. "Sometimes when you watch a spacewalk, it seems very, very slow," he said. "It's important to move slowly in space because there's nothing to stabilize you …. You have to move really slowly to maintain control."

Williams (BSc'76, MDCM'83, MSc'83, DSc'07) knows more about spacewalking than any Canadian. He holds the Canadian record for the most spacewalks, with three for a total of just under 18 hours outside the space station during a 2007 mission. Williams was also the last Canadian until Saint-Jacques to have performed a spacewalk.

Saint-Jacques is the most recent member of an exclusive group of McGillians who have flown space missions.

In 1996, Robert Thirsk (MD'82) became the first member of the McGill community in space, as a crew member aboard the Space Shuttle Columbia during a 16-day mission. In 2009, Thirsk returned to space on a 188-day mission aboard the ISS.

Williams served as a Mission Specialist on board on board the Space Shuttle Columbia for a 15-day mission in 1998. He returned to space in 2007, as part of a 12-day mission on the ISS.

Governor General Julie Payette (BEng86) is a veteran of two space flights, in 1999 and 2009. During the latter mission, she joined Robert Thirsk aboard the ISS. In all, Payette logged over 611 hours in space.

The McGillian-in-orbit tradition may be continued with Jennifer Sidey-Gibbons (BEng'11) an Engineering grad who became an astronaut in 2017. Sidey-Gibbons is currently in Houston, Texas, taking part in the Astronaut Candidate Training Program at the Johnson Space Center as a member of the 2017 National Aeronautics and Space Administration (NASA) astronaut class.
Ongoing scientific experiments
Saint-Jacques arrived at the space station with McClain and Oleg Kononenko of the Russian space agency Roscosmos on Dec. 3. He is scheduled to return to Earth in June.

Over the course of his mission, Saint-Jacques has been conducting a number of science experiments, using himself as the primary test subject. He has been monitoring the effects of space on everything from bone density to ocular pressure. Looking to develop new programs to keep astronauts healthy in space, the experiments will help determine the best ways to physically prepare astronauts for a potential mission to Mars.

April 10, 2019