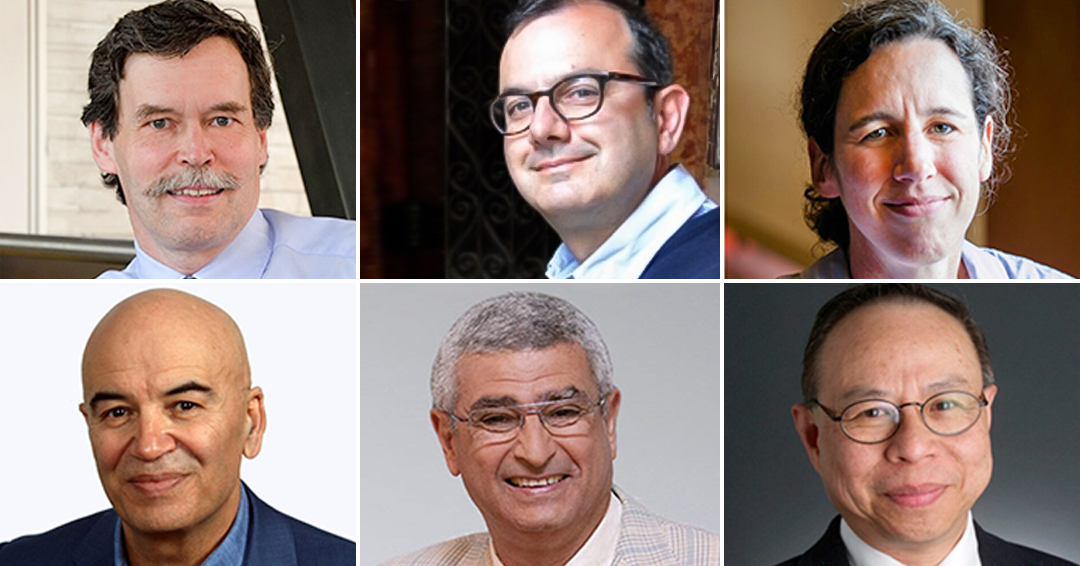 New Fellows recognized for contributions to the promotion of health science
On September 13, six members of the McGill community were welcomed into the ranks of the Canadian Academy of Health Sciences (CAHS) as part of the cohort of new CAHS Fellows. One of the most prestigious honours in Canadian health sciences, election to the CAHS recognizes individuals for their leadership in and commitment to their field of expertise.
"I would like to personally congratulate all the applicants that were elected as a Fellow in the Canadian Academy of Health Sciences for 2021. This recognition is a reflection of their dedication and excellence in their field," said Dr. Proton Rahman, Chair of the Fellowship Committee. "We look forward to having their expertise further enrich the work of our Academy."
Election to Fellowship in the Academy is considered one of the highest honours for individuals in the Canadian health sciences community. Elections are based on a nominating and peer review process that seeks to recognize those who are marked by a record of substantial accomplishment. CAHS Fellows, drawn from all disciplines across the nation's universities, healthcare and research institutes, evaluate Canada's most complex health challenges and recommend strategic, actionable solutions.
"Becoming a member of the Canadian Academy of Health Sciences recognizes Fellows' dedication to health sciences," says Dr. Chris Simpson, President, CAHS. "We are proud of their accomplishments and we are honoured to welcome them to the Canadian Academy of Heath Sciences."
Here are the six newly elected Fellows from McGill along with the CAHS citation:
Dr. Jean Bourbeau, Professor, Dept. of Medicine, Faculty of Medicine and Health Sciences
Dr. Jean Bourbeau is an international researcher and leader in chronic obstructive pulmonary disease (COPD). He is the founder of the landmark Canadian Cohort Obstructive Lung Disease (CanCOLD), and "Living Well with COPD" for professionals and patient self-management with their international impact on healthcare, policy development and practice guidelines. He is the Past President of the Canadian Thoracic Society (CTS) and Director of the Center for Innovative Medicine, McGill University Health Centre. He was honoured with the "Distinguished Scientist Award", McGill University (2020-2025), the "CTS Distinguish Achievement Award" (2017) and the "Distinguished CHEST Educator" (2017-2020) of the American Colleague of Chest Physicians.
Dr. Alain Dagher, Associate Professor, Dept. of Psychology, Faculty of Science; Dept. of Neurology & Neurosurgery, Faculty of Medicine and Health Sciences
Dr. Alain Dagher is a neurologist at the Montreal Neurological Institute, McGill University. He was trained at the University of Toronto, McGill, Cornell University, and Hammersmith Hospital, London. His research has two components: (1) understanding of Parkinson's disease; (2) identify the neural mechanisms that support motivated decision-making, with application to obesity and over-eating. His research uses functional brain imaging in human subjects, including anatomical and functional magnetic resonance imaging, positron emission tomography, EEG and transcranial magnetic stimulation. Research focuses on Parkinson's disease, stress, addiction, gambling and obesity, as well as problem-solving, learning and experience of musical pleasure.
Dr. Lesley Fellows, Professor, Neurology & Neurosurgery, and Assistant Dean of Academic Affairs, Faculty of Medicine and Health Sciences
Dr. Lesley Fellows is an expert on the neurobiology of human decision-making. Her interdisciplinary work has shown how the frontal lobes guide everyday choices, from basic decisions about what foods to eat, to complex social choices such as voting. A neurologist-scientist, she studies the effects of stroke or Parkinson's Disease on decision-making and emotion, and how cognitive and mental health can be optimized for people living with chronic health conditions, such as HIV. A leader in her university and internationally, she has championed inclusion to ensure that academic medicine benefits from diverse experience and is applied to improve health for all.
Dr. Ridha Joober, Professor, Dept. of Psychiatry, Faculty of Medicine and Health Sciences
Dr. Ridha Joober is a psychiatrist who dedicated his research and clinical work to improve the care for patients with Neurodevelopmental disorders like schizophrenia, attention deficit/ hyperactivity disorder and autism. He contributed to the identification of several genetic variants and environmental risk factors implicated in these disorders or in how these disorders respond to medications. He also contributed to the betterment of services offered to patients with neurodevelopmental disorders and their families through the conceptualisation and the advocacy of new, comprehensive, and more Humane care models. He also contributed to advance the theoretical framework of psychiatry as a medical discipline rooted in biology and human sciences.
Nabil G. Seidah, Directeur du laboratoire de Biochimie Neuroendocrinienne, Institut de Recherches Cliniques de Montréal (IRCM)
[Editor's Note: This citation appeared only in French] Leader mondial incontestable des "Proprotéines Convertases", ayant cloné sept des neuf Convertases, Nabil G. Seidah démontre leurs implications dans plusieurs pathologies humaines, notamment le rôle de PCSK9 dans l'hypercholestérolémie familiale. Il est à l'origine du médicament le plus efficace à ce jour pour réduire le LDL-cholestérol sanguin. Il est auteur de plus de 760 publications et a prononcé 470 conférences dans 30 pays. Ses découvertes majeures font partie des manuels de biochimie et de médecine. Passionné par la découverte, il a formé une relève de 150 étudiants/chercheurs. Son équipe cherche à identifier d'autres traitements contre les maladies cardiovasculaires, infections virales et cancer.
Dr. Togas Tulandi, Professor and Chair of the Dept. of Obstetrics and Gynecology, Faculty of Medicine and Health Sciences
Dr. Togas Tulandi is Chair of Obstetrics and Gynecology and Milton Leong Chair in Reproductive Medicine at McGill University and the Department Chief at McGill University Health Centre. He is a known reproductive/minimally invasive surgeon and has written over 400 articles, 60 book chapters, and 14 books. His research includes improved diagnosis, treatment and complications of endometriosis. Among many awards, he is a recipient of Award of Excellence in Reproductive Medicine and the Society of Reproductive Surgeons Distinguished Surgeon Award. He was a president of different societies nationally and internationally. He is the Editor-in Chief for the Journal of Obstetrics and Gynaecology Canada.