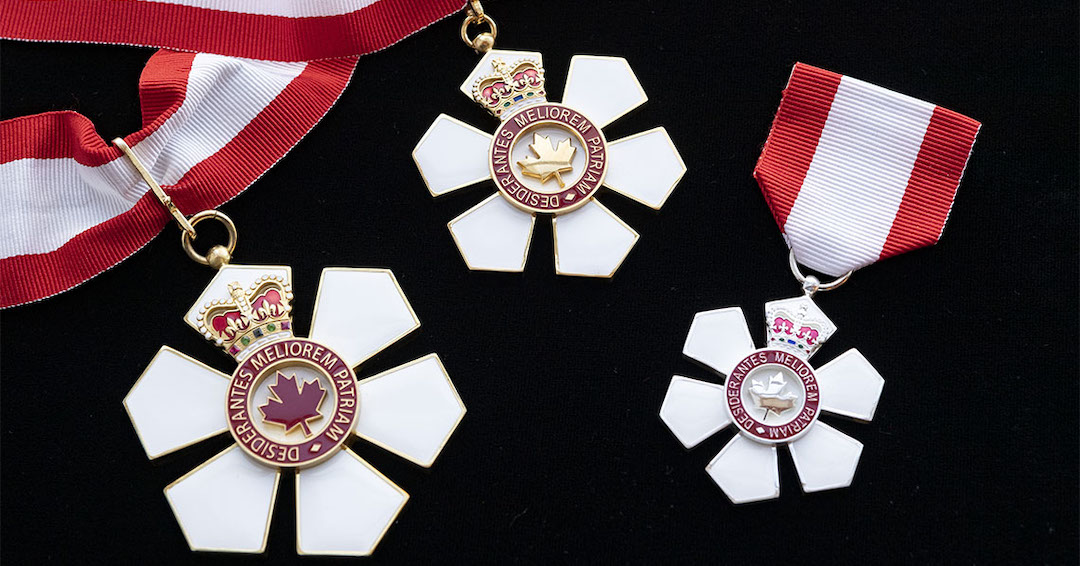 Three members of the Faculty of Medicine and Health Sciences, and four alumni, are among the 99 honorees announced on Dec. 29.
On December 29, Her Excellency the Right Honourable Mary Simon, Governor General of Canada, announced the newest Order of Canada appointments and promotions. Among the 99 honorees are three members of the Faculty of Medicine and Health Sciences— John J. M. Bergeron, Dr. Carolyn R. Freeman, and Dr. Bernard Joseph Lapointe—and four McGill alumni— Samuel Gewurz, Philippe Lette, Frantz Saintellemy, and Dr. David Saint-Jacques.
See below for more details about these McGillian's outstanding accomplishments.
"Pride and hope for the future"
The Order of Canada is one of our country's highest civilian honours. Appointments are made for sustained achievement at three levels: Companion, Officer, and Member. Officers and Members may be elevated within the Order to recognize further achievement based on continued exceptional or extraordinary service to Canada.
"What a beautiful way to end the year, honouring Order of Canada appointees and learning about the depth and range of their accomplishments," wrote the Governor General in a statement. "Celebrated trailblazers in their respective fields, they are inspiring, educating and mentoring future generations, creating a foundation of excellence in our country that is respected throughout the world. Their commitment to the betterment of Canada fills me with pride and hope for the future. Alianaigusuqatigiivassi. Congratulations."
Officers
The Officer level recognizes national service or achievement. Governor General Simon honoured two McGillians with this title:
Dr. Bernard Joseph Lapointe, O.C.
OC citation: For his career dedicated to the teaching and development of palliative care in Canada.
Dr. Lapointe is an Associate Professor in Oncology and Family Medicine, the Director of Palliative Care McGill, and the Chief of Palliative Care Services at the Jewish General Hospital. His research focuses primarily on the reduction and control of pain for patients living with a terminal illness. He has led or collaborated in a wide range of studies on pain management including the effects of new and experimental medications in the treatment of cancer pain, and the development of a classification system of cancer pain.
Dr. David Saint-Jacques, O.C., O.Q.
OC citation: For his outstanding contributions to science and technology, and to health care, as an engineer, astrophysicist, astronaut and medical doctor.
In 2007, Dr. Saint-Jacques completed his family medicine residency at McGill, focusing on first-line, isolated medical practice. After graduation, he served as Co-chief of Medicine at Inuulitsivik Health Centre in Puvirnituq, Nunavik, an Inuit community on Hudson Bay. An Adjunct Professor of Family Medicine at McGill, he also worked as a Clinical Faculty Lecturer, supervising medical trainees in Nunavik. After two years of intensive training, in 2018 he became the 234th person—and only the fourth member of the McGill community—to board the International Space Station.
Members
The Member level recognizes outstanding contributions at the local or regional level, or in a special field of activity. Governor General Simon honoured five McGillians with this title:
John J. M. Bergeron, C.M., C.Q.
OC citation: For his contributions to scientific excellence in the field of proteomics.
Professor Bergeron's highly cited research studies of the proteins in human and animal organs  uncovered their functions in health and disease. As the Chair of the Department of Anatomy and Cell Biology at McGill from 1996 to 2009, and as the Co-Director of the Laboratory of Systems Medicine and Cell Biology in the Department of Medicine, he demonstrated his leadership in academic and administrative affairs. In 2016, Bergeron received the McGill University Medal for Exceptional Academic Achievement, reserved for oustanding retired members of the academic staff.
Dr. Carolyn R. Freeman, C.M.
OC citation: For her leadership in the field of pediatric radiation oncology and for her sustained efforts to improve the quality of cancer care in Quebec and across Canada.
Dr. Freeman is an Associate Investigator of the RI-MUHC's Cancer Research Program, and a Professor in McGill's Gerald Bronfman Department of Oncology, and Department of Medicine. Her research focuses on developing new radiotherapy technologies to improve the care and engagement of patients with pediatric tumours and sarcomas. Dr. Freeman has served in leadership positions in numerous professional and scholarly organizations, including the College of Physicians of Quebec, the Canadian Association of Radiation Oncologists, and the Royal College of Physicians and Surgeons of Canada.
Samuel Gewurz, C.M.
OC citation: For his groundbreaking contributions to Montréal's urban development, and for his transformational philanthropy and community engagement.
Gewurz is president of the Proment Corporation, a Montreal real-estate development company that has planned and built over 6,000 condos and homes, and six waterfront communities, on the city's Nun's Island—as well as the first LEED gold residential towers in Quebec and one of Canada's only LEED ND neighbourhoods. He holds economics and political science degrees from McGill and, with his wife Brenda, has supported fellowships and a lecture series focused on urban planning.
Philippe Lette, C.M.
OC citation: For the excellence of his career in commercial, business and competition law.
Philippe Lette practices law at Lette, Lette & Partners. He did simultaneous legal studies at McGill and the Faculty of Law of Bordeaux in France, and after graduating was sworn in as a member of the Quebec Bar in Montreal and in Paris in 1969. He founded the first European office of the Lette firm, and was appointed as Legal Counsel to the Canadian and Swiss Embassies in France. Lette has served as the President of the France-Canada Chamber of Commerce, and a member of the Board of Directors of the Swiss Chamber of Commerce. He remains active in the life of his alma mater, having served on the Law Advisory Board and establishing the Philippe Lette Fellowships in Comparative Law. The McGill Alumni Association recognized his commitment by awarding him its Distinguished Service Award.
Frantz Saintellemy, C.M.
OC citation: For his contributions to innovations in leading-edge electronics technologies and to the country's entrepreneurial diversity.
The founder or cofounder of several successful start-ups, Frantz Saintellemy is an entrepreneur with 25 years of experience in automotive, IoT, sensing, semiconductors, and artificial intelligence. He is the president and chief operating officer of LeddarTech, a leader in automotive advanced driver assistance systems (ADAS), automated driving systems (ADS), fusion, and perception software technologies.  Saintellemy is also an angel investor, mentor and philanthropist. He cofounded, and chairs the board of, the Groupe 3737 non-profit innovation hub, which helps entrepreneurs and tech companies start, grow, and succeed, with the strategic objective of developing more entrepreneurs, creating more successful companies, more jobs, and sustainable financial independence. He is a founding member of Quebec's Innovation Board, and the current chancellor of Université de Montréal. Saintellemy  is a graduate of the McGill-HEC Montreal Executive MBA program.
Read the Governor General's press release.