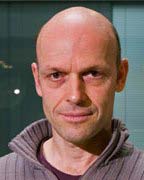 A seminar entitled "Neurobehavioural analysis of reinforcement and its relevance for substance abuse: results from the IMAGEN study" presented by Dr. Gunter Schumann will be presented on Wednesday 5 December at 11:30 am at the Strathcona Anatomy & Dentistry Building, located at 3640 University St. (corner Ave des Pins) – Room M-1

Adolescent behaviour has been associated with substance abuse and dependence later in life. Individual variability in reinforcement processes (i.e., (impulsivity, novelty seeking, reward dependence) predict risk for addictions and describe motivations for drug use. Investigating how motivational and emotional cues affect individual variability in reinforcement behaviour at the genetic, neurobiological and cognitive levels might inform us about neurobehavioural mechanisms conferring risk for addictions, thus potentially maximizing the efficacy and efficiency of early interventions.

This lecture will focus on the recent investigations in 14 year-old adolescents of reinforcement mechanisms known to confer later risk for addictions. Dr. Schumann will present structural and functional brain correlates of impulsivity and describe how they relate to reward anticipation and risk taking  in substance abusing adolescents. He will also discuss how gender and genetic factors influence neural mechanisms underlying novelty seeking and impulsivity, and how ADHD symptoms and early substance abuse are associated with distinct brain activity networks. Finally, he will discuss a novel mechanism underlying alcohol drinking behaviour, which has been discovered through translational research integrating animal, molecular and human gene x neuroimaging studies.

November 26, 2012