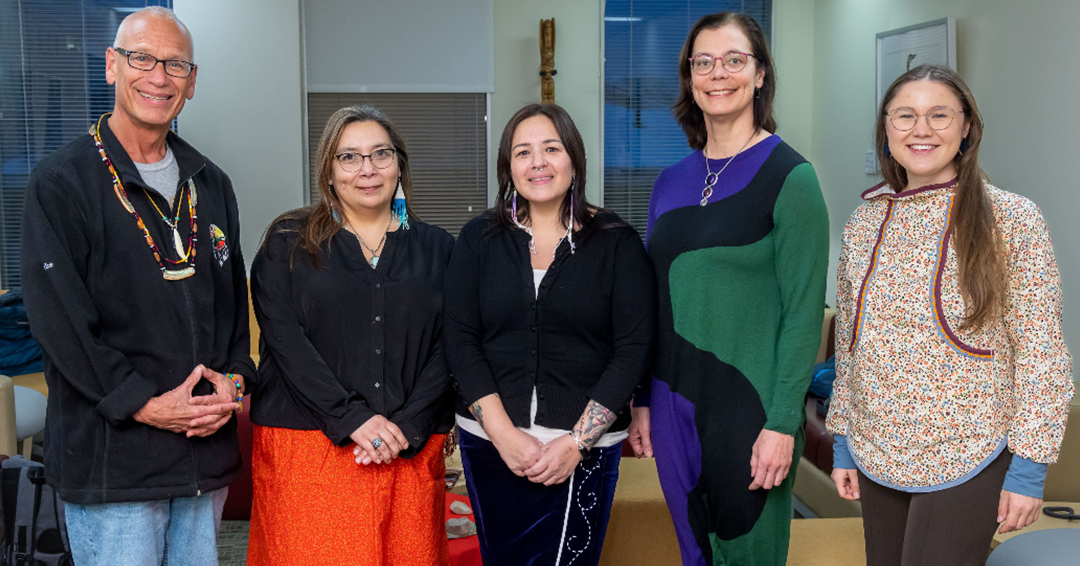 On February 23, the Indigenous Health Professions Program (IHPP) in collaboration with the Department of Family Medicine hosted a talk in the Department's Indigenous Space, as part of McGill's Winter Indigenous Speaker's series, inviting Sarah Konwahahawi Rourke, Ed.D., Director of the Indigenous Health Professions Program at McGill University. Ms. Rourke, a member of the Akwesasne Mohawk Nation who has worked with traditional knowledge holders, teachers, and elders for over 15 years, spoke about the importance of the Midwinter ceremony for the Haudenosaunee people.
We learnt that Midwinter ceremony (and all other ceremonies) are a space to find balance and commit to healing. During the darkness of the middle of winter, these ceremonies take place to lift our minds and support mental health. Since socialization is so vital for community, there is a sense of finding gratefulness in the ability to participate in song and dance and giving thanks to all in creation. Some children are also named during the ceremony, and thus the ceremony celebrates these children and their identity.
Ms. Rourke's presentation was about the balance between ancestral teachings, ceremonial practice, and contemporary challenges we all face. There was also a discussion about holistic approaches to healing by integrating traditional knowledge into everyday life.Ms. Rourke spoke about her intent to welcome in those who may be attending their first ceremony and may thus be uncertain about traditional practices. She reflected on a time when she too was reconnecting with her Haudenosaunee identity and returning to ceremony and the longhouse. Today she makes an effort to ensure those returning to traditional ways feel invited in to participate.
In the past few years, the pandemic and social distancing measures halted traditional ceremonies like Midwinter. Ms. Rourke reflected on the community impact of not being able to share ceremony with each other, in the traditional way. Returning to the long house for Midwinter this January, she described a renewed sense of joy at celebrating again with fellow community members. For her, the awe and excitement of the Midwinter ceremony was most evident in her dancing young daughter who, for the first time, was experiencing that joy of connection with culture and community.
Thank you to Ms. Rourke for teaching us about the Midwinter ceremony and to all those who participated.
Last year, the Department of Family Medicine created a new Indigenous space, dedicated to activities around Indigenous health and community outreach within the health sector, the first of its kind at McGill. Stay tuned for more events throughout the year in this new space where Indigenous knowledge keepers, elders, students, and scholars can share their experiences.