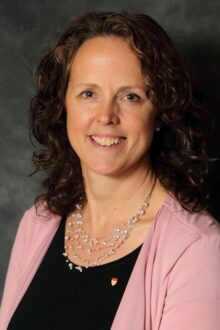 By Erin Douglas

Sarah C. Marshall, Director's Academic Associate and Physical Therapy faculty member at McGill University's School of Physical and Occupational Therapy (SPOT), has been elected the 60th President of the Canadian Physiotherapy Association (CPA). Her term runs from June 2017 to June 2019. The CPA is a not-for-profit professional association that serves over 14,000 Canadian physiotherapists, physiotherapy assistants, physical rehabilitation therapists and physiotherapy students from across Canada.

Sarah's involvement with the CPA spans over 35 years, including the past 3 years serving on the Board of Directors. Sarah is well poised to take over the leadership role, and can pull from both her clinical experience which spanned 27 years, as well as her experience working as a SPOT faculty member, Board Governance Committee Chair, and Board Liaison to the Canadian Council of Physiotherapy University Programs (CCPUP).

Sarah is looking forward to the challenge and states that she is eager to collaborate with all of the CPA's component groups to respect past history and tradition while moving forward to optimize the future of the CPA and of physiotherapy professionals in Canada.

The Mission of the CPA is to advance the profession of physiotherapy in order to improve the health of Canadians, and, accordingly, members are professionals dedicated to the health, mobility and wellness of Canadians.

Congratulations Sarah!

Read more about the CPA, here.