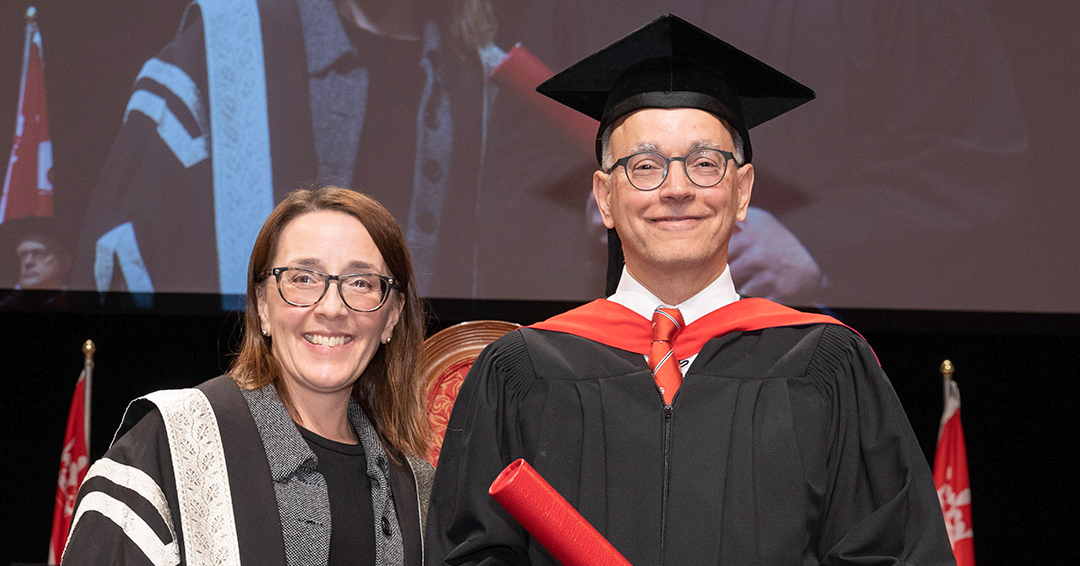 Long-serving Associate Vice-Principal and Vice-Dean of Health Affairs at the Faculty of Medicine and Health Sciences honoured during Fall 2022 Convocation
Samuel Benaroya, MDCM, who has served eight terms at the Faculty of Medicine and Health Sciences, currently Associate Vice-Principal and Vice-Dean of Health Affairs, is the inaugural co-recipient of the Morty Yalovsky Lifetime Achievement Award for Excellence in Academic Leadership. This award recognizes the lifetime achievements and dedication to McGill University of academic staff whose service to the University community has been both exemplary and inspiring. Dr. Benaroya shares this award with Professor Rosalie Jukier of the Faculty of Law. Coincidentally, the two have known each other since they were children.
The award is named after Professor Morty Yalovsky, who, starting in 1969, devoted more than five decades of service to McGill as a pedagogue, researcher and academic leader. Prof. Yalovsky was celebrated with the Desautels Lifetime Service Award earlier this year, at the same time this new honour was announced.
"It means a lot to me to be the first co-recipient of this award named for Morty Yalovsky," says Dr. Benaroya. "Over the course of his career, Prof. Yalovsky has been a master at bringing people together to build a culture of service to our university and our community. I am happy that his contributions were recognized with this award in his name and am honoured to receive it."
Dr. Benaroya was deemed outstanding in advancing the mission of the Faculty of Medicine and Health Sciences, serving the University at large, and navigating the complexities of Quebec's health care system and infrastructure for the benefit of McGill and our community.
"His contributions in medical education, University leadership and relations with healthcare partners in Québec and elsewhere are, in the words of one nominator, 'matchless'," noted Angela Campbell, LLM, co-acting Provost and Vice-Principal Academic, who presented Dr. Benaroya for the award during the Fall 2022 morning Convocation ceremony on October 26.  "Dr. Benaroya is characterized as a trusted colleague and mentor, a wise and savvy administrator, being both gentle in spirit and absolute in integrity."
"The fact that this is a lifetime achievement award means that there's a component to it of being a member of the McGill community for an extended period of time," says Dr. Benaroya. "To be recognized for what I was able to accomplish, in collaboration with many partners, over that time and not just for one event, is quite meaningful to me."
Dr. Benaroya notes that a central theme that has guided him is a personal mission to have McGill seen as a full partner and contributor in dealing with the many health care-related educational and clinical challenges in Quebec.
Many of the initiatives which Dr Benaroya has been involved with – the Réseau universitaire intégré de santé et services sociaux, Campus Outaouais, the development of a physiotherapy training program in Chicoutimi, expanding the relationships between McGill's Faculty of Medicine and Health Sciences and its sister Faculties in the province as well as with the provincial government – are examples of the promotion of McGill's outreach within the Quebec community.
David Eidelman, MDCM, Vice-Principal (Health Affairs) and Dean of the Faculty of Medicine and Health Sciences, is delighted Dr. Benaroya is being bestowed this well-deserved recognition. "Dr. Benaroya has been a pillar of the Faculty and instrumental in many of its successes over the past four decades thanks, in no small part, to his extraordinary ability, like Morty Yalovsky, to bring people together. I cannot think of a more deserving recipient for this award than Sam Benaroya."