Sent on behalf of the Social Accountability and Community Engagement Office:
The Social Accountability and Community Engagement Office (SACE) of the Faculty of Medicine and Health Sciences is excited to invite Black students, faculty and staff to this networking mixer!
Monday, December 14, 2020

6:30-8:00 p.m. (ET)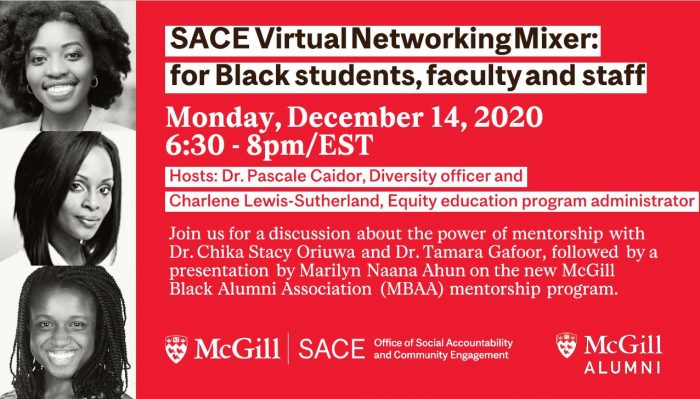 Join us for a discussion about the power of mentorship with Dr. Chika Stacy Oriuwa and Dr. Tamara Gafoor, followed by a presentation by Marilyn Naana Ahun on the new McGill Black Alumni Association (MBAA) mentorship program.

Keynote speakers:
Dr. Oriuwa is a first-year resident doctor in psychiatry at the University of Toronto and the first Black woman to be recognized as sole valedictorian. As a writer, Chika has penned viral articles and poetic performances on navigating the world of medicine as a Black woman. In 2017, she released her renowned slam poem "Woman, Black" and in 2018 published her seminal article "In My White Coat, I am More Black than Ever" for FLARE magazine's Black History Month campaign.

Dr. Gafoor is a Pediatric Emergency Physician at the Montreal Children's Hospital. She is Director of the MUHC Pediatric Advanced Life Support Course and a member of the McGill Medical Admissions Committee.

Marilyn Naana Ahun graduated from McGill in 2015 with a BA in Honors Psychology and is a final-year PhD candidate in public health at the Université de Montréal. She was the Vice President of the McGill African Students' Society as an undergrad and co-founded the McGill Black Alumni Association (MBAA) when she graduated.

Hosts:
Dr. Pascale Caidor, Diversity Officer and Charlene Lewis-Sutherland, Equity Education Program Administrator.
Office of Social Accountability and Community Engagement

Faculty of Medicine and Health Sciences

https://www.mcgill.ca/med-saceoffice
November 26 2020