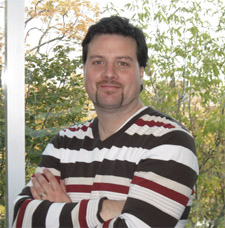 The Royal Society of Canada  announced 48 new members to The College of New Scholars, Artists and Scientists earlier this week, which included the Faculty of Medicine's Dr. Russell Jones among the six McGillians elected.

Members have been nominated by 51 Canadian universities and the National Research Council, and they represent the emerging generation of scholarly, scientific and artistic leadership in Canada. The members of the College will address issues of particular concern to new scholars, artists and scientists, for the advancement of understanding and the benefit of society, taking advantage of the interdisciplinary approaches fostered by the establishment of the College.

"McGill is extremely proud of the creativity and leadership these six scholars have shown in research, which the Royal Society of Canada has acknowledged with this prestigious membership," said Dr. Rosie Goldstein, Vice-Principal, Research and International Relations. "Drawing upon the expertise of their RSC colleagues, each new member is poised to contribute to discovery and progress in a wide range of disciplines – from understanding the lasting effect of war on children and families, to providing new insight into the early universe; and from advancing knowledge about the evolution of ecosystem communities, to shining the spotlight on the global impact of theatre."

Professor Russell Jones
' research program is focused on deciphering the molecular programs that regulate cell growth and proliferation and their alteration in cancer. Specifically, his research investigates fundamental molecular processes that integrate cellular energy metabolism with various signal transduction pathways, and how this regulates checkpoints for normal and cancer cells including T-lymphocyte survival, homeostasis and tumorigenesis as well as breast cancer metastatic progression.
Congratulations Dr. Jones!