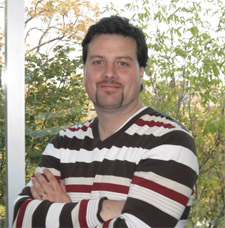 Dr. Russell Jones, Assistant Professor in the Department of Physiology and a member of the Goodman Cancer Research Centre has been awarded the Bernard and Francine Dorval Prize for 2014 by the Canadian Cancer Society.

The Bernard and Francine Dorval Prize is given to a promising young Canadian investigator permanently residing in Canada who began their independent research career within the previous 10 years. The recipient must be doing laboratory work as the principal investigator in activities that are conducted in Canada, are judged to be outstanding contributions to basic biomedical research and have the potential to lead to, or have led to, better understanding of cancer, improved cancer treatments and cures.

The award comes with a $20,000 contribution to the recipient's research program.

Dr. Jones is seen as an emerging leader in the fields of immunology and cancer biology. He is a world-class scholar recognized for his leadership in the field of immunometabolism research, in which he continues to generate superb work, and for his significant and prolific contributions to the area of cancer cell metabolism.

During his postdoctoral work at the University of Pennsylvania he made the discovery that nutrient sensors including the AMP-dependent protein kinase (AMPK) are involved in cell cycle regulation. This opened a new vista investigating the impact of metabolism in cancer. Dr. Jones is part of the  'Metabolism and Cancer' unit of the Goodman Cancer Centre. This unit focuses on the dynamics of cellular bioenergetics in cancer, with the long-term view of extending these studies to other diseases such as obesity, diabetes, and cachexia.

Read more on the Canadian Cancer Society website.

Congratulations Dr. Jones!