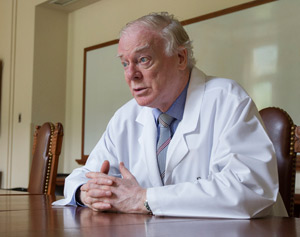 January 28, 2014 – Dr. David Mulder has been awarded the 2014 James H. Graham Award of Merit by the Royal College of Physicians and Surgeons of Canada today. The James H. Graham Award of Merit, which is named after the organization's former secretary-general, recognizes outstanding achievements that reflect the aims and objectives of the Royal College.

A statement released earlier today by the Royal College said that Dr. Mulder is recognized across Canada as a surgeon, scholar and leader in health care, who has dedicated his career to advancing surgery in Montreal. The statement also highlighted the work Dr. Mulder has done to advance awareness of the importance of early diagnosis, treatment and prevention of head injuries through the NHL-NHLPA Concussion Program.

The James H. Graham Award of Merit is the latest recognition for an outstanding career, which began after graduating, Magna Cum Laude, from the College of Medicine, University of Saskatchewan in 1962. Dr. Mulder arrived at McGill University the following year, where he completed training in general surgery. He also completed a thoracic surgery residency at the University of Iowa.

Over the years, Dr. Mulder has been Head of the Department of Cardiac and Thoracic Surgery at McGill, Chairman of the McGill University Department of Surgery as the first recipient of the H. Rocke Robertson Chair in Surgery, and Surgeon-in-Chief of the Montreal General Hospital. He was made a Member of the Order of Canada in 1997.

Dr. Mulder recently celebrated 50 years as a member of the medical staff of the Montreal Canadiens Hockey Club. He also has been involved with the McGill Sports Medicine Centre since 1994 and served as President of the National Hockey League Team Physicians Society from 2003 to 2006.

In 2012, he was awarded the USA National Safety Councils Award for his role in developing a province wide trauma system in Quebec. In appreciation of the efforts and advances for which he has been a leader and inspiration, the Montreal General Hospital Foundation funded a chair in thoracic surgery and a trauma research care chair, both bearing his name.

February 1st, 2014