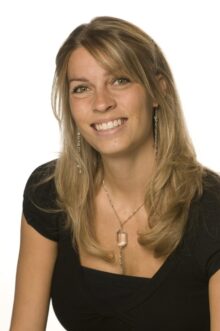 We are pleased to announce that Roxanne Pelletier has recently received The Alice Wilson Award from the Royal Society of Canada.

This particular award was established by the RSC in 1991, at the behest of the Committee for Advancement of Women in Scholarship, to honour the memory of Alice Evelyn Wilson (1881-1964), FRSC, the first woman elected to the RSC (1938). Dr. Wilson was a world-renowned palaeontologist and one of Canada's foremost geologists. Her career with the Geological Survey of Canada lasted from 1909 to 1946, while she advanced from museum assistant to geologist. In addition to her research contributions, she brought geology to the public, especially to children, in many ways.

The award is given to a woman of outstanding academic qualifications who is entering a career in scholarship or research at the postdoctoral level. The recipient is chosen from the current year's female winners of postdoctoral fellowships from one of three granting Councils – the Canadian Institutes of Health Research (CIHR), the Natural Sciences and Engineering Research Council (NSERC) and the Social Sciences and Humanities Research Council (SSHRC), by yearly rotation. The award consists of a diploma and a cash amount of $1,000 and is offered every year.

Roxanne Pelletier received both her Undergraduate and Masters degrees in Psychology at the University of Quebec in Montreal. She is currently doing her postdoctoral work at the Montreal General Hospital, and has been involved in Research at the Research Center of the Montreal Heart Institute.  Ms. Pelletier has focused on research involving the depression effect on coronary artery disease events across multiple domains. She has been recognized many times for her superior research efforts, notably, receiving the 2009 Adrien Pinard Award from UQAM's Fonds d'excellence, 2009 Bourse de formation de doctorat from the Fonds de la recherché en santé du Quebec, and the 2008 Ronald Melzack Award from the Canadian Psychological Association.

McGill University is proud of this well-deserved recognition and offers the most sincere congratulations for such a distinguished election.
September 6, 2012