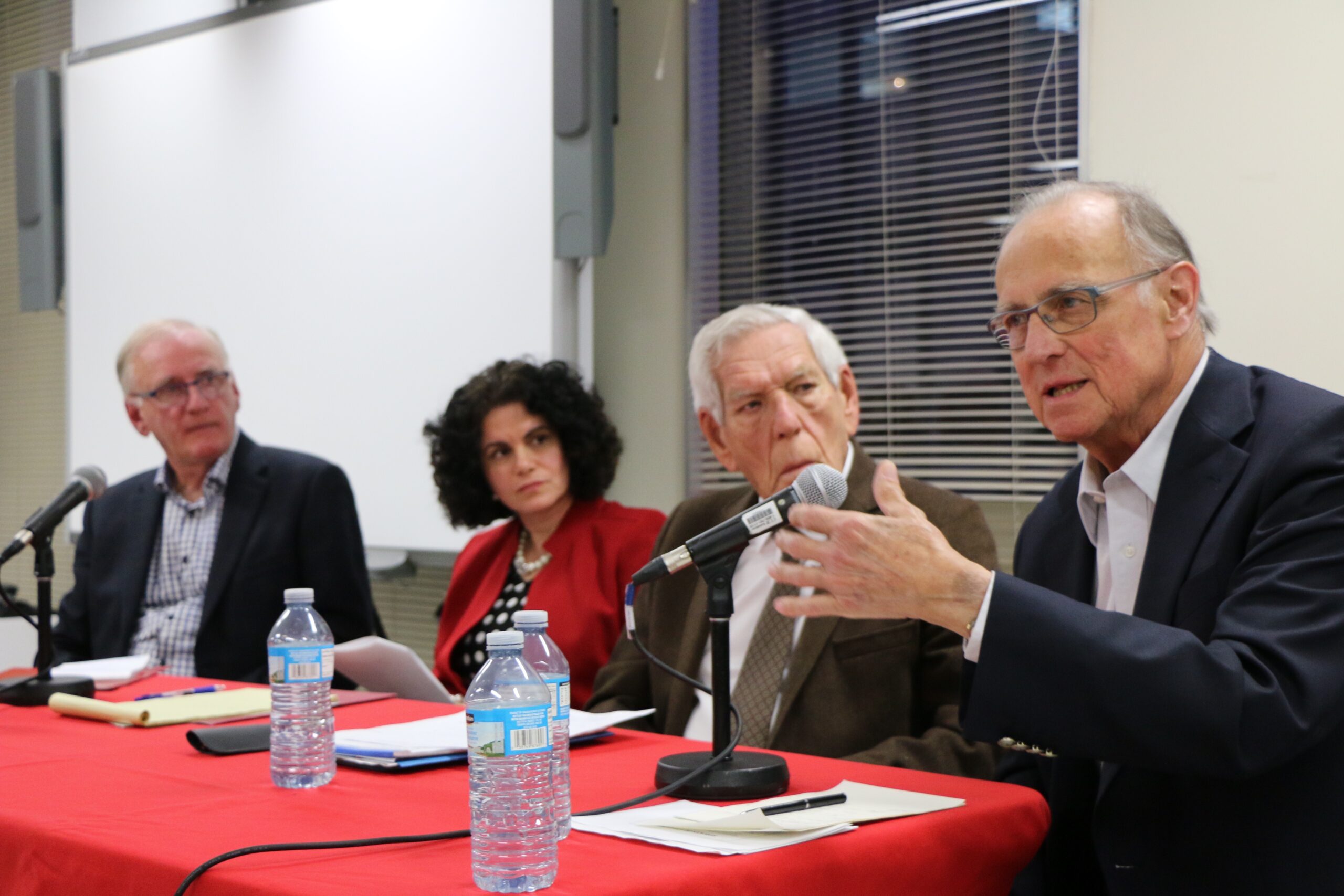 By Frederique Mazerolle
Former Quebec ministers Claude Castonguay, Jean Rochon and Michel Clair, together with Antonia Maioni, Dean of the Faculty of Arts and Professor in the Department of Political Science at McGill, exchanged ideas with students and faculty members from McGill University's Department of Family Medicine during a packed event on October 22, 2018. The panelists engaged the audience in a frank conversation about the current state of primary care in Quebec.

The invited speakers are no strangers to the Canadian health care system. In addition to serving as Quebec cabinet ministers, Castonguay, Rochon and Clair are also authors of important reports that spurred significant changes to provincial health care (including the creation of Medicare (Castonguay, 1970), the increase of primary and home health care services known as the virage ambulatoire (Rochon, 1988) and the creation of Family Medicine Groups, commonly referred to as GMFs (Clair, 2001). Antonia Maioni has an extensive academic and research-based background in health care policy and reform, and currently sits on the board of the Canadian Foundation for Healthcare Improvement.

This event was organized by the Department of Family Medicine, in collaboration with the McGill Observatory on Health and Social Services Reforms, as well as with Pizza & Politics, a collaborative student-led initiative to encourage graduate students and junior primary care researchers to explore, discuss and debate current issues in Canadian health care policy.

The panel reflected on the policies of the outgoing Liberal government, particularly the reforms established by former Health and Social Services Minister Gaétan Barrette, including Bill 10: An Act to modify the organization and governance of the health and social services network and Bill 20: An Act to promote access to family medicine and specialized medicine services and to amend various legislative provisions relating to assisted procreation.

Panelists engaged in lively discussions regarding the role of the family physician, financing of health institutions and the allocation of family doctors through the Regional Physician Resource Plans (PREMs).

"Regions know the services, the needs and the resources of their population, so it would be more significant if they had greater responsibility in choosing their personnel," explains M. Castonguay.

Despite their different views, political affiliations and backgrounds, all panelists shared a common vision for the future of primary care, which includes a change of governance approach and management styles, and an increased collaboration with health care professionals.

Dr. Jean Rochon, when referring to the implementation of Bill 10 and 20, highlighted the need for increased consultation between government officials and health care organizations. "We need to go back to the basics and speak directly to the concerned parties," he says.

The four panelists agreed that primary care needs to be more accessible and efficient, and as a possible remedy to the current problem, they suggested the organization of a symposium that would include health care authorities and stakeholders from all relevant groups – including physician federations, as clinician groups and the general public – in order for all voices to be heard.

December 6, 2018