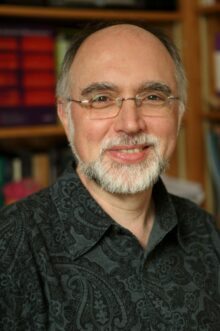 C. L. de Carvalho-Heineken Prize recognizes his seminal work in the cognition of music

By Victor Swoboda

Cognitive neuroscientist Robert Zatorre has been awarded the C.L. de Carvalho-Heineken Prize in Cognitive Sciences.

The Heineken Prize–given every two years to five different researchers–is considered the most prestigious international science prize in The Netherlands and includes a monetary reward of US$200,000. Previous winners include Nancy Kanwisher of MIT, and Stanislas Dehaene of the Collège de France.

Zatorre is a researcher at The Neuro (Montreal Neurological Institute-Hospital), a professor at McGill University and a Canada Research Chair whose investigations into human auditory processing have earned him a high-profile international reputation.

The prize committee described Zatorre as "one of the pioneers in the field of music cognition," and recognized his "ground-breaking discoveries about the way people perceive sound, especially speech and music."

Insights into the human mind
In reacting to news of the award, Zatorre noted the complexity of his subject as well as the contributions of his colleagues.

"Music engages all of the most highly developed human cognitive functions: perception, memory, attention, motor control, emotion, aesthetics. By studying its processing in the brain, we gain insights into fundamental principles of neural organization and plasticity, and into the human mind itself. I am delighted that the Netherlands Academy of Arts and Sciences has recognized the work we have done on this topic over the years with my many talented students and collaborators."

Zatorre's laboratory has made seminal discoveries in many areas including absolute pitch, auditory imagery, pitch perception, auditory space perception, musical pleasure, and the functional and structure properties of auditory cortices. He has contributed to more than 300 scientific publications. His work has also been covered widely by media around the world.

In 2006, Zatorre was the founding co-director of Brain, Music and Sound Research (BRAMS), a multi-university consortium for exploring the neuroscience of music.

His other notable awards include the Oliver Sacks Award (2002), the IPSEN Foundation Prize in neuronal plasticity (2011), and the Hugh Knowles Prize for Distinguished Achievement from Northwestern University (2013). He was elected to the Royal Society of Canada in 2017.

Born in Argentina, Zatorre completed an undergraduate degree in music and psychology at Boston University (1976) and earned an MSc (1976) in experimental psychology from Brown University, where he also received a doctoral degree (1981), studying similarities between speech and music. In 1981, he undertook post-doctoral work in neuropsychology with Brenda Milner at The Neuro and was appointed to a McGill faculty position in 1983. Zatorre is also a trained organist.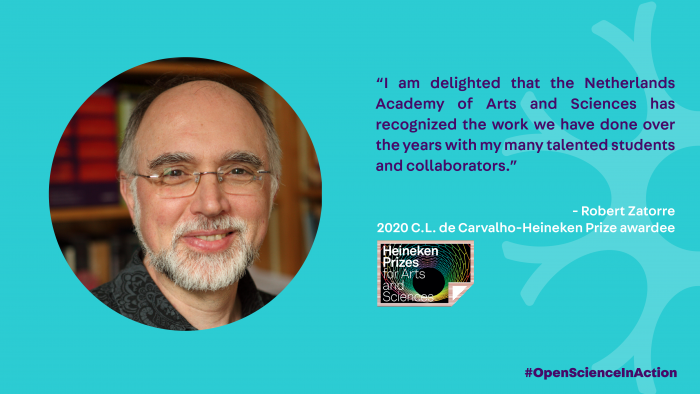 The Heineken Prizes
In 1964, Alfred Heineken endowed the Heineken Prize for Biochemistry and Biophysics in honour of his father, Henry Pierre Heineken, a chemist. Heineken Prizes are bestowed every two years on five international scientists as well as on one Netherlands-based artist. In addition, four young researchers at Dutch institutes are chosen to receive Young Scientists Awards. Winners are chosen by members of the Royal Netherlands Academy of Arts and Sciences, the Young Academy and selected international experts.

June 4 2020