Congratulations to Catherine Argyriou!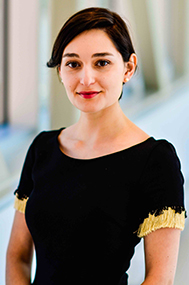 Source: RI-MUHC
In 2017, as a doctoral student at the Research Institute of the McGill University Health Centre (RI-MUHC), Catherine Argyriou, PhD, and her supervisor, Dr. Nancy Braverman, won the AmorChem KNOCK OUT in Quebec City. The prize was seed funding for their project, "Retinal gene augmentation for peroxisome biogenesis disorders (REGAIN)," which aims to advance therapy for vision.
In 2020 Catherine has chalked up another win: the prestigious Mitacs Elevate Postdoctoral Fellowship. This fellowship allows her to participate in a research management training program while working with Dr. Braverman and venture capital fund AmorChem Therapeutics to advance gene therapy for PEX1-mediated Zellweger Spectrum Disorder (ZSD).
"I am so thrilled to continue developing this project," says Catherine, "to continue working closely with our academic colleagues and our investors at AmorChem, and to pursue the professional development opportunities offered through Mitacs. This collaboration will bring a potentially sight-saving therapy one giant step closer to ZSD patients."
Related news
Champion of the 2017 AmorChem KNOCK OUT event: Team Braverman!
October 13 2020