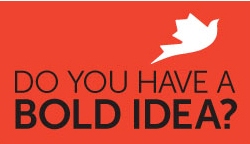 CANADA'S RISING STARS IN GLOBAL HEALTH: ROUND THREE

We are looking for bold ideas with big impact. Grand Challenges Canada is pleased to announce Canada's Rising Stars in Global Health Request for Proposals, Round Three. This unique program is a call to action to Canada's early-career innovators to make their contribution to global health. Grand Challenges Canada's goal is to tap into the creativity, knowledge and skills of Canada's scientists, entrepreneurs and social innovators to solve some of the most persistent health challenges in the developing world through Integrated Innovation.

Round Three provides $100,000 in seed grants for up to 20 successful proposals. If the ideas are robust, effective, and proven, the innovators will be eligible to apply for additional scale–up funds of up to $1 million for each proposal.

Deadline for proposals: March 23, 2012 11:59 p.m. EDT
Proposals must include a 2-minute video segment outlining the health problem, the proposed solution, and why it is innovative and bold. 

Proposals will be required to address Grand Challenges Canada's Integrated Innovation approach. Integrated Innovation is the coordinated application of scientific/technological, social and business innovation to develop solutions to complex challenges. 

For the Canada's Rising Stars in Global Health Request-for-Proposals and link to the application site, please click HERE.

Canada's Rising Stars in Global Health
is part of
Grand Challenge 1: Stars in Global Health
. In addition to
Canada's Rising Stars in Global Health
, this Grand Challenge provides funding for early-career innovators from low– and lower-middle income countries through the
Rising Stars in Global Health
program. For more information on each of these programs please click
HERE
.
Please send questions to stars@grandchallenges.ca 

*

Grand Challenges Canada
is a unique and independent not-for-profit organization dedicated to improving the health and well-being of people in developing countries by integrating scientific, technological, business and social innovation. Grand Challenges Canada works with the International Development Research Centre (IDRC) and the Canadian Institutes of Health Research (CIHR) and other global health foundations and organizations to find sustainable long-term solutions to the most pressing health challenges. Grand Challenges Canada is hosted at the Sandra Rotman Centre for Global Health. 
To help us reach a broader audience, please forward this e-mail to all colleagues, friends and interested parties. If you are not already on our mailing list and would like to keep up-to-date with all the latest developments, including news, publications and job opportunities, please contact info@grandchallenges.ca.

For further information, please visit our website at www.grandchallenges.ca.

January 26, 2012