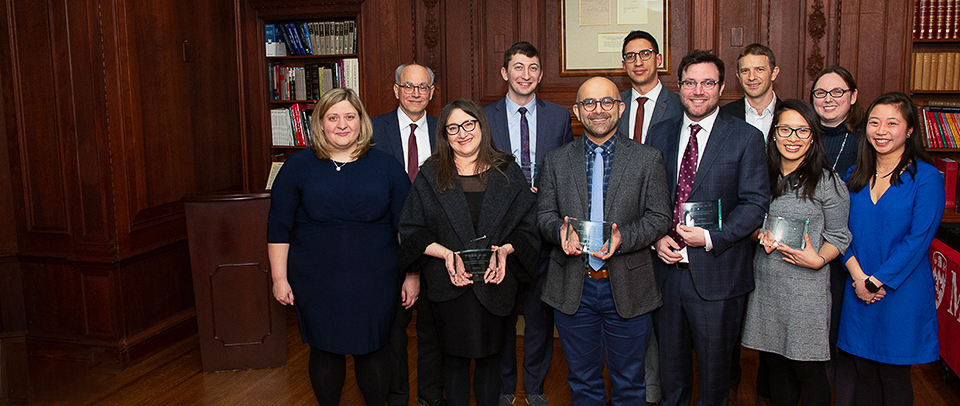 Transition to Clinical Practice Awards for Excellence in Teaching   
By Lisa Dutton

It can be daunting. While medical students aspire to care for patients they are often awed when they set foot in a clinical setting. Transiton to Clincial Practice or TCP, takes place during the second half of the second year of McGill University's MDCM curriculum. TCP marks the trasition away from the classroom and into the clinical learning environment where students remain for the duration of their undergraduate degree.

"TCP teachers have an indelible impact on their students. Not only do they impart medical skills and knowledge but they foster confidence, communications skills, empathy and a love of lifelong learning. This is why the Faculty of Medicine celebrates and acknowledges the work of our clinician-teachers with the Transition to Clinical Practice Awards for Excellence in Teaching," said Dr. Samuel Benaroya, Associate Vice Principal and Vice Dean (Health Affairs) at McGill's Faculty of Medicine.

This year's awards ceremony, held on February 6 in Holmes Hall, honoured 13 TCP teachers, each nominated by Med-2 students.

Kimberly Wong, President of the Class of 2020 said, "TCP is a foundational part of our education when we start to experience clinics and wards. It is a lot to take in. You need someone to help guide you during this transition. The TCP clinician-teachers and residents act as our role models. They show us what we should strive to be when we finally graduate and become physicians. Great teachers contribute significantly to our success."

"It is an honour to have been nominated by my students," said Dr. Terry Sigman, a Pediatric gastroenterologist. "My goal as a teacher is to foster open communications and to have the students feel part of the multidisciplinary team. I had some great mentors during my career; I guess I am emulating what I appreciated most as a medical student."

During the event, as each laureate received their award, Dr. Sabrina Fallavollita, Component Director for TCP, read a tribute from one of their students. The TCP students heaped praise on the award winners commending their dedication, generosity, patience and enthusiasm.

Here are just two examples of students' comments.  Of Ophthalmologist Dr. Mahshad Darvish-Zargar, one student wrote: "Dr. Darvish-Zargar is an excellent teacher. He involves and introduces the medical student during his patient encounters. He takes the time to answer any questions students have. He also creates a very welcoming environment to ask anything we would like. You can tell he is genuinely interested in teaching as he always invites students to take part in the patient exam."

Of Neurologist Dr. Madeleine Sharp, a student wrote, "Dr. Sharp was an excellent small group tutor! She really took the time to go over our neurology cases and gave us input in constructive ways while still being positive and non-judgmental. She created a very safe learning environment and was extremely helpful in answering all our questions and explaining all the concepts we had difficulty with. Her teaching was phenomenal and she took the time to make sure students understood well."

The Faculty of Medicine made a monetary contribution to the TCP Teaching Fund in honour of each laureate. The fund is used to purchase educational material and tools to support teachers during TCP.

Congratulations to all of the laureates!

February 21, 2019