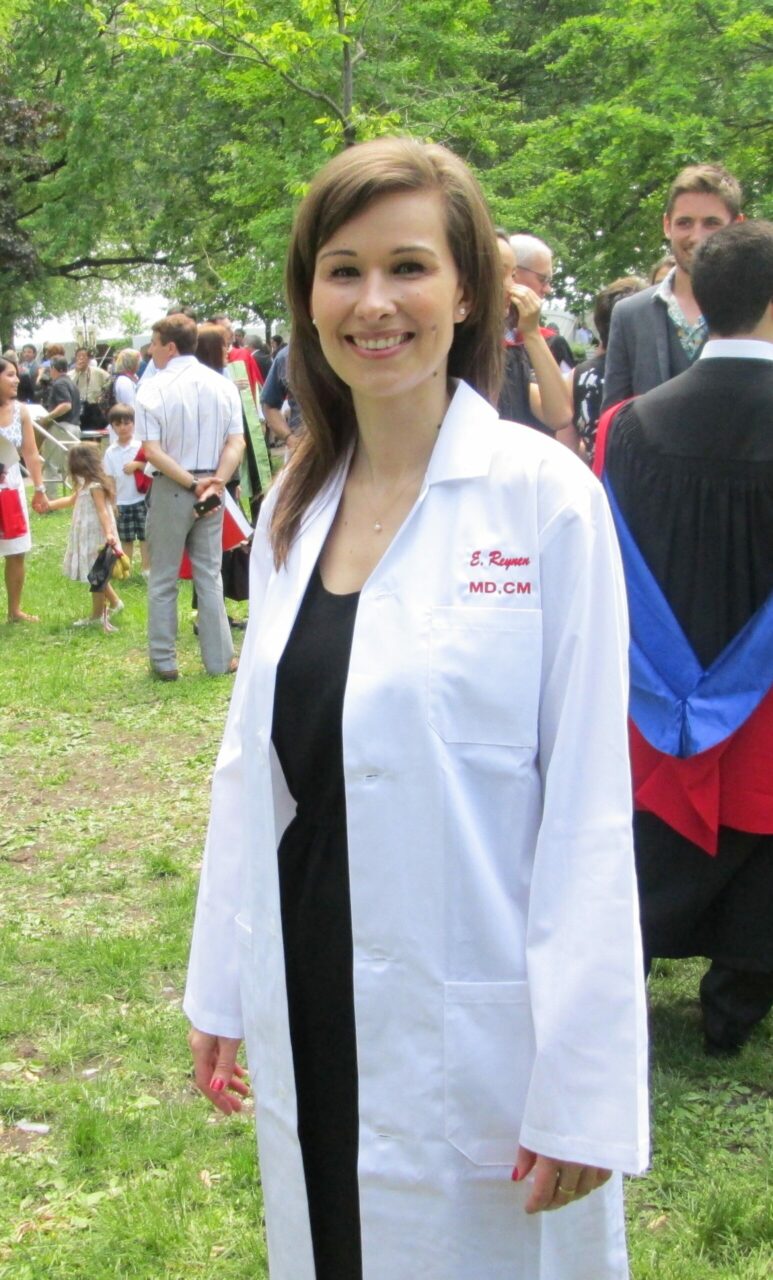 A native of Cambridge, Ontario, Dr. Emily Reynen is the first medical trainee to receive the CMA's Sir Charles Tupper Award for Political Action.

"Being named a recipient of the Sir Charles Tupper award was a humbling experience," says Dr. Reynen, who graduated from McGill's medical school in May 2015. "Upon being informed that I was the recipient of this award, I was surprised and pleased that the CMA would recognize local level advocacy efforts."

Dr. Reynen began her health care career as a clinical pharmacist at Two Rivers Family Health Team and then as clinical researcher for the Canadian Agency for Drugs and Technologies in Health in Ottawa. She also pursued a doctor of pharmacy degree that was awarded by the University of Toronto in 2012. She enrolled in medical school at McGill in 2011.

Elected to sit on the government affairs and advocacy committee of the Canadian Federation of Medical Students (CFMS), Dr. Reynen founded and became the president of a similar student advocacy group at McGill. There she was able to revitalize medical student interest in the CFMS National Lobby Day and began the process of establishing the first provincial Lobby Day for Quebec's four medical faculties. She also organized an education panel for medical students to gain deeper understanding of Bill 52, which is Quebec's end-of-life care legislation. "The process of founding the McGill medical student government affairs and advocacy committee was truly a team effort," noted Dr. Reynen. "None of the success we have been fortunate to have over the past year and a half would have been possible without the involvement of a group of very dedicated and hardworking medical students."

Serving on the CFMS Lobby Day Research Committee, her pharmacy background proved to be invaluable in the preparation of the CFMS Lobby Day proposal for parliamentarians to study a national pharmacare plan. In preparation for the event, she assisted in educating 70 medical trainees about Canada's complex pharmaceuticals system. She has also been a leader on the CFMS Committee on Health Policy that is revising various CFMS position papers, earning praise for her teamwork, analytic skill, ability to elicit feedback from others, and commitment to her peers.

After graduating from McGill in May, Dr. Reynen is pursuing internal medicine residency training at Queen's University. "As I begin my post-graduate training I hope to continue my involvement in advocacy and research on the local and national levels," she says. "Advocacy can take on many forms and I hope that more medical students, resident and physicians will become active in advocacy in their field of interest."