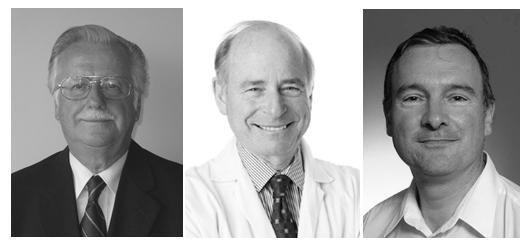 Dr Gaston Ostiguy, Dr. Ernesto Schiffrin, and Dr. Serge Gauthier have been named as recent recipients of the Queen Elizabeth II Diamond Jubilee Medal from the Faculty of Medicine.

Dr. Ostiguy, a pneumologist at the Montreal Chest Institute and Associate Professor in the Respiratory Division is a pioneer in the fight against tobacco dependence, and is recognized for volunteer work in various respiratory health organizations. Dr Ostiguy's interests include occupational lung disease and smoking cessation, and he is head of the smoking cessation program at McGill.

Dr. Schiffrin, Professor and Vice-Chair (Research) in the Department of Medicine, Physician-in-Chief of the JGH Department of Medicine and Canada Research Chair holder in Hypertension and Vascular Research at the Lady Davis Institute, has been awarded the Queen Elizabeth II Diamond Jubilee Medal in recognition of his rank as an appointee to the Order of Canada and his contributions to McGill University and to Canadian society.

Dr. Gauthier, Professor in the Departments of Neurology & Neurosurgery, Psychiatry, Medicine, as well as an Associate Member of the School of Physical & Occupational Therapy, and Department of Pharmacology & Therapeutics, was nominated by the Federation of Quebec Alzheimer Societies and its 20 member Alzheimer Societies. This medal recognizes the time, talent and enthusiasm that Serge Gauthier dedicates to creating a better future for people affected by Alzheimer's disease or a related disease.

This new commemorative medal, created to mark the 60th anniversary of Her Majesty Queen Elizabeth II's accession to the Throne as Queen of Canada, is awarded to distinguished citizens who have made significant contributions to Canadian society.

March 19, 2013