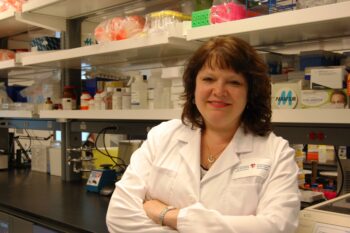 Christine McCusker – Educating the immune system to prevent allergies
Québec Science magazine has selected its 10 Discoveries of the Year, three of which were led by McGill researchers. The prestigious annual list for 2015 honours projects spearheaded by: Thomas Szkopek, Department of Electrical and Computer Engineering, and Guillaume Gervais, Department of Physics; Jeffrey Mogil, Department of Psychology; and Christine McCusker, Department of Pediatrics and Research Institute of the McGill University Health Centre.
When spring arrives, millions of Canadians begin their annual ritual of sneezing and wheezing due to seasonal allergies. A McGill research team led by Christine McCusker is bringing them hope with a potential vaccine that nudges the immune response away from developing allergies.

Read more here.

January 8, 2016