You'll be amazed by what cardiologists do in the MUHC Cath Lab!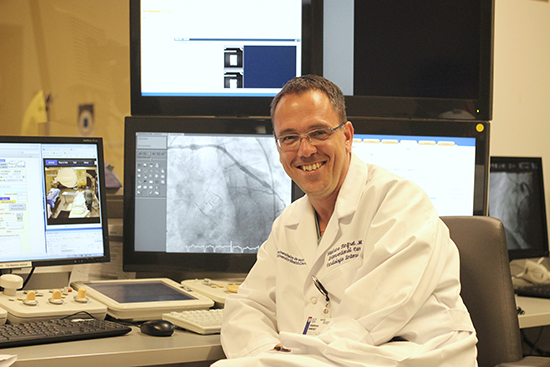 By Gilda Salomone, MUHC Public Affairs

In spite of its name, a cath lab isn't a laboratory at all, but a department in a hospital where life-saving cardiac procedures are carried out 24 hours a day, seven days a week. Dr. Stéphane Rinfret, chief of the world-renowned Intervention Cardiology Program at the McGill University Health Centre (MUHC), as well as associate professor of Medicine at McGill University, uncovers the mysteries of a cardiac catheterization laboratory – the full name – for us:
Dr. Rinfret, what's a catheterization laboratory?
It's a high-tech department comprised of examination rooms equipped with advanced imaging and diagnostic tools that allow us to see the arteries and chambers of the heart. The cath lab is essential in interventional cardiology, a branch of cardiology that uses long, thin tubes called catheters to treat cardiovascular problems without open surgery.
How is that possible?

We insert a catheter into an arterial vessel from the patient's wrist or groin. We then thread it through to the heart carrying a contrast agent that allows blocked or narrowed coronary arteries to be detected under X-ray. In the case of a heart attack or of a blocked artery causing angina – severe pain in the chest – we can perform an angioplasty, also called a percutaneous coronary intervention (PCI). This involves using a balloon-tipped catheter to enlarge the clogged artery and then we put a small mesh tube called a stent in place. The stent opens up the blood vessels, optimizes blood flow to the heart and prevents its re-blockage. The patient stays awake throughout the procedure.
You were the first cardiologist in Canada to implement new techniques in complex angioplasty. Tell us about this.
Angioplasty used to be considered too dangerous in the case of patients with completely and chronically blocked arteries such as patients who had prior bypass surgery. In these situations, medication was the only solution, but patients still suffered from angina. The new techniques I used have allowed us to treat those patients with a 90 per cent rate of success. Complex angioplasty is technically challenging, but feasible, and we've been performing it with success at the MUHC since I joined the Cardiology Department in January.
What are the advantages of having a cath lab at the MUHC?

Many of our cardiac patients have other underlying health issues and may need access to tertiary and quaternary (complex care) healthcare services in other specialties. We're able to provide those services.

What makes the MUHC Cath Lab special?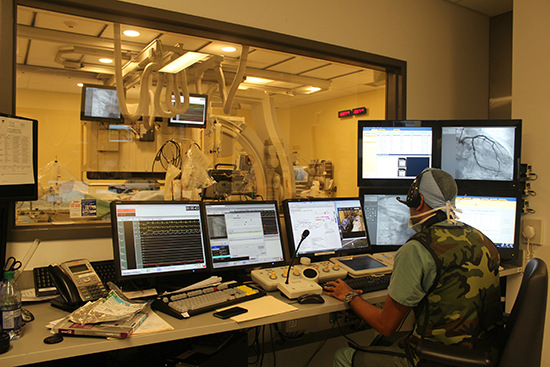 Two things: state-of the art equipment and interventional cardiologists who are at the forefront of heart disease treatment.

The high level of expertise of our staff is recognized worldwide. One example is the structural heart program led by Drs. Nicolo Piazza and Giuseppe Martucci. It involves the treatment of adults who are born with holes in their heart or with aortic stenosis, a condition where the valve through which the blood is pumped from the heart cannot open properly. In these later cases, we perform a procedure called transcatheter aortic valve implantation (TAVI) is: a catheter is used to implant a valve made of natural tissue.

Another example is the use of percutaneous ventricular assist device (VAD). This is a mechanical pump inserted in the groin that temporarily supports heart function and blood flow while we perform complex and difficult angioplasty in patients with a very weak heart. In the past, these patients were not good candidates for surgery or interventional cardiology and would sometimes require a heart transplant or often die. At the present moment, the MUHC cath lab is one of the highest users of this life-saving new technology in Canada.

October 6, 2016