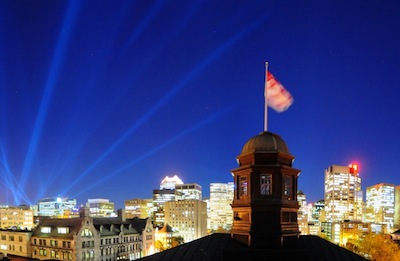 McGill University welcomed the injection of $35 million dollars toward the restoration of Wilson Hall, one of McGill's many historical academic buildings in urgent need of rehabilitation. The funding was announced as part of the Quebec budget tabled March 20.

Located on the downtown campus, Wilson Hall was built as a residential college over a century ago. It houses McGill's School of Nursing and School of Social Work, two professional programs that welcome almost 1,000 students – 80 percent of them from Quebec. Among other things, the new provincial funding for Wilson Hall will allow McGill to address safety issues, upgrade teaching and research facilities to modern standards and increase the useable area of floor space to support growing student enrolment.

"We are glad to see the provincial government recognize the immense challenge that the aging infrastructure of McGill's historic campus represents," said Prof. Heather Munroe-Blum, Principal and Vice-Chancellor of McGill. "Our ability to fulfill our mission with respect to our development of professionals, teaching and research is severely handicapped by the state of many of our facilities. By supporting the restoration of Wilson Hall, the government is taking an important first step in addressing this threat to our university's ability to continue to offer training programs that have a direct contribution to the health and well-being of Quebecers."

With more historical and older buildings than any other Quebec university – 37 of McGill buildings were built before 1900 – and the location of its downtown campus within the Historic and Natural District of Mount Royal, McGill's infrastructure challenges are unique. McGill alone faces 40 percent of Quebec universities' total deferred maintenance costs.

In addition, Principal Munroe-Blum commended Minister Bachand for his commitment to eliminating the deficit, controlling spending and for his continued reinvestment in universities.

March 21, 2012