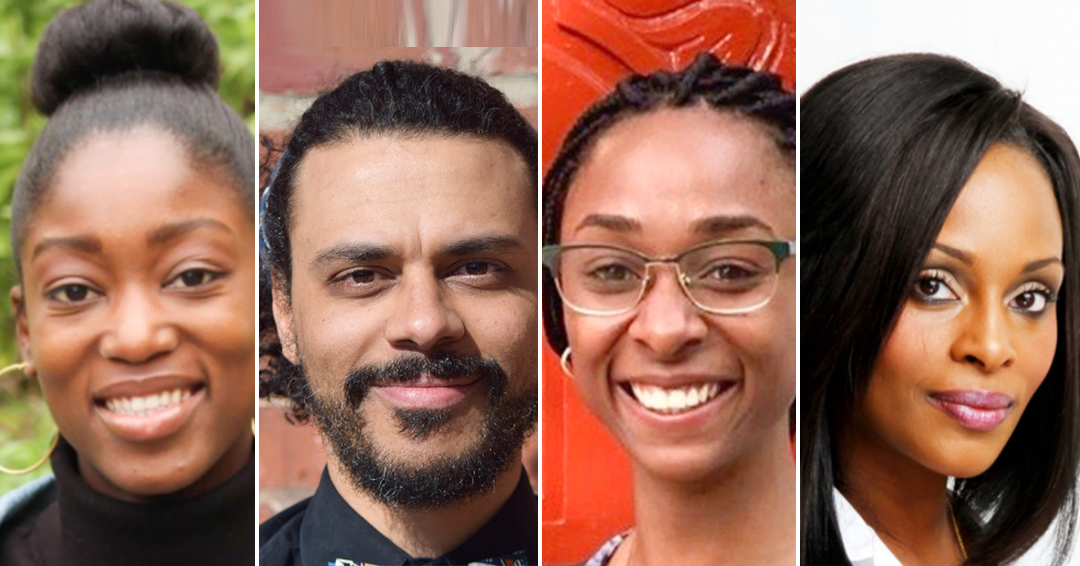 Panel discussion provides med school hopefuls with valuable advice
By Maureen McCarthy

Third-year McGill medical student Clement Bélanger Bishinga says that growing up he knew only a few people who worked in health care, none of them identifying as Black, an unfortunate reality in many Black communities. It's something that led him to co-found, alongside MD/PhD student Lashanda Skerritt, the Supporting Young Black Students (SYBS) initiative at McGill, which aims to inspire other young Black students like them to pursue careers in the health professions. "One of the most important things for young students is to meet people who have gone through the process who can offer advice and guidance," he says.

The recent events of violence and discrimination against Black communities further show the importance of initiatives like SYBS in dismantling systemic racism and providing support to aspiring Black health care professionals. "We are a small part of a global solution, and we find inspiration in other bigger initiatives within our network, such as the Black Medical Students' Association of Canada, the Black Student Application Program of the Faculty of Medicine at the University of Toronto, and the Black Students' Network of McGill," says Bélanger Bishinga.

SYBS recently co-organized a webinar with the Faculty of Medicine's Social Accountability and Engagement Office (SACE) titled "Inspiring a New Generation of Black Health Care Professionals." The event provided Black students interested in applying to McGill Medicine important advice about the application process and how they can find valuable support through SYBS and SACE.

Dr. Saleem Razack, Director of SACE, and Pascale Caidor, PhD, Diversity and Engagement Program Officer, SACE, facilitated the panel in which Bélanger Bishinga, second-year medical students Aminata Soumana and Victoire Kpadé, and Dr. Tamara Gafoor, a pediatric emergency physician at the Montreal Children's Hospital participated. Over 60 high school, CEGEP and university students took part and submitted a range of questions for the panelists to address.

Don't take 'no' for an answer
The student panelists have all taken different routes to McGill Medicine—Bélanger Bishinga the non-traditional pathway, Soumana through the Med-P program, and Kpadé after obtaining her Bachelor of Science—so their presentations covered a lot of ground for participants. They discussed the academic requirements for admission, which account for 70 per cent of the application and what to expect from the Multiple Mini Interviews (MMI) and CASPer tests. But beyond the numbers, the panelists also emphasized the importance of building a CV with extracurricular activities that reflect one's passions and showcasing skills such as leadership, advocacy, compassion and a willingness to learn.

The panelists also emphasized that students should never be discouraged by hearing the word "no." Kpadé said, "I've had so much help getting into med school and I've never been afraid to ask someone for help. If one person says no, just keep asking the next person and the next until someone says yes."

A lot of encouragement
Through SYBS, Black students are paired with mentors who help them develop their critical thinking, communication and interpersonal skills and who support them through the application and interview process of their chosen program.

Vanessa Desiral, an RN currently completing a Bachelor in Nursing, attended the webinar. She's enjoyed support from SACE since starting the process of applying to Medicine and Kpadé is one of her mentors. "I thought the webinar was well structured, with real examples of traditional and non-traditional paths to med school and a lot of encouragement from the speakers," she said. "I was really happy with the experience." Angelica Kalubiaka, a Biopharmaceutical Sciences major at University of Ottawa, also took part in the webinar. "The panel demonstrated the importance of having health professionals that represent the cultural and ethnic diversity of Canada's population, allowing for better personalization of health care based on life experiences. Without a doubt, they inspired and equipped the next generation of Black health professionals thanks to their knowledge and academic and community experiences."

Bélanger Bishinga says that the webinar format was a necessity due to the ongoing restrictions surrounding COVID-19 but its success hopefully points to more webinars in the future. "Our goal is to reach as many students as possible and it turns out this was an easy way for young people to attend," he says. "We'd also like to expand our panel in the future to include students from other disciplines in the Faculty such as Nursing and Occupational Therapy so that participants can see a whole range of career possibilities in health care."

Dr. Razack encouraged participants to contact SACE and SYBS to benefit from the advice and mentoring they can provide. Kpadé closed with solid advice for aspiring med school students. "Believe in yourself," she said. "Just because there aren't a lot of Black med students doesn't mean you can't be here. And know that throughout the process, and once you become a med student, you'll have a huge network of support with us."

For more info on SYBS:

Facebook: SYBS – Supporting Young Black Students – Careers in Health

Twitter: @SYBS.Health

Email: Sybs.health@gmail.com

June 23, 2020