Prostate Cancer Canada (PCC) is proud to announce the recipients of the $5 million 2014 Movember Team Grant. The grant, awarded by PCC and funded by Movember, rewards innovation and collaboration in a single research team from a variety of institutions across Canada.

This year, the Movember Team Grant has been awarded to Dr. John Bartlett of the Ontario Institute for Cancer Research (Principal Investigator) and his team of 14 co-investigators from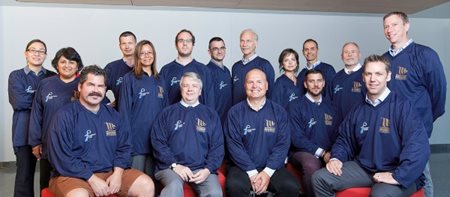 several provinces, including Jacques Lapointe and Axel Thomson from McGill University. Their research is titled The prostate cancer program project in rapid development of novel diagnostic markers for early prostate cancer (PRONTO). PRONTO is aimed at determining whether men need aggressive treatment by providing accurate information about their risk at the time of diagnosis.

"PCC's team of international reviewers identified the team research project that is poised to have the greatest impact in prostate cancer diagnosis, treatment or prevention and the Movember funding ensures that we have the resources required to generate results," says Rocco Rossi, President and CEO at PCC.

"It is an honour to have been selected via the talented international review panel assembled by Prostate Cancer Canada and we are grateful for the Movember Team Grant support," says Dr. Bartlett. "Approaching prostate cancer research from different angles promotes innovation and development in research centres across Canada. At the heart of this research is translating those findings into more effective diagnosis at the clinical level."

Bartlett's research embodies the spirit of collaborative work with co-investigators from across many disciplines, including:
Ralph Buttyan: University of British Columbia, Vancouver, British Columbia
Craig Earle: Institute for Clinical Evaluative Studies, Toronto, Ontario
Andrew Loblaw: Sunnybrook Health Sciences Centre, Toronto, Ontario
Glenn Bauman: London Health Sciences Centre,  London, Ontario
Paul Boutros: Ontario Institute for Cancer Research,  Toronto, Ontario
Antonio Finelli: Princess Margaret Cancer Centre,  Toronto, Ontario
Jacques Lapointe: McGill University,  Montreal, Quebec
Paul Park: Kingston General Hospital,  Kingston, Ontario
Eileen Rakovitch: Sunnybrook Health Sciences Centre,  Toronto, Ontario
Refik Saskin: Institute for Clinical Evaluative Studies,  Toronto, Ontario
Axel Thomson: McGill University,  Montreal, Quebec
Theodorus van der Kwast: Toronto General Hospital,  Toronto, Ontario
Vasundara Venkateswaran: Sunnybrook Health Sciences Centre,  Toronto, Ontario
"Thanks to our Mo Bros and Mo Sistas, we're able to fund this collaborative project that's working towards uncovering better treatment for those living with prostate cancer," says Pete Bombaci, Canadian Country Director, Movember Foundation.  "This grant represents our collaborative approach to research by bringing together the best minds across the country in an effort to improve the lives of those men suffering from this disease."

The Team Grants Program emphasizes teamwork and collaborative research while linking junior investigators with mentors and the opportunity to be part of a long-term project with a multi-disciplinary approach.

Thank You to Movember
PCC would like to recognize the Movember Foundation as the sole funder of this program in 2014. For information about prostate cancer research, visit prostatecancer.ca

About Prostate Cancer Canada
Prostate Cancer Canada raises funds for the development of programs related to awareness and public education, advocacy, support of those affected, and research into the prevention, detection, treatment and cure of prostate cancer. For more information visit prostatecancer.ca and follow us on Twitter and Facebook.

About the Movember Foundation
The Movember Foundation is an independent, global men's health charity with a vision to have an everlasting impact on the face of men's health. Operating in 21 countries, the Foundation is committed to driving significant improvements for men's health issues – prostate cancer, testicular cancer and mental health. The organizational goals are achieved globally through strategic funding of research and health programs directly through the Foundation and via men's health partners. The Foundation is dependent upon funds raised through its annual awareness campaign. During November each year, the Movember campaign is responsible for the sprouting of millions of moustaches around the world. Supported by the women in their lives, Mo Sistas, Mo Bros raise funds by seeking out sponsorship for their Mo growing efforts. Mo Bros effectively become walking, talking billboards for the 30 days and through their actions prompt conversations around issue of men's health. For more information please visit Movember.com. Movember is a registered charity in Canada – BN 848215604 RR0001.

July 31, 2014