This story is part of the Faculty's Proud to Teach campaign, recognizing excellence and innovation in teaching across the Faculty of Medicine.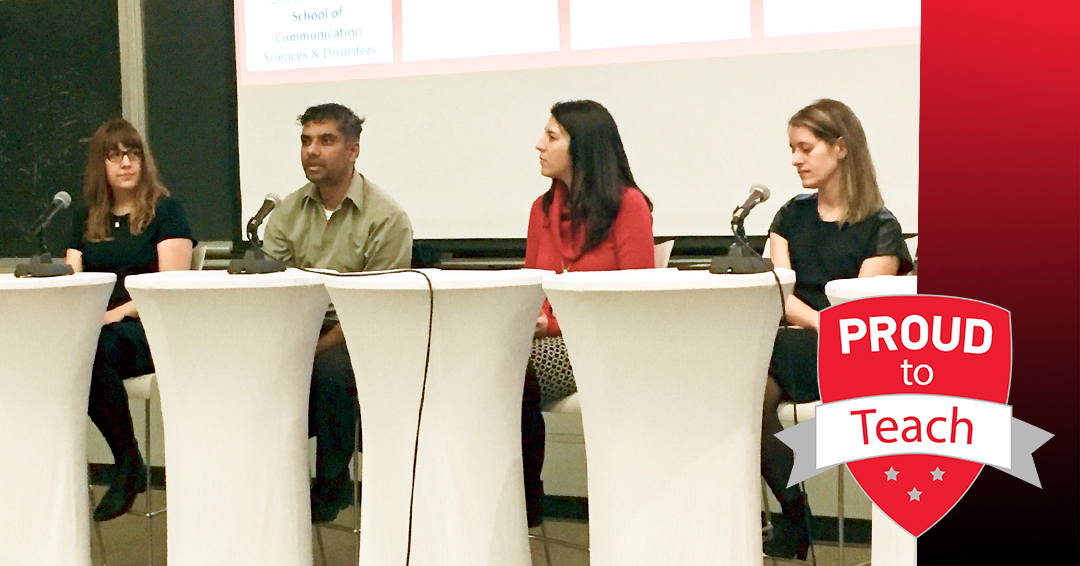 By Matthew Brett
An interprofessional health care panel had leaders sharing options, experiences and inspiration late this October as part of the McGill Open House, introducing over 100 prospective students, families and friends to a range of academic career paths while stressing their important interprofessional linkages.

The goal of the session was to provide prospective students with a better understanding of the different health professions and the key role interprofessional collaboration plays in providing excellent patient care, thereby enabling more informed decisions about their academic pursuits.

The panel was hosted by the McGill Open House Planning Committee led by Debra Branch from Enrolment Services in collaboration with the Office of Interprofessional Education (OIPE), represented by Mark Daly.

Cynthia Perlman, an Assistant Professor in the School of Physical and Occupational Therapy and Chair of the IPE Curriculum Committee, represented the profession of Occupational Therapy on the panel.

"Students in healthcare professions are learning that they must go beyond their siloed or separate disciplinary practice to one of collaboration," said Ms. Perlman. "Each profession's unique perspectives, methods, roles and practice are interwoven and shared to better address the needs of the patient or client."

Moderated by Kelly Root, Assistant Professor and Coordinator of Clinical Education in the School of Communication Sciences and Disorders, and core faculty of the OIPE, the panel included speakers representing Speech-Language Pathology, Dentistry, Medicine, Nursing, Dietetics, Occupational Therapy and Physical Therapy.

Next steps for interprofessional education
Supporting interdisciplinary and interprofessional partnerships is one of three priorities of the Faculty of Medicine's Education Strategic Plan, making the OIPE an important player in advancing the Strategic Plan.

The IPE Curriculum Committee within the OIPE continue to review, revise and develop the IPE curriculum.

The first course in the curriculum, Roles in Interprofessional Teams (IPEA 500), was recently revised and implemented this term for over 700 students and close to 40 facilitators over two days.

This course highlights the IPE competencies of role clarification and teamwork to address the complex care needs of a patient and family members.

The OIPE will be expanding their curriculum to include a fourth course for students who are approaching the end of their professional programs and have had practical clinical experience.

Two new student groups have joined the OIPE's interprofessional education program this year – Genetic Counselling and Dietetics (School of Human Nutrition).

The OIPE is also gathering information to inform next steps in the development of an interprofessional clinical experience, conducting an environmental scan across Canada of IPE opportunities in clinical settings and completing a scoping review of existing evidence of clinical IPE experience.

An IPE Faculty Development committee is conducting a needs assessment to determine future faculty development offerings and has also created the IPE Visiting Scholars Day, with Dr. Lorelei Lingard of the University of Western Ontario to be welcomed as the inaugural guest.

Dr. Lingard will be presenting at the OIPE Interprofessional Education Grand Rounds on May 13, 2020, from 12:00 to 1:00 p.m. Location T.B.A. Please mark your calendars.

For more information about the OIPE, or if you are interested in becoming an IPE facilitator, visit
their website
or contact
ipe.med@mcgill.ca
November 28 2019