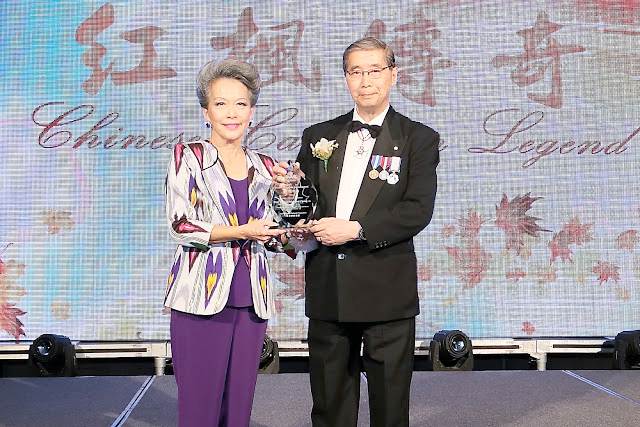 On October 31, more than 400 people attended the 2015 Chinese Canadian Legend Award Gala, organized by the Asian Business Network Association (ABNA) at the Sheraton Parkway hotel in Toronto, where six recipients of the 2015 Chinese Canadian Legend Award, including pioneering McGill Professor Thomas M.S. Chang, were presented with their awards.

Known as the "father of artificial cells", Prof. Chang created the first artificial cell in the world in 1956, which brought forth many ground-breaking approaches in human health and other applications. Professor Emeritus in the departments of Physiology, Medicine and Biomedical Engineering and Director of the Artificial Cells and Organs Research Centre at McGill, to this day Prof. Chang continues his research and innovative work to better the future of humankind. He was awarded Officer of the Order of Canada and was twice nominated for the Nobel Prize. In 2011, Dr. Chang was voted the winner of the Greatest McGillian contest organized by the McGill Alumni Association for McGill's 190th anniversary.

Each year the ABNA receives nominations for Chinese-Canadian Legends. The selection committee consists of over 20 community leaders, more than half of them past award recipients, who select recipients after a rigorous evaluation process. The Committee considers nominees' personal struggles to succeed despite adversary conditions, their fearless and courageous spirit, achievements, contributions, and their motivating impact on their friends and the community.  In addition to being honoured at the Gala the inspiring stories of the award winners are published in a book – Chinese Canadian Legend.

"It is good to be recognized by your own community," says Prof. Chang who was presented with his award by the Honourable Dr. Vivienne Poy, Chancellor Emeritus of the University of Toronto, retired Canadian Senator, former member of the McGill Board of Governors and Honorary Patron of the Gala.

Congratulations Professor Chang!

Dec. 3, 2015