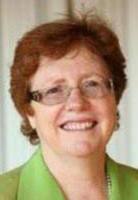 Dr. Mayo is a James McGill Professor in the Department of Medicine (Division of Geriatrics and Division of Clinical Epidemiology) and the School of Physical and Occupational Therapy, McGill University. She is also a Research Scientist at the McGill University Hospital Centre Research Institute where she is the head of the Health Outcomes Axis.

The Enid Graham Memorial Lecture is the most prestigious award that the Canadian Physiotherapy Association can bestow upon a Canadian Physiotherapy Association member.

It was established in 1980 to honor Enid Graham. She was founder of the Canadian Association of Massage and Medical Gymnastics (later the Canadian Physiotherapy Association) and a leader in early years of the Association. Helen Gault presented the inaugural lecture in 1981.

February 7, 2012