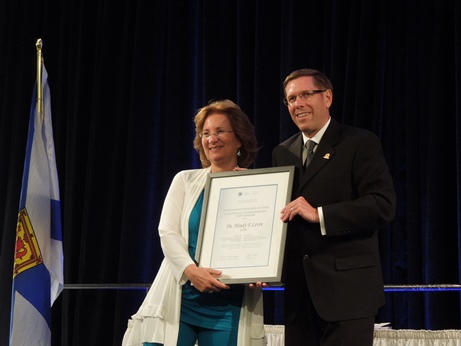 McGill's Dr. Mindy Levin, Professor in the School of Physical and Occupational Therapy at the Faculty of Medicine and Member of the Integrated Program of Neuroscience at McGill was recently awarded with the 2015 Enid Graham Memorial Lecture Award, the most prestigious award given by the Canadian Physiotherapy Association.

Dr. Levin trained as a physiotherapist at McGill University and practiced for several years at the Rehabilitation Institute of Montreal where she specialized in neurological rehabilitation. She then obtained a MSc degree in Clinical Sciences from the University of Montreal followed by a PhD in Physiology from McGill under the directorship of Dr. Christina Hui-Chan. She completed an additional two years of post-doctoral training in neurophysiology at the University of Montreal under the co-directorship of Drs. Yves Lamarre and Anatol G. Feldman.

From 1992 to 2004, Dr. Levin held positions as researcher and professor in the School of Rehabilitation at the Université de Montréal. She taught courses at the undergraduate and graduate level mainly in the areas of electrotherapy and neurology. Dr. Levin was Scientific Director of the Research Centre of the Rehabilitation Institute of Montreal from 1997 until November 2001. She was a Research Scholar of the Fonds de la Recherche en Santé du Québec from 1992 until 2004 and was Director of the Physical Therapy Program in the School of Physical and Occupational Therapy at McGill University from July 2004 to July 2008. She served as President of the International Society of Motor Control and is currently President of the International Society of Virtual Rehabilitation and an executive member of the International Neurological Physiotherapy Association of the World Physical Therapy Association. She holds a Tier 1 Canada Research Chair in Arm Motor Recovery and Rehabilitation.

Dr Levin's research focuses on understanding the motor control of upper limb reaching and grasping of one and/or both arms as well as the coordination of arm and trunk movements. She is interested in the measurement of sensorimotor impairments such as spasticity, as well as the effectiveness of new interventions for arm and hand sensorimotor recovery following neurological injury or disease, such as stroke, Parkinson disease and cerebral palsy. New interventions of interest include task-oriented therapy and virtual reality technology. Dr. Levin has investigated the validity of upper limb movements made in different types of virtual environments by healthy subjects and people with neurological impairments. She has also done several studies on the effectiveness of feedback delivered through virtual training environments.

"Winning the Enid Graham Memorial Lecture Award is an extreme honour for which I am most humbled," says Dr. Levin. "It recognizes the contribution of rehabilitation science to the advancement of physiotherapy practice and patient care in Canada."

The Enid Graham Memorial Lecture was established in 1980 to honour Enid Graham, founder of the Canadian Association of Massage and Medical Gymnastics (later the Canadian Physiotherapy Association) and a leader in the early years of the Association.

Congratulations Dr. Levin!