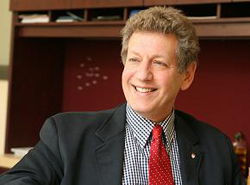 Professor Heather Munroe-Blum, Principal and Vice-Chancellor of McGill University, is delighted to announce that the Board of Governors has approved the reappointment of Prof. Martin Kreiswirth as Associate Provost (Graduate Education) and Dean, Graduate and Postdoctoral Studies, commencing September 1st, 2012 and ending on May 31st, 2015.

Among the many accomplishments of his first term, Prof. Kreiswirth has lead a number of collaborative initiatives that have increased graduate student support and enrolment, the establishment of transitional / professional skill development for graduate students and postdoctoral fellows, and the creation of interdisciplinary graduate programs.  More recently, he has restructured Graduate and Postdoctoral Studies and is working with other stakeholders to enhance supervision and improve times to degree completion.

An expert on author William Faulkner and literary theory, Prof. Kreiswirth, who holds a BA (Hamilton College), MA (Chicago) and PhD (Toronto), is a Professor of English.  He has written and edited a number of books on literature and literary theory: he is currently editor of The Faulkner Journal and has recently completed work as co-editor of Contemporary Literary and Cultural Theory (in press).

Prior to joining McGill in 2007, Prof. Kreiswirth taught at what was then called the University of Western Ontario, where he had also served as the Dean of the Faculty of Graduate Studies since 2003. He joined Western in 1982, after teaching at the University of Toronto.

A past-president of the Canadian Association of Graduate Studies and the Northeastern Association of Graduate Schools, Prof. Kreiswirth has served on numerous academic associations, societies and boards.

April 12, 2012