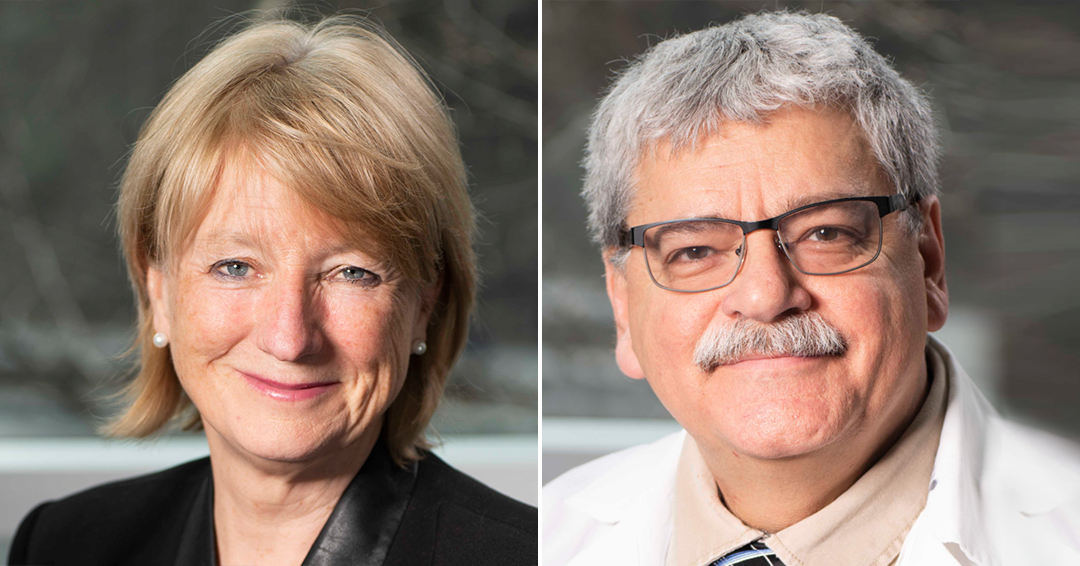 The Rosalind and Morris Goodman Cancer Institute (GCI) wishes to celebrate and congratulate two of its outstanding scientific leaders: our present Director Morag Park, PhD who will be receiving the Armand-Frappier Prix du Québec, and our former Director, Michel Tremblay, PhD who has been awarded the Wilder-Penfield Prix du Québec. They will be recognized in a ceremony to be held today on November 10th, 2021.
The "Prix du Québec" are the most prestigious prizes offered by the Government of Québec. They recognize some of the province's most exceptional citizens for their outstanding contributions to various cultural and scientific fields. It is quite befitting that the Armand-Frappier Prix du Québec, recognizing scientific excellence as well as contributions to building and developing research institutions, is this year awarded to Pr. Morag Park.
Over the last 30 years, Pr. Park and her team have developed an outstanding research program focused on all aspects of breast cancer, from its initiation to its progression and metastasis. Her discoveries range from molecular biology and genetics to the complex interactions between normal and cancerous cells that dictate breast cancer biology and outcomes, an idea that she pioneered. Pr. Park's long-standing interest in the MET receptor tyrosine kinase, which she discovered early in her career, has led directly to new cancer therapies now used in the clinic. Together with her talented trainees she has authored over 230 publications, many of which are landmarks in the field.
Pr. Park's legacy is one of leadership and building strong ties with colleagues throughout the cancer research community. With support from McGill and the Goodman family, she recently spearheaded the development of the interdisciplinary Rosalind and Morris Goodman Cancer Institute (GCI). Uniting research groups throughout Quebec, she helped to build the first breast cancer biobank in the province, now funded by the FRQS, as well as the Quebec Cancer Consortium (QCC), funded by the Quebec government (MEI) and partners. She was responsible for developing Canada's national cancer research strategy through her directorship of the CIHR Institute for Cancer Research and her leadership within the Canadian Cancer Research Alliance (CCRA). She was also integral to the development of the Terry Fox Marathon of Hope Cancer Centre Network.
Pr. Park's achievements as a researcher and a leader have been recognized by the Canadian Cancer Society's Robert L. Noble Prize, the CCRA Award for Exceptional Leadership in Cancer Research and the Grand Prix Scientifique of the Quebec Breast Cancer Foundation, among many other awards. She has mentored over 70 trainees, the majority of whom have been women. Many have gone on to have their own impact on society as leaders in diverse scientific and medical fields.
Pr. Park continues to inspire GCI researchers, staff, and trainees as their Director and one of the most dynamic and innovative cancer researchers in the world.
CONGRATULATIONS, Morag
One of Quebec's foremost scientists, Pr. Armand Frappier demonstrated the efficacy and safety of the BCG polio vaccine in 1938. Showing scientific leadership and a strong entrepreneurial nature, he established the "Institut d'hygiène et de microbiologie de Montréal", which became "Institut Armand-Frappier" in 1975, an internationally recognized institute with a strong focus on vaccine development.
Already a recipient of the Armand-Frappier Prix du Québec in 2013, Pr. Michel Tremblay will now be receiving a second prize, the Wilder-Penfield Prix du Québec, in 2021. This prize recognizes exceptional research careers in the biomedical and natural sciences as well as engineering.
Pr. Tremblay and his team have developed world-leading expertise on protein tyrosine phosphatases, a class of proteins that control molecular pathways involved in development, metabolism and the immune system, as well as cancer and other diseases. A trailblazer in this field, Pr. Tremblay discovered the phosphatase PTP1B, leading to new diabetes therapies presently in clinical trials. He has published over 240 papers, many of them in high-impact journals. With an entrepreneurial spirit and a focus on improving outcomes for patients, Pr. Tremblay has been remarkably successful in translating his research discoveries by founding and collaborating with biotechnology firms. He is also well-known for his development and embrace of cutting-edge technology, having established the first facility in Quebec to generate genetically modified animal models, which are indispensable tools in fundamental and translational research.
Michel Tremblay was Director of the Goodman Cancer Research Centre (GCRC – now the GCI) at McGill from 2000-2012 and recruited many of the high-calibre researchers currently at our Institute. He recently co-founded the McGill Regenerative Medicine network, which brings together scientists at McGill with a focus on treating disease through applying tissue engineering and stem cell biology approaches. Pr. Tremblay has won many prestigious Quebec and Canadian prizes for excellence in research, including the Michel-Sarrazin prize and the Robert L. Noble Prize of the Canadian Cancer Society. He was named a Fellow of the Royal Society of Canada, who also recognized him with the McLaughlin Medal. The research community at McGill, throughout Quebec and across Canada has benefited tremendously from his wide-ranging expertise, as well as his unique sense of humor. A generous and dedicated mentor, Pr. Tremblay has trained 70 researchers, many of them now respected leaders in their own right.
Pr. Tremblay, your GCI colleagues are very proud of and inspired by your many accomplishments and continuing success in cancer research and other fields.
CONGRATULATIONS, Michel
Dr. Wilder Penfield was a ground-breaking neurosurgeon who founded the Montreal Neurological Institute (MNI) in 1934. With his colleagues at the MNI, Dr. Penfield made pivotal breakthroughs in epilepsy research and treatment, as well as vital contributions to our understanding of fundamental questions in brain function.