A young woman who just delivered a healthy baby girl a few days ago presents at the emergency department (ED) with a severe headache.  She is otherwise healthy and has had no pregnancy complications. While waiting for her test results, her headache worsens, her blood pressure rises, and she develops nausea, vomiting and visual changes.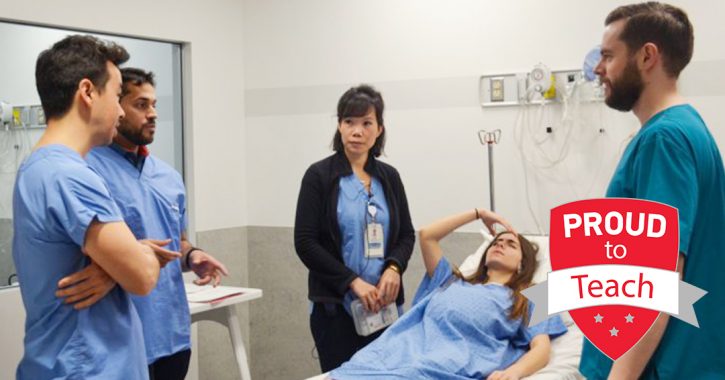 By Diane Weidner, Steinberg Centre for Simulation and Interactive Learning

This is just one example of a patient encounter that a physician who works in the ED might face. They need to be familiar with all the medical specialties to quickly recognize and treat the many different clinical emergencies they will encounter.  To prepare them for this multifaceted role, McGill Emergency Medicine (EM) residents rotate through different core and subspecialties during their five-year training, but they may not necessarily be exposed to some of the rarer but dangerous conditions.  This is where simulation training can help fill in the gaps and address situations like the one described above.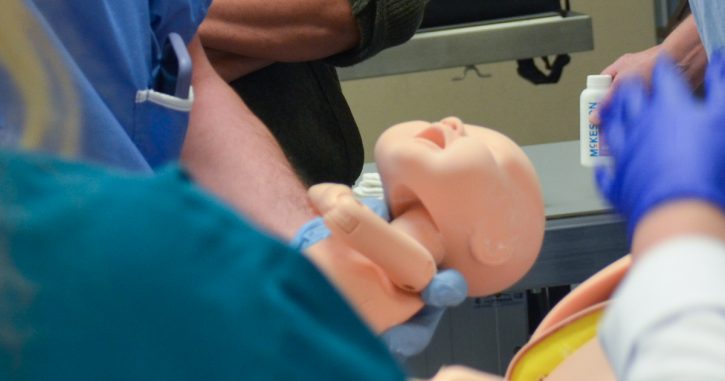 Residents take initiative to augment their training

Dr. Mostafa al-Habboubi, a third-year EM resident, completed his four-week rotation in Obstetrics and Gynecology (OBGYN) but felt that he had not received enough exposure to obstetrical emergencies.  "In a tertiary or quaternary care facility such as the McGill University Health Centre, we see pregnant woman in their first trimester. But once they are in their second and third trimesters, they are seen directly at the birthing centre, so we may not see issues that they are experiencing. We also need to be able to identify conditions that can happen post-partum."  Whether in a large academic centre or a rural setting, EM residents need to act quickly and perform life-saving measures until a neonatologist or obstetrician arrives on the scene.

To help develop their competency and approach to the management of obstetrical emergencies, Dr. Al‑Habboubi approached his program director to discuss how the EM residents can increase their OBGYN training. He then took the lead on coordinating a full day of multidisciplinary training at the Steinberg Centre for Simulation and Interactive Learning. This realistic training brought together faculty and learners from obstetrics and gynecology, emergency medicine, neonatology and nursing to allow learners to hone their technical and communication skills through teamwork and hands-on learning.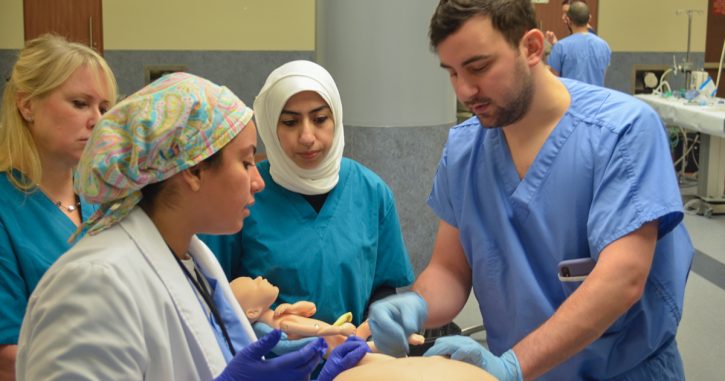 "In obstetrical practice, there are two patients: the mother and the child.  The resident needs to manage both, and communicate with the partner," explains Dr. Luis Monton, Assistant Professor at the McGill Department of Obstetrics and Gynecology who has been collaborating with the program directors, faculty and residents to augment the standardized simulation curriculum in response to the competency-based approach to training instituted by the Royal College in 2017.  The OBGYN team has developed simulation workshops in partnership with other specialties such as emergency medicine, internal medicine and anesthesia to allow residents to learn from each other, because what might be obvious to one resident won't necessarily be obvious to a resident from a different specialty.

The EM and OBGYN residents co-wrote five different scenarios based on real-life clinical interactions that involved managing trauma in pregnancy situations, identifying preeclampsia, performing a perimortem c-section, running a massive transfusion protocol during a postpartum hemorrhage and practicing neonatal resuscitation.

"EM residents need to know their medication and doses for obstetrical emergencies; they need to know what tests to order, and they need to know how to work as a team and be aware of each other's role," emphasized fifth-year OBGYN resident Dr. Sabrina Piedimonte. "It's good to practice this at the sim centre where it's safe. In real life, it's go-go-go!  You need to act quickly and you're under stress."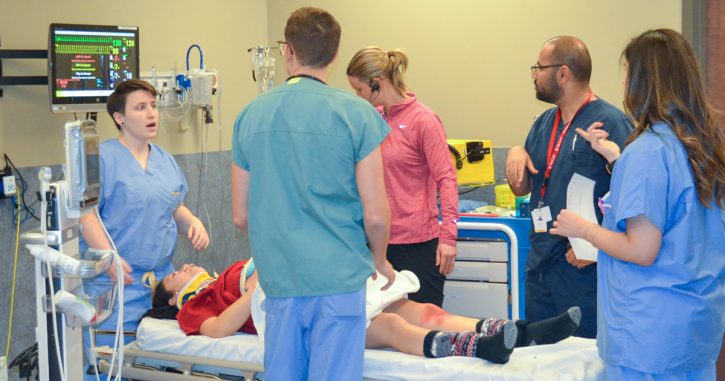 The value of a multidisciplinary approach

Dr. Errol Stern, Director of the Emergency Medicine Simulation Program at the Jewish General Hospital, pointed out that many months of preparation went into organizing this workshop and commended the multidisciplinary approach. "I felt that during the preparation phase and meetings, there was a lot of cooperative learning among us, both for staff and residents, as we gained the perspectives of each other's discipline, and effectively recognized the benefits of the team approach."

Many of the nurses who work in the ED don't necessarily deal with obstetrical emergencies if there is a birthing centre in their hospital.  This was the case for ED nurse Sophie Veilleux, who found the experience very beneficial: "I thought this was a good opportunity to be exposed to this type of high-risk situation and I learned a lot about how to manage the medication and what needs to be done.  I definitely want to bring this knowledge back to my team."

Dr. Michelle Ryan, staff neonatologist at the Montreal Children's Hospital Neonatal Intensive Care Unit (NICU) and Assistant Professor of Pediatrics at McGill, facilitated the neonatology resuscitation simulation training with Louise Gervais, neonatology nurse practitioner.  "For many of our colleagues who treat adults, the idea of having a sick newborn show up at the ED can be extremely scary and outside of their comfort zone," explains Dr. Ryan. "It can take several minutes for the neonatologist to run down from the 6th floor to the ED, so minutes really matter as to how much oxygen is getting to the baby's brain."  Her colleague Mrs. Gervais adds, "For us, being able to share the initial steps into what you need to do to keep your baby nice and stable while you wait for someone to come down from the NICU was so valuable. The residents were all so keen, and it was important to demystify the process with them so they feel more confident managing newborn emergencies."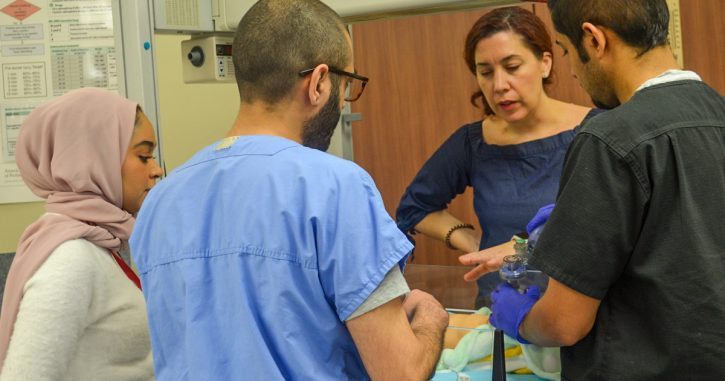 Applying the learnings in a real setting

Dr. Nina Mara Di Nicola, a third-year EM resident, co-wrote the scenarios on postpartum preeclampsia based on a recent clinical encounter: "After putting in the hours of work preparing the station, including review of literature, textbooks and very fruitful discussions with the OBGYN team, I really learned the ins and outs of this disease. This month, I walked into a patient's room and glanced at the triage sheet which read: 33 year-old female, postpartum day 9 with a complaint of headache. Immediately I checked her blood pressure and seeing that it was elevated, I did a very focused history and physical exam, and confidently started the patient on the appropriate treatments to prevent worsening of her condition, including seizures and brain bleeds. I couldn't find my staff to review the case initially, so I went ahead and called the OBGYN resident and told them I was treating a patient for severe postpartum preeclampsia. They asked a few follow up questions and confirmed that I was exactly on the right track with my diagnosis and treatment. It was a great feeling to see my sim case come to life and to use those lessons to save a real patient. Being involved with that simulated scenario gave me the confidence to deal with a rare and serious diagnosis in a swift and efficient manner."
This story is part of the Faculty's Proud to Teach campaign, recognizing excellence and innovation in teaching across the Faculty of Medicine
February 6 2020