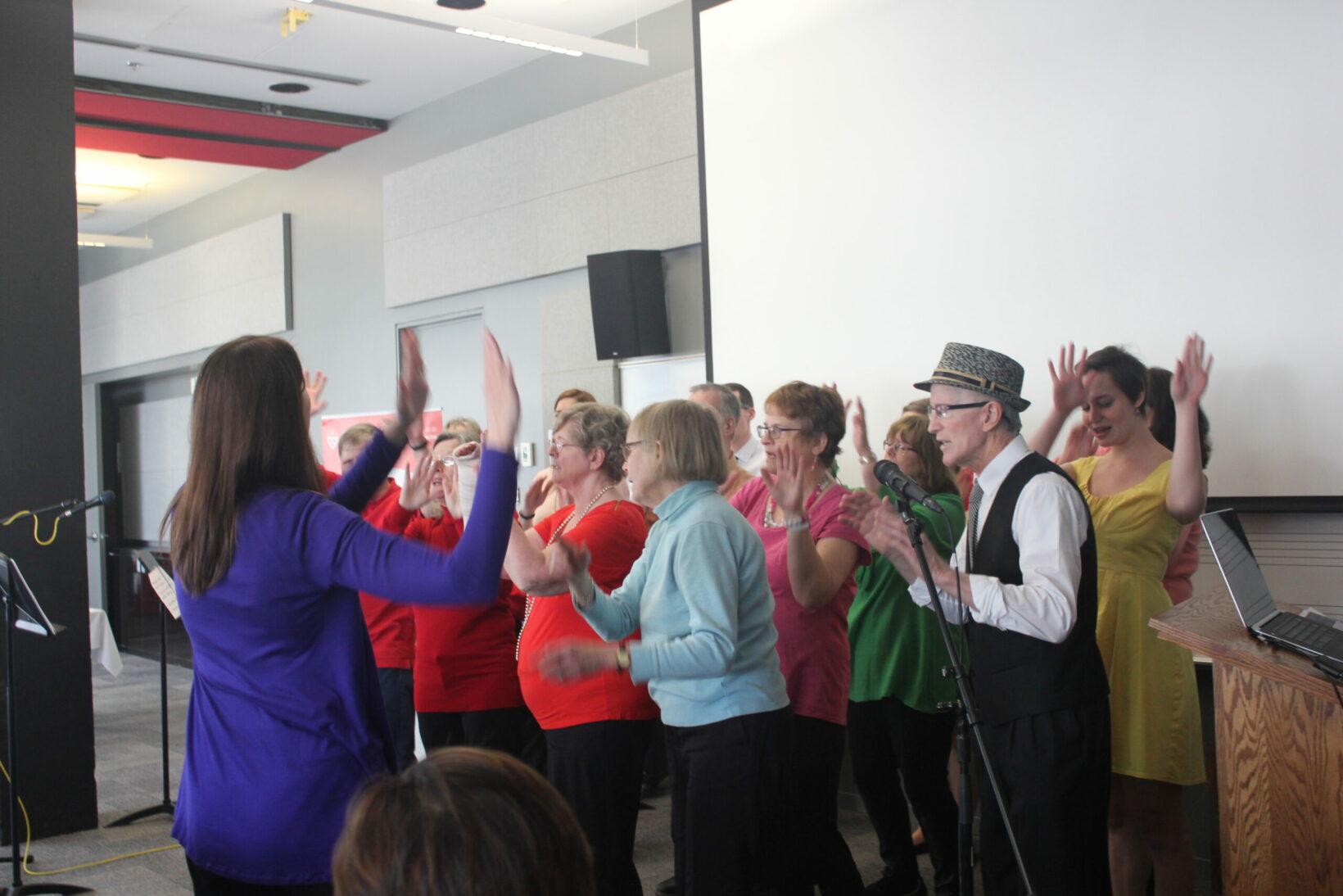 As another convocation season passes, throngs of newly minted graduates, armed with their diplomas, eagerly trek out seeking to find rewarding vocations where they can make an impact. Not all, however, truly understand the difference between what they've learned in their classrooms and what the real world holds.

As Assistant Professor and Chair of the Clinical Outreach Committee at McGill University's School of Communication Sciences and Disorders (SCSD) in the Faculty of Medicine, Dr. Nicole Li-Jessen has set out to provide students with community outreach activities that simultaneously expose them to real-world clinical settings as one means of preparing them to enter the workplace.

Working with a variety of partners, SCSD students are able to engage the community while at the same time promote visibility of the profession of speech-language pathology among the public. Two of the hallmark initiatives that have been developed include World Voice Day at McGill, held for each of the past two years, and a Swallowing Awareness Event, held for the first time in 2016.

Promoting the Importance of Voice
"Most people take their voice for granted," explains Dr. Karen Kost, Professor in the Department of Otolaryngology – Head & Neck Surgery at McGill, who has participated as a speaker for the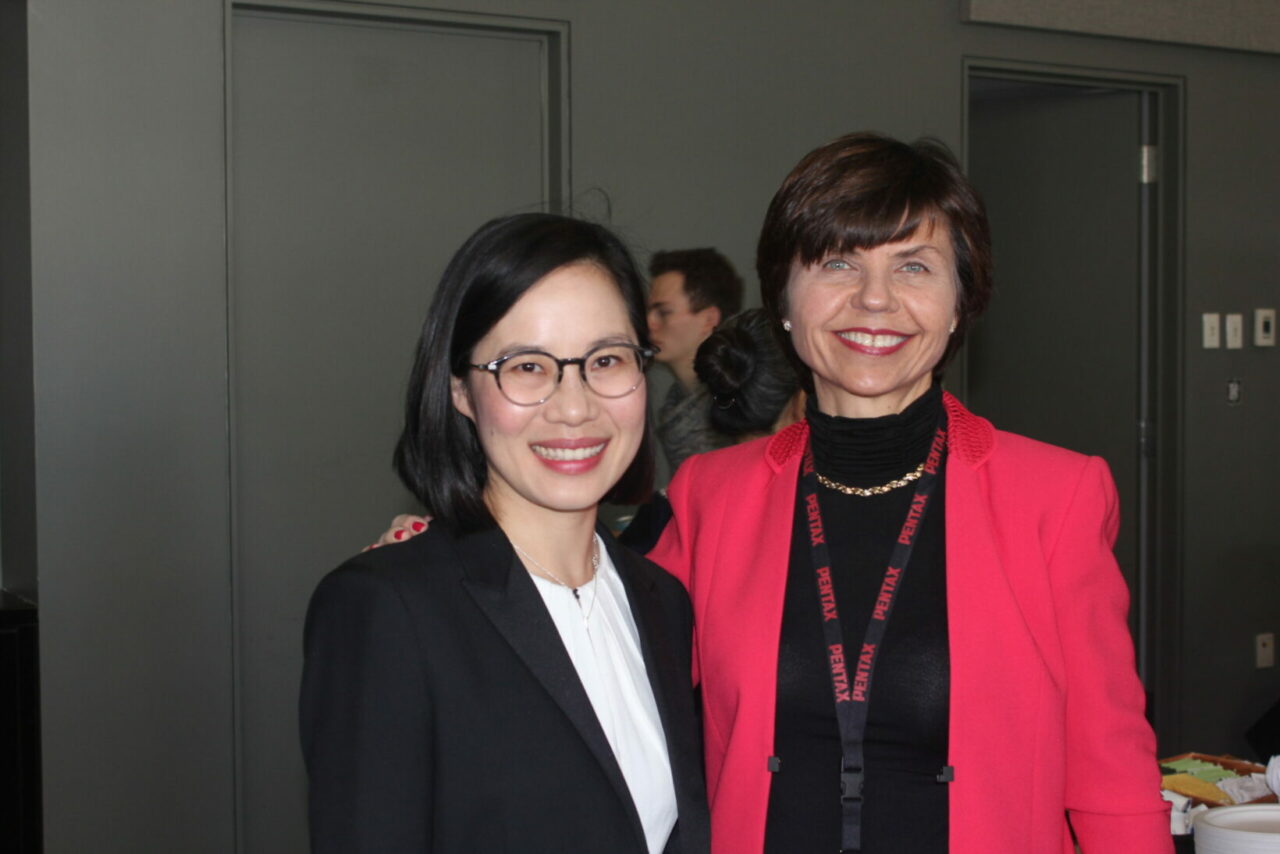 World Voice Day seminar each of the past two years. Dr. Kost is passionate about promoting the importance of voice and counts it as a major part of her practice. "The voice is an incredible instrument – there is no other close to it. People just assume their voice will be there when they wake up. Until the day it is not."

World Voice Day activities begin each year at McGill with a day set aside for voice screenings open to the general public and led by a group of SCSD graduate students, who take on the responsibility of organizing all World Voice Day associated activities for the year. In total, 41 people representing a variety of vocations received screenings in 2016.

The multidisciplinary nature of World Voice Day at McGill is a central component of planning, particularly when it comes to the seminar that has taken place each of the last two years. The seminar creates an ideal opportunity for the Faculty of Medicine to come together with the Schulich School of Music. "From my perspective as a professional voice user, the voice is my career. It's important that we learn as much as possible about its use and maintenance," says Winston Purdy, Associate Professor at McGill's Schulich School of Music.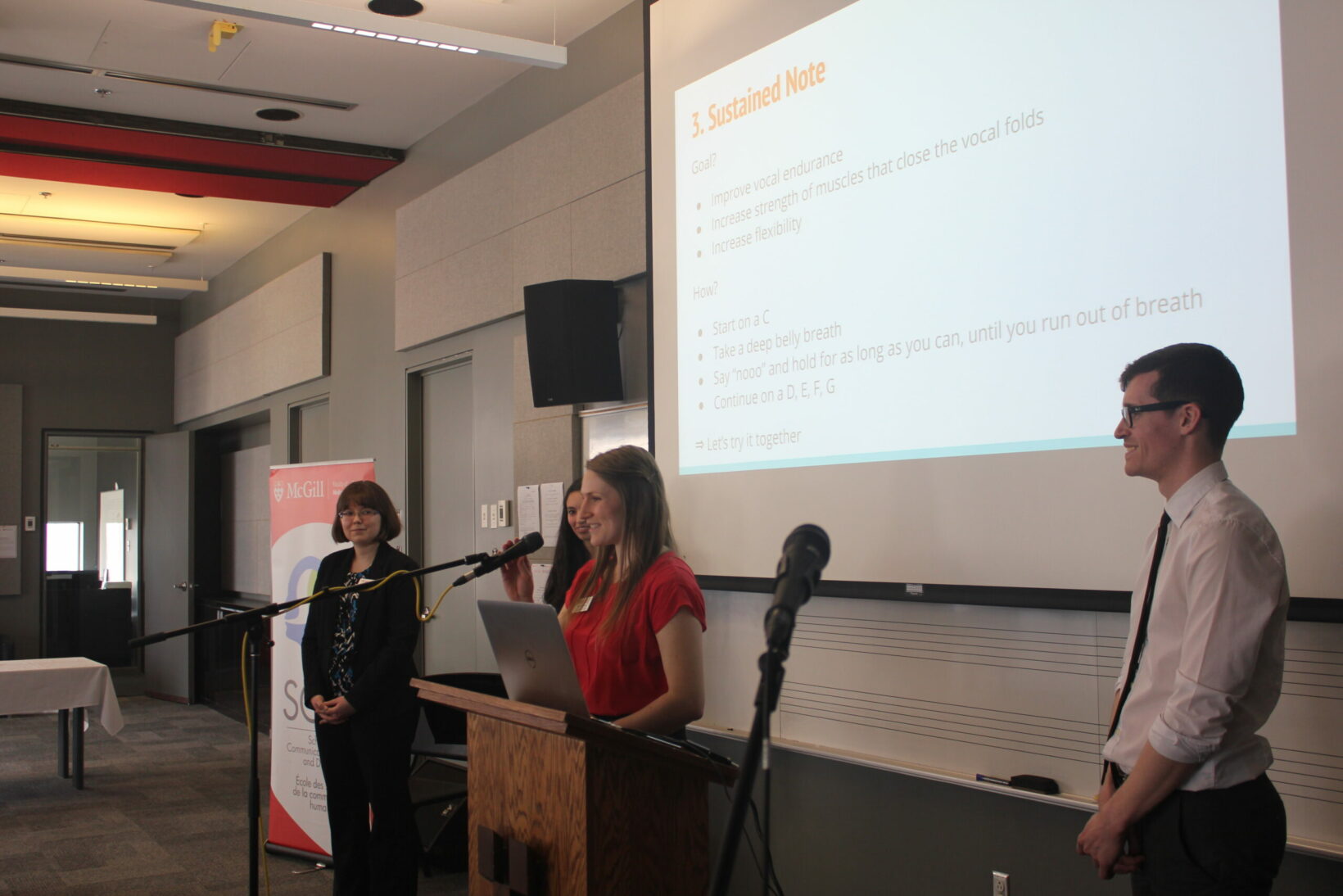 "World Voice Day brings together people from different fields and communities," notes
Dr. Isabelle Cossette
, Director of the Centre for Interdisciplinary Research in Music, Media and Technology at McGill, and one of the other 2016 seminar speakers and co-organizers. "I strongly believe that we have to break frontiers between disciplines and communities. Through engagement with art, we can push the boundaries of knowledge in science and technology. The reverse is also true: through engagement with science and technology, we may contribute to creating new artistic means.  I also strongly believe that understanding better how we use our body during artistic performance is essential to foster evidence-based pedagogies but also the body during artistic performance requires the body to be in its optimal state."
More than 70 people attended the World Voice Day seminar in 2016, which featured a combination of presentations complimented with performances by Jared Tehse and Rose Naggar­Tremblay, Professor Purdy, and Les Voix de Parkinson en Mouvement, a group comprised of people living with Parkinson's disease who get together to sing on a weekly basis to work on maintaining strong and healthy voices despite the many physical challenges they face.​

"The best, most direct way to communicate with others is through speaking," says Lisa Lapointe, vocal coach for Les Voix de Parkinson en Mouvement. "It's not just about what we say, but how we sound when we say it. If our voices are weak or impaired in some way, we may not be able to make connections to other people as easily. For people with Parkinson's in particular, they sometimes have limited or constricted facial expressions which might hinder the intent of their communication, so maintaining a strong clear voice can clearly help here."

The multidisciplinary nature of the event was not lost on the speakers either, as recognized by Emily Lanctil-Lamarre, a Speech-Language Pathology student from Université de Montréal who was also one of the 2016 seminar speakers. "I enjoyed how the subject [of voice] was treated from different perspectives – from a medical point of view to speech pathology to singers and other people whose voices were affected."

Increasing Awareness of Dysphagia
In addition to the World Voice Day activities, for the first time in 2016, Li-Jessen had a group of students organize a Swallowing Awareness Event. Working with Gina Mills, Interim Chief of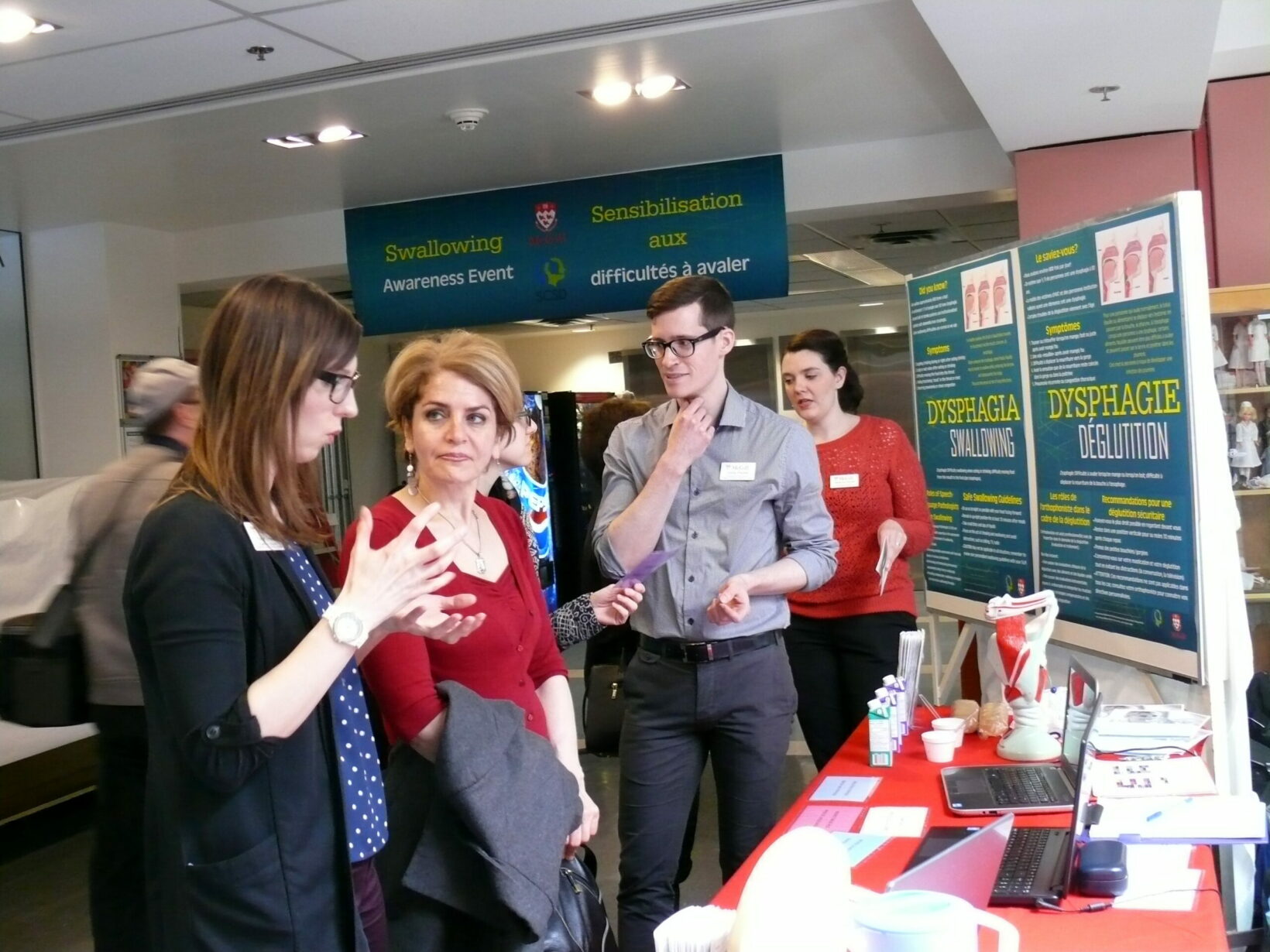 Audiology and Speech Pathology Services at the Jewish General Hospital (JGH), the students set up a booth to raise awareness of another often-ignored, but serious issue and to provide the public with free swallowing screenings.

"90% of the Speech-Language Pathologist's role at the Jewish General Hospital focuses on assessing and managing dysphagia.  It was important for students to be exposed to our role here at the JGH, as a significant part of our profession is devoted to swallowing and feeding disorders," says Mills, who works with Li-Jessen to teach part of the course focused on dysphagia. "It is also important to have students do some hands-on work by performing swallowing screenings and provide the opportunity to apply their classroom knowledge to the clinical setting."

The students had over 60 visits to their booth during the four hour window they were there, with Mills noting that people were lined up waiting to be screened. As is the case with World Voice Day, Mills stresses the importance of highlighting the interdisciplinary nature of care when it comes to dysphagia. Mills also says emphatically that she would jump at the opportunity to participate in a similar event again in the future, a sentiment also unanimously shared with World Voice Day speakers and performers.

Learning by Teaching
"My philosophy is that students learn more if they can teach others," explains Li-Jessen. "Through these activities, students have opportunities to share the knowledge they learn in the classroom with the public while simultaneously having opportunities to develop professional skills that are essential for their long-term career development."

If you take the comments of the some of the students involved, you can certainly qualify these initiatives as successful. "It is said that the best way to learn something is to have to teach it to others," echoes Tara Casorso. "This definitely came into play with our knowledge about the voice, as we needed to answer questions from people who approached our booths, counsel clients we were screening, teach vocal exercises to the audience in the seminar, and more."

"Organizing both the seminar and the screenings was a great opportunity to consolidate what we have learnt in voice class as well as our professional skills," adds Jenna Hotton. "The interesting part of organizing a public event on voice is that it provides a service to the public in a field where there is little public knowledge of what can be done. It was a great opportunity to get hands­on clinical experience in a field that not everyone has had the opportunity to work on in their practicum."

The feedback from students has to be pleasing to Li-Jessen who says of her and her colleagues' efforts in spearheading these and other outreach activities in SCSD, "we are dedicated to enrich the learning experience of our students, beginning in the classroom and extending to the clinic and beyond."

June 29, 2016