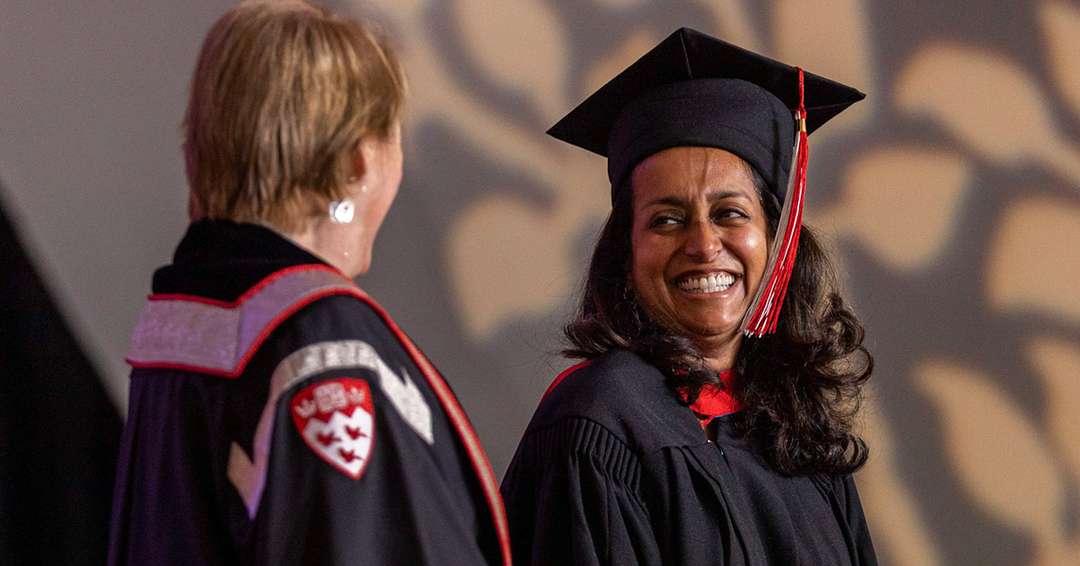 Preetha Krishnamoorthy, MDCM has been selected as the 2022 recipient of the Osler Award for Teaching Excellence. Selected each year by the graduating medical class at McGill University, the Award recognizes an extraordinary educator who made a lasting impact on the cohort over the course of their four years of medical school. Dr. Krishnamoorthy is now a two-time recipient of this award, having been previously selected by the Class of 2012.
Having completed their medical school during the ongoing global pandemic, Dr. Krishnamoorthy is quick to note that this graduating class has had to face challenges she never would have imagined during her time in medical school, and done so with poise, professionalism, humour and kindness. For future advice, she encourages the graduates to be humble and committed to lifelong learning and to remember what drew them to medicine in the first place when faced with adversity.
"Find the path that brings you joy," Dr. Krishnamoorthy says, addressing the Class of 2022. "For me, my happy place is teaching. And that is because each and every one of you remind me every single day what makes me passionate about medicine. So, I thank you for allowing me to be a part of your journey."
After medical school at McGill, Dr. Krishnamoorthy completed her residency at the Montreal Children's Hospital (MCH) in 2000, before completing a fellowship in Pediatric Endocrinology. She has been on staff in the Division of Pediatric Endocrinology at the MCH since 2003. She is heavily involved in medical education and serves as the Director of Pediatric Undergraduate Education at McGill. She won the Paige and Bernard Kaplan Award for excellence in teaching in 2004 and was named to the Faculty Honour List for Educational Excellence. She is also one of the recipients of the 2016 CAME Certificate of Merit Awards. In addition to her medical-related teaching, she loves to teach Zumba.
Congratulations Dr. Krishnamoorthy!
Related: 
Watch the May 26 Health Sciences Convocation ceremony and check out the Health Sciences Convocation program.