Alumni Award of Distinction winner conducts research on the biology of cancer metastasis at the RI-MUHC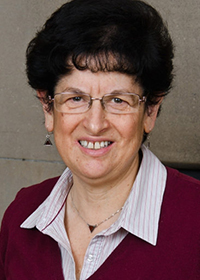 Source: RI-MUHC
Pnina Brodt, PhD, was recently honoured with the Alumni Award of Distinction for Lifetime Achievement from the University of Ottawa's Faculty of Medicine, where she completed her M.Sc. The award was presented at a virtual ceremony for the 2020 awards on December 10.
"The Faculty of Medicine at the University of Ottawa is where my journey as a scientist began," she says. "It is in the Department of Microbiology and Immunology that I undertook my first independent research project and published my first scientific paper. I am honoured and immensely grateful to be recognized by my alma mater."
Pnina Brodt is a professor in the Departments of Surgery, Medicine and Oncology at McGill University and the McGill University Health Centre (MUHC), where she has worked since 1983. Her research has focused on the biology of cancer metastasis, particularly the molecular events that underlie the process of liver metastasis. A senior scientist in the Cancer Research Program at the Research Institute of the MUHC, she previously served as co-leader of its Cancer Axis. She is also a co-founder of the Liver Metastasis Research Network—a multidisciplinary international network dedicated to uncovering the molecular mechanisms of liver metastasis for the betterment of patient care.
She has authored or co-authored numerous publications in such prestigious scientific journals as Nature, Nature Communications, Oncogene, British Journal of Cancer, Clinical Cancer Research, Cancer Research, Journal of Clinical Investigations, Molecular Cancer Therapeutics International Journal of Cancer and Seminars in Cancer Biology. She edited several books on cancer metastasis and holds two patents on a novel IGF receptor inhibitor bioengineered by her team.
January 27, 2021