Under these agreements, the CSSS de Gatineau joins in the implementation and execution of teaching and research development programs in the region.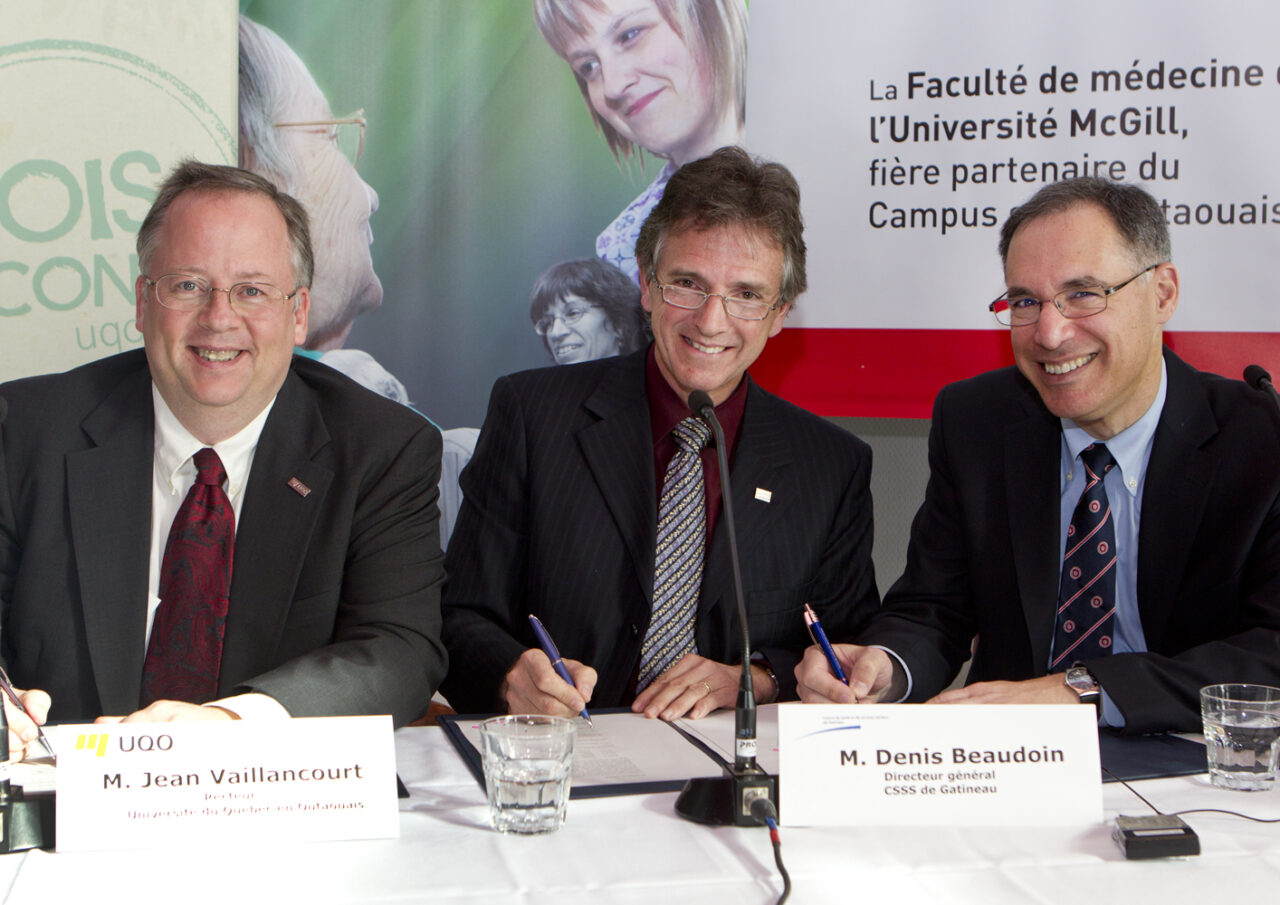 The Director General of the CSSS de Gatineau, Mr. Denis Beaudoin, recognizes that the Université du Québec en Outaouais and McGill University are important partners. "This alliance represents a major asset for our organization. It will enable us to consolidate the existing training efforts for medical training and research. I believe that today's alliance will also contribute to attracting more health professionals in our region," explained Mr. Beaudoin.
On his part, the Rector of the Université du Québec en Outaouais, Mr. Jean Vaillancourt, acknowledges that these agreements will be beneficial for each of the partners. In his opinion, they will facilitate the development of teaching and research, as well as access to bursaries for researchers."The agreements signed today by the UQO and McGill with the Centre de santé et de services sociaux de Gatineau will enable us more than ever to be partners with a common mission, which is to ensure rigorous, quality training for both emerging and existing staff, as well as to advance knowledge and research in the field of health and social services, this also for the greater benefit of the region's population," said Mr. Vaillancourt.

Again with the objective of improving the quality of the care provided, this partnership, also established within the framework of the Consortium Campus Santé Outaouais, should set the stage in the long term for adding specialization programs offered in the Outaouais. The Dean of the Faculty of Medicine at McGill University, Dr. David Eidelman, is pleased with the success of the residency and graduate programs offered at the CSSS de Gatineau. Dr. Eidelman also mentioned the success of the rotations provided in the Outaouais in the fields of anesthesiology, pediatrics, internal medicine, general surgery, emergency medicine, gynecology-obstetrics, and radiation oncology.

"Education, research, and health care provided to Quebeckers constitute more than a commitment for McGill, they are a priority," added Dr. Eidelman. "The CSSS de Gatineau is an important teaching site for McGill, and we are most happy today to make our partnership official. Our collective efforts have yielded very encouraging results, including a retention rate of 85% of the physicians trained here as part of the McGill family medicine residency program. In collaboration with the CSSS, the Agency, the UQO and our partners in the Outaouais, we are most pleased to contribute to the improvement of health care for the people of this region."

In addition to affording greater visibility to the region and to the CSSS de Gatineau, this affiliation partnership will contribute to the promotion of an academic culture in the Outaouais.

November 13, 2012