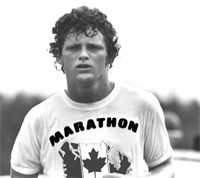 After being diagnosed with bone cancer, Terry Fox decided to run across Canada in 1980 to raise funds for cancer research and increase awareness about the disease itself. This year, Montreal will host its annual Terry Fox Run! On Sunday September 16th, come join us at the Mount-Royal Chalet, on Mount Royal to help outrun cancer!

There are many reasons for all of us to participate. The event promotes camaraderie within the Faculty and among the greater Montreal community.  The Terry Fox Run is non-competitive and family oriented.  Participants can run, walk or even push strollers for the 5 or 10 km course. The goal of the run is to raise money for a worthwhile cause – cancer research but does not require a donation to register or participate. Furthermore, the location of Mt. Royal is ideal, mid-September is the perfect time and, finally, it is a great way for the Faculty of Medicine to do something positive for the Montreal community. With your help, it would be wonderful if this could become an annual event for the Faculty.

On the day of the Run, registration will start at 9:45 AM. The run will begin at 10:30 AM. You can participate in many ways: you can run, walk, bike, roller blade, or use a wheel chair.

If you are interested you can join either of the two Faculty of Medicine affiliated teams by clicking on the links below:
TO JOIN THE SCARLET KEY TEAM PLEASE VISIT:

https://secure.e2rm.com/registrant/mobile/mobileTeamPage.aspx?teamID=338247&langPref=e%2f%2fwww.terryfox.org%2fRunteam_canceer_survivors_new_.html
TO JOIN THE FACULTY OF MEDICINE TEAM:

http://my.e2rm.com/TeamPage.aspx?teamID=339427&langPref=en-CA
EVENT DAY INFO:

https://secure.e2rm.com/registrant/LocationHome.aspx?EventID=83614&LangPref=en-CA&locationID=84064&Referrer=http%3A%2F%2Fwww.terryfox.org%2FRun%2FQuebec_.html
Feel free to bring along your friends and family.  If you have any questions, please contact  barry.slapcoff@mcgill.ca

August 29, 2012