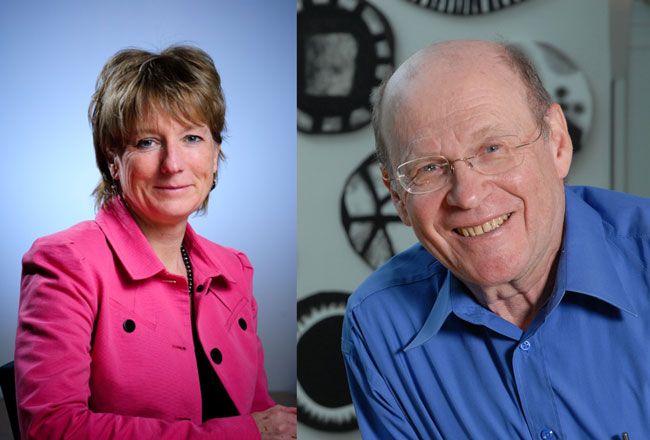 Two McGill researchers have been recognized for their efforts in ongoing fight against cancer. As announced earlier today, the Canadian Cancer Research Alliance (CCRA) has honoured four researchers with its annual awards. Morag Park has earned the CCRA's award for Exceptional Leadership in Cancer Research while Nahum Sonenberg won the Outstanding Achievements in Cancer Research award. The official presentations will be made during the Canadian Cancer Research Conference on Nov. 8 and 9.

Park, Director of the Rosalind and Morris Goodman Cancer Research Centre, is a research leader in the field of receptor tyrosine kinases (RTK) and mechanisms of oncogenic activation of RTKs in human cancers and in the role of the host microenvironment in cancer initiation and progression.

Park served as the Scientific Director of the CIHR Institute of Cancer Research (ICR) from 2008 to 2013. Under her leadership, the ICR addressed significant health priorities related to cancer research, with an emphasis on the role of lifestyle and the environment, personalized medicine, cancer initiation and progression, childhood cancers and survivorship. She is a staunch champion of the importance of collaboration and partnerships within the Canadian cancer research community and is committed to promoting interdisciplinary and multidisciplinary team research training and support for new cancer researchers.

In a press release, Dr. Christine Williams, co-chair of the CCRA, praised Park for her multifaceted approach. "Dr. Park has made a significant contribution to the Canadian cancer research community with her focus on developing young scientists and her ability to corral support for emerging areas of cancer research. This award is our way to acknowledge her exceptional contributions," said Dr. Williams. "She continues her good work at the helm of the Goodman Cancer Research Centre while also pursuing her own high calibre research."

A pioneering researcher, Nahum Sonenberg, has earned numerous accolades and honours over the course of his career, including the prestigious Wolf Prize, the McLaughlin Medal, theLewis S. Rosenstiel Award and the Killam Prize.

In a press release, Dr. David Huntsman, co-chair of the Scientific Program Committee for the CCRA Canadian Cancer Research Conference, highlighted the huge impact Sonenberg's body of work has had upon the scientific community worldwide.

"Dr. Sonenberg's pioneering and fundamental discoveries have laid the basis for the understanding of how translation initiation factors promote ribosome binding and the regulation of initiation factor activity by extracellular stimuli. His seminal work demonstrating how control of translation initiation is implicated in cancer has had a profound and global impact on the trajectory of basic and translational research," said Dr. Huntsman. "Not only has Dr. Sonenberg continued to expand our knowledge of the biochemical processes so critical to cancer and other diseases, but his impact can also been seen in the accomplishments of many other Canadian researchers who were his protégés. As a research community, we are truly fortunate to have him in our midst."

The other winners were Dr. Michael Evans for Distinguished Service to Cancer Research and Dr. Joseph Pater for Outstanding Achievements in Cancer Research.

Read the CCRA press release
.