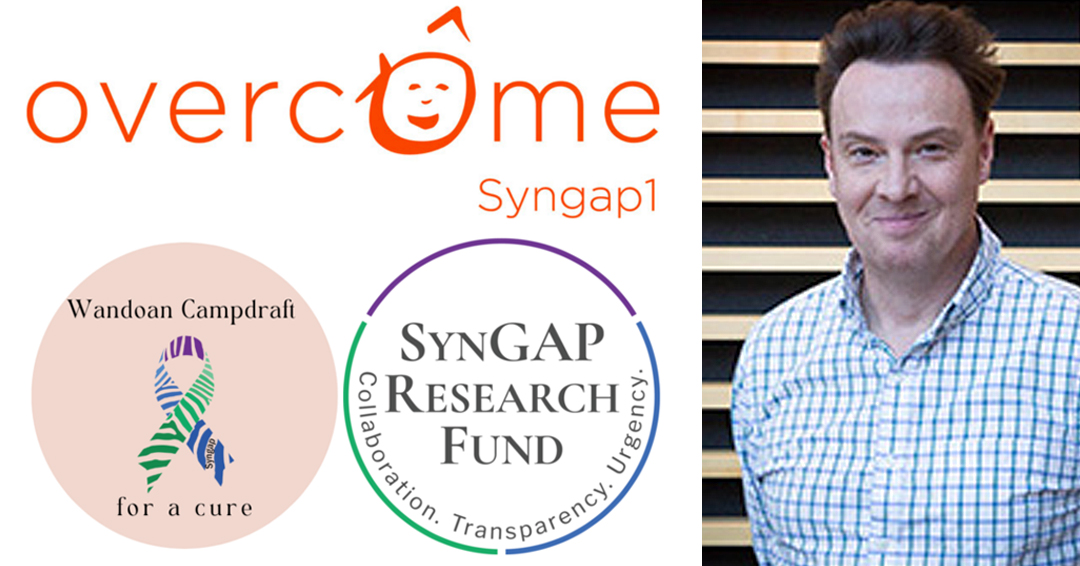 If we could develop an intervention to improve intellectual capacity in our patients it would improve the lives of patients, caregivers and their families.
What if there was a pill to address the symptoms of SYNGAP1 intellectual disability (ID) which was effective regardless of the patients' age or specific mutation?
Overcome SYNGAP1, Wandoan Campdraft for a Cure (Campdraft) & SynGAP Research Fund (SRF) are partnering to fund a CAD $150,000 grant to Derek Bowie, Phd at McGill University in Montreal. Prof. Bowie is a leading international neuroscientist who has spent more than 25 years studying the biology of glutamatergic synapses. Dysfunction in critical proteins contained within glutamatergic synapses is a common feature in ID and can be caused by a range of different gene variants, including SYNGAP1.
Prof. Bowie believes that by correcting targets downstream of these synapses, a specific combination therapy can result in a common improvement of the ID phenotype. This grant will support his lab in investigating the efficacy of this therapy via SYNGAP1 mouse models. The funding will support a post-doctoral researcher and a research assistant, as well as lab reagents and supplies to support experiments over a year. Campdraft, an Australian SynGAP family effort, generously co-funded this grant in partnership with SynGAP Research Fund Australia.
Prof. Bowie says, "We are extremely grateful to the SynGAP Research Fund, Overcome SYNGAP1 & Campdraft for providing the funds to test our idea of using a small molecule approach to target the molecular pathways giving rise to intellectual disability. I am excited to see what new insights this research will uncover."
Solenne Lafeytaud, President and founder of Overcome Syngap1 says, "One of the very first organizations in the world supporting SYNGAP1 patients, in Canada since 2016 and France since 2017, Overcome SYNGAP1 has funded research on the genetic disorder for many years, hoping to find a cure. We believe that this promising project with Prof. Bowie and his team brings us closer to our goal, and will improve the lives of our children and loved ones, at the core of our concerns. Partnering with our US counterparts is also an important step as obviously the genetic disorder knows no borders and joining our forces will only support better research and collaboration. We feel the urgency to find a cure, and are very hopeful that by partnering with other organizations on ambitious projects we will reach our goal sooner!"
SYNGAP1 families in Canada are supporting this project via Overcome –  syngap.fund/overcome
Michael Graglia, Managing Director of SRF says, "Similar to the recent grant with the Canadian RDMMN, we always have a local partner when making international grants.  As such, we are thrilled to be partnering closely with the SYNGAP1 community in Canada to build support for this grant. The possibility of this therapeutic approach being available to our loved ones in just a few years is compelling.  We are grateful to have a world class researcher like Prof. Bowie focusing on SYNGAP1."
SYNGAP1 families in the US are supporting this project via SRF – sygnap.fund/bowie
ABOUT SYNGAP1
SYNGAP1-related intellectual disability (US ICD-10: F78.A1) is a rare genetic disorder caused by variants (normally de novo) on the SYNGAP1 gene.  There are nearly 1,100 diagnosed patients known to SRF as of July 2022.  This disorder leads to several neurological issues including intellectual disability, epilepsy, autism, sleep disruption, gastro-intestinal and feeding problems, hypotonia (low muscle tone), apraxia (delayed/no speech), impulsivity, aggression & sensory processing challenges. (Vlaskamp 2019, Jimenez-Gomez 2019, Smith-Hicks 2021, Wright 2022, Lyons-Warren 2022).  There is over 20 years of research on this gene already (Gamache 2020), and still much more to do.
ABOUT THE BOWIE LAB
The Bowie lab focuses on the structure-function properties of ionotropic glutamate receptors, GABA-A receptors and sodium channels as well as studying their role in neuronal circuit behavior.  Prof. Derek Bowie is the co-Director of the Cell Information Systems in the Bellini Life Sciences Complex. Joining McGill in 2002 as the recipient of the Canada Research Chair award in Receptor Pharmacology, Prof. Bowie has served as the Director of the FRQS-funded research group, GEPROM, as well as being the Treasurer of the Canadian Association for Neuroscience (CAN-CAN.org) and member of the International Brain Research Organization (IBRO.info) US/Canada Regional Committee. He also serves/has served on the editorial boards of the Journal of Physiology, Current Neuropharmacology, Channels and Current Opinion in Physiology. Prof. Bowie earned his Ph.D. at the University of London after completing his undergraduate degree at Strathclyde University in Scotland. He then carried out postdoctoral training in France (Université Louis Pasteur), Switzerland (University of Zurich) and the USA (National Institutes of Health) before holding a faculty position at Emory University in Atlanta prior to making the move to Montréal.
ABOUT OVERCOME SYNGAP1
Overcôme Syngap1 is a Canadian Registered Charity which aims to raise awareness of SYNGAP1 genetic disorder, helping families affected by the disease and raising funds to find a cure. Established in 2016, it is one of the oldest SYNGAP1 patient advocacy groups and operates in France as well as Canada. Visit OvercomeSyngap1.org.
ABOUT WANDOAN CAMPDRAFT FOR A CURE & SYNGAP RESEARCH FUND AUSTRALIA
The Campdraft for a Cure event emerged when the Webster family's daughter Gracie was officially diagnosed with SYNGAP1. Four friends decided to create an organization (Somerset Campdraft Association) to hold a fundraising event in the hopes of bringing much needed awareness & raising funds to support the quest for treatments to the rare disorder. Campdraft for a Cure reached thousands of social media followers in the lead up to the event, and created prominent awareness for SYNGAP1 & epilepsy related disorders alike.  The event was held in the small town community of Wandoan, Queensland, and attracted hundreds of supporters from all across Australia.
Campdraft for a Cure is associated with Syngap Research Fund Australia who advocate for, connect and support SynGAP families and enable SynGAP research. They have been advocating for SynGAP and campaigning for funds in Australia since 2016 and strongly believe precision medicine will deliver viable therapeutic approaches for SynGAP. Syngap Research Fund Australia are proud to be associated with Campdraft for a Cure to accelerate the progress of this mission. Visit SyngapAustralia.org
ABOUT SYNGAP RESEARCH FUND
SRF, incorporated in the US in 2018, is a 501(c)(3) public charity whose mission is to improve the quality of life of SYNGAP1 patients through the research and development of treatments, therapies and support systems.  Families created sister organizations for SRF in the UK in 2020 and in Europe (Netherlands) in 2022.   Completely parent-led, SRF is the largest non-government funder of SynGAP research having committed over $2.9M in grants. The founders cover all operational costs, allowing 100% of donations to go to research.  SRF's grant program awards one or two-year grants to young investigators, physician residents, and clinicians who are interested in studying SYNGAP1. SRF grants are intended to help researchers explore novel ideas and answer questions related to the clinical aspects, therapies and/or genetic causes of SYNGAP1.  SRF is a member of the Personalized Medicine Coalition, COMBINEDbrain, Global Genes Foundation Alliance, the Everylife Foundation Community Congress, Rare Epilepsy Network, and Epilepsy Leadership Council.  Visit SyngapResearchFund.org.