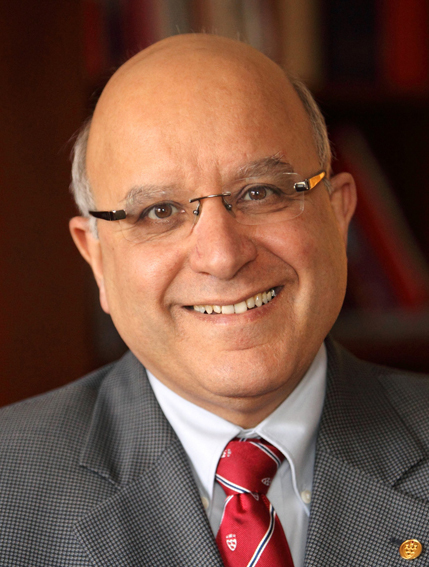 By Doug Sweet
Provost Anthony C. Masi's second five-year term comes to an end June 30. He will be succeeded by outgoing Dean of Arts Christopher Manfredi. Masi has spent 36 years at McGill, as a Professor of Sociology, as Chief Information Officer and as Deputy Provost and Provost. As Provost, Prof Masi has had oversight for both the McGill's academic mission and the University's budget. He sat down with The Reporter for a look back and a look ahead.
You've been Provost for 10 years, and before that you were Deputy Provost and CIO. What accomplishment has given you the greatest satisfaction?

The most satisfying thing about the job of Provost over the last 10 years has been the opportunity to be involved in the hiring of over 800 professors. That's 800 new people we brought to McGill. Most of them are still here. That was a really exciting part of the job, being able to contribute to academic renewal. The only way I was able to do that was to make sure the academic mission was the primary driving force behind the budget.

At McGill, the Provost is delegated by the Principal to be the chief academic officer and the chief budget officer. That means that our academic mission drives all of our resource-allocation decisions. We certainly recognize that to fulfill our academic mission we need good facilities and infrastructure, so obviously we make allowances for that. It's not that you abandon the other things, but you put them in perspective. We need new IT systems, for example, and we need to renovate our libraries. But, how we choose to do those things depends on our academic choices.

In the end, the job of the Provost is about making sure that you have a professoriate at McGill that can compete with the best in the world. And if they can do that, then that will help us continue to attract the best students in the country – I think among the best on the continent – to come to McGill. And they will then become ambassadors to others to encourage them to come as long as our professors keep producing. We think of it as a virtuous cycle in which these investments have been made. We're up probably close to 400 professors (net) over that time period as well, so, yes, that's been pretty satisfying.

I think the second thing that would be really important is good leadership and getting good leadership means recruiting and retaining Deans. And over the time I've been the Provost, I have appointed or reappointed Deans some 23 times, including the four we just chose. The only current Dean that I didn't recruit was Martin Grant who had been confirmed as Dean of Science the week before I became interim Provost in March 2005. …

Read more in the McGill Reporter.