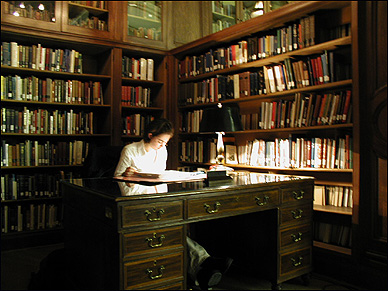 A major renovation of the McIntyre Medical Building's HVAC infrastructure is under way. This project, funded through the Knowledge Infrastructure Program, involves extensive roof work directly above the Osler Library as well as a replacement of the heating, ventilation and air conditioning (HVAC) systems throughout the Library and the McIntyre Building.

In order to protect the Osler collection, the rare and circulating collections from the Osler Library of the History of Medicine will be relocated to a secure, environmentally controlled storage area. The Library and the collection will be inaccessible from April 1 to October 2014. Library users are encouraged to borrow circulating materials needed for research or teaching purposes and to request any rare materials prior to April 1. The requested rare items will be temporarily moved to McGill Library's Rare Books and Special Collection and made accessible to researchers in the reading room.

After April 1, material may be requested through Interlibrary Loans. Osler staff members will also help to find alternative material.

Please note that the Osler Library will continue to offer other services to researchers and students during the renovations, including reference and course support.

For more information please call 514-398-4475 ext. 09873 or email osler.library@mcgill.ca.

The Life Sciences Library reserve collection, services  and study space remain accessible on the 3rd floor. Please note that from May 10 to August 31, room 409 will not be available for use.

For more information regarding Library services and resources at the Osler Library of the History of Medicine and the Life Sciences Library please visit: http://www.mcgill.ca/library/branches/osler.

Questions regarding this renovation project? Please visit: http://www.mcgill.ca/facilities/management.

March 11, 2014