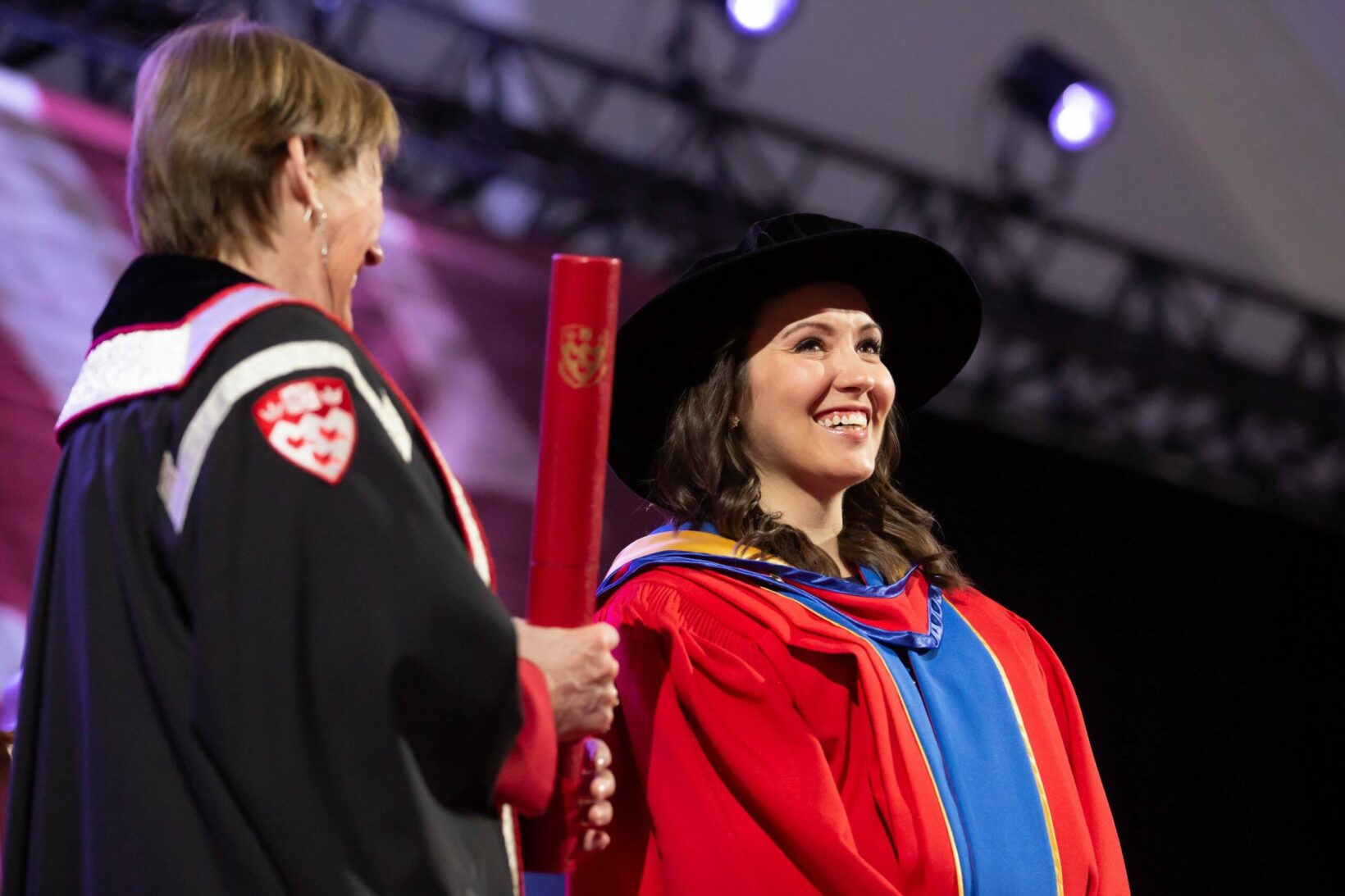 By Matthew Brett

The Osler Award for Outstanding Teaching in the Faculty of Medicine went to Dr. Nicole Ventura during spring convocation this year as a testament to her dedication to the art of anatomy and teaching.

An Assistant Professor in the Department of Anatomy and Cell Biology, and an Associate Member at the Institute of Health Sciences Education, Dr. Ventura says her love for teaching stems from countless eureka moments that she witnesses on a regular basis.

Receiving the Osler Award was particularly humbling for Dr. Ventura because it is a student-nominated award.

"To be celebrated and recognized as an outstanding teacher by professional students is deeply moving," said Dr. Ventura. "I tell my students this often, but I feel so fortunate to be at McGill and have the opportunity to work with such wonderful groups of students, students who are intelligent, dedicated and hard working. I am so grateful for the time spent learning alongside with them – they continually challenge me and teach me so much every year."

A lifelong educator

Dr. Ventura's love for anatomy and teaching emerged during her undergraduate studies in anatomy at the University of Guelph, which is among the few institutions with an undergraduate dissection-based program thanks to donated cadavers.
Guelph had a novel and new outreach program at the time, collaborating with high schools, community colleges and other organizations to introduce anatomy through customized curricula and workshops.

"Anatomy is not just in medicine or health science," said Dr. Ventura. "There are so many other avenues. We had students in fine arts programs that wanted to better understand the contours of the body and better understand musculature so that when they're drawing a hand, for example, they understand which bumps are from tendons and what they look like. It was eye-opening. There's a huge ability to touch multiple fields and you are not just in a tiny anatomy silo."

This encouraged her to do a Master's at Queens in their Anatomical Sciences program, which places a focus on education and teaching. She also completed her PhD at Queens with an open-minded advisor who encouraged her to pursue teaching opportunities while conducting her doctoral research.

"That allowed me to really think about how to develop a career in anatomy that would involve education and research," Dr. Ventura said. She was still wrapping up her PhD when an anatomy teaching position opened at McGill University in 2015 and the rest is history. 

Research on health sciences education

Teaching is the primary mandate of Dr. Ventura's appointment at McGill and she would not have it any other way. Still, she had ideas about how to improve education and this is where the Institute of Health Sciences Education came in.
She started having conversations with Institute Director, Dr. Yvonne Steinert, and found herself drawn to health sciences education research.

"I came to the Institute not having any educational research background and learned as I went," Dr. Ventura said. "You have to be willing and open to new experiences, new challenges, and new opportunities for growth and learning."

Next steps and the heart of teaching

As for next steps, Dr. Ventura is excited to continue teaching, implementing new teaching pedagogies and active learning strategies, and conducting health sciences education research.
"There are a few things I would love to try out in a couple of my courses," she said. "I am also looking forward to getting back into research and supervising students. I would like to continue to learn more about educational scholarship and really develop more of a research program for myself in clinical/anatomy education."

Among her research interests are the implementation of interprofessional education into health science curricula, diagnostic imaging in anatomy, and haptic simulation in the training of future physicians.

At the end of the day, it is all about her students. She recalls a recent student who felt nervous and undeserving in the lead-up to an international anatomy conference. This student ended up presenting beautifully and won the top award for her category.

"Just to see that level of reward for a student who is thinking outside the box, who is dedicated to their learning and who challenges themselves – it's so rewarding," Dr Ventura said. "That's all I need."

July 10, 2019