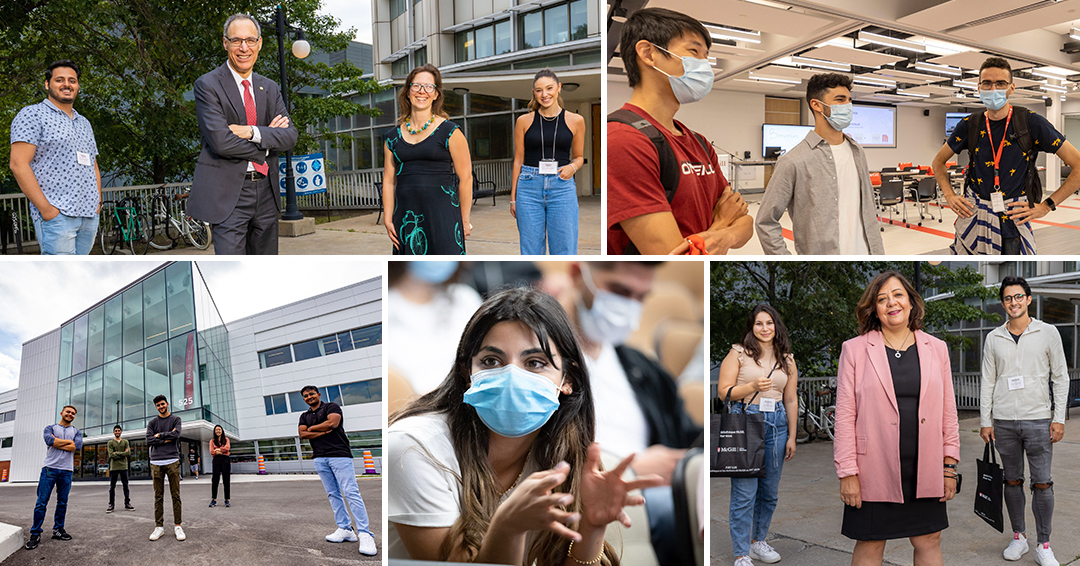 Every year, in August, the Faculty's Medical School buzzes with excitement as faculty and staff at its Montreal and Outaouais Campuses eagerly anticipate the arrival of new students for Orientation Week. They work diligently on putting the final touches in place to make sure the event is as special as possible for the new cohorts of MDCM, Med-P Qualifying Year and Dentistry students.
With 183 MDCM students in Montreal and 24 in Outaouais, the Medicine Class of 2025 makes up the largest medical school cohort in McGill's history, which is especially meaningful during McGill's Bicentennial.
Enthusiasm was particularly high this year given the loosening of COVID-19 restrictions made it possible for the Faculty of Medicine and Health Sciences to safely welcome the Montreal Campus students in person (on a rotating basis) as well as remotely. Campus Outaouais students were able to attend fully in person due to the fewer number.
According to Valérie Guay, who joins the second group of MDCM students at Campus Outaouais, Orientation was very uplifting. "I feel privileged to be a student of medicine at McGill and I will always be grateful. During Orientation Week, we had the honour of meeting many passionate physicians—and some with many decades of practice—which was very inspiring and encouraging!" expressed Guay. "This could only amplify the passion for medicine that is already growing within me, while making me more proud to have chosen McGill's Faculty of Medicine and Health Sciences."
Orientation week signals the start of a new five-year cycle for Med-P students and a four-year cycle for Undergraduate Medical Education (UGME) students. Dr. Mélanie Mondou, Associate Dean of UGME, opened the event with a land acknowledgement and assured students that, "this is certainly the beginning of an enriching journey for all medical and dental students. The Undergraduate Medical Education Team is here to guide and support you, whether you are at the Montreal or Outaouais Campus. Medical and dental students will be able to learn from one another and start collaborating early on, as you will with many healthcare professionals in the future."
Dr. David Eidelman, Vice-Principal (Health Affairs) and Dean of the Faculty of Medicine and Health Scienceswelcomed the Class of 2025. He impressed upon them that, "physicians are entrusted with the lives, the well-being of their patients and that being a doctor is a huge responsibility. There are unwritten rules, or a social contract between physicians and society. We must adhere to the values of professionalism at all times, including compassion, integrity and honesty, respect and collaboration, openness and social responsibility."
Dr. Gilles Brousseau, Vice-Dean and Director of Campus Outaouais, shared his own reflections from when he was a student: "During medical school, I learned a great deal. During my years of practice, l learned more. And, you know what? I am fortunate to still be learning, every day."
"It is the inspiration that comes from our patients that motivates us," explained Dr. Marion Koch, Program Director of Undergraduate Medical Education at Campus Outaouais. "They have incredible confidence in the care we give, and that not only drives us to do the best we can, but also to provide care respectfully and professionally at all times."
Among the other several speakers were Dr. Elham Emami, Dean of the Faculty of Dentistry, who welcomed the incoming cohort of Dentistry students who learn alongside the Medicine students during the first 18 months of their studies. Students also heard from Professor Annmarie Adams, former Chair of the Department of Social Studies of Medicine, and from Head Librarian Dr. Mary Yearl (Osler Library) about the two-hundred-year history of medical education at McGill. Students were humbled by the Indigenous Health presentation in which Elder Charlie Patton graciously participated. By the end of the three-day event, students were better equipped to start medical school armed with the invaluable information and advice they received.
The UGME Orientation is one of the Faculty's biggest events of the year. It is the ideal time for students to meet fellow students with whom they will forge bonds and to gain a better sense of what it takes to become the best physician possible.
"The Orientation experience provided me with the necessary tools to start my Med-P year in confidence, while also intensifying my eagerness to embark on the five-year journey that is medical school," said Jonathan Elkaim, a Med-P student in Montreal. "My favourite part of the experience was being able to see my fellow peers for the first time knowing that these are the wonderful individuals I will be spending the next big chapter of my life with."
The Faculty of Medicine and Health Sciences wishes the Medicine Class of 2025 and its new and returning students—from its six Schools—all the best for this academic year.
Good luck to all!