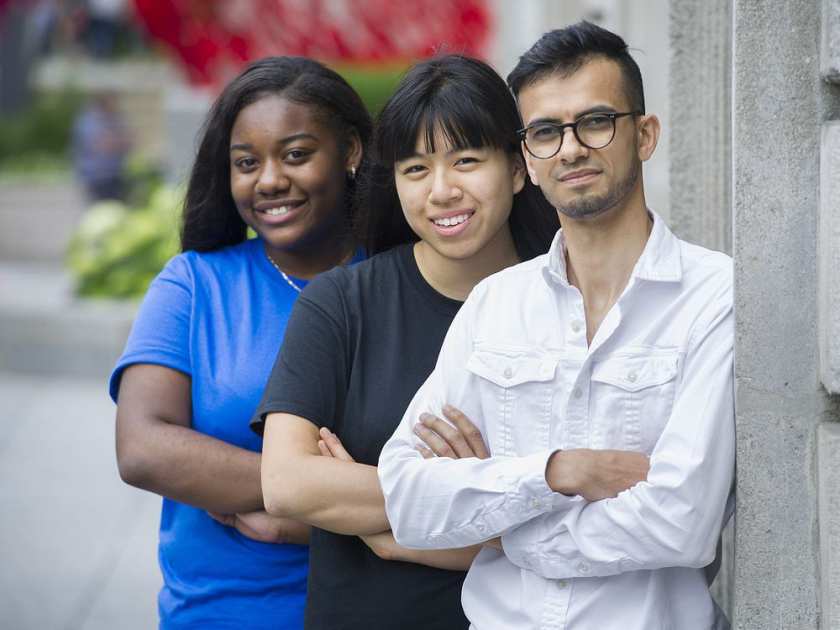 By McGill Reporter Staff

The energy and volume were on high for the Jeopardy game focusing on speech pathology at the recent Explore! Careers in Health Camp. Teams of high school students competed against each other to see which team knew the most about the causes of speech impediments.

That's just one of the activities overseen by the young and enthusiastic volunteer counsellors, all McGill students in the health professions, at the Explore! Camp held from Monday, June 26, to Wednesday June 28. Others included suturing, blood drawing and operating an ultrasound machine on a real human being.

Now in its ninth year, the camp, a Faculty of Medicine initiative, is designed to demystify and make accessible the idea of a career in the health professions to youth from under-represented groups. Forty-four students, from 14 to 17, in Grades 9 to 11, signed up.

Held in both French and English, the three-day camp focused on the health professions: medicine, nursing, dentistry, physical therapy, occupational therapy, speech language therapy, genetics and pharmacology.

University can be intimidating with big campuses and large classes in unfamiliar settings. The Explore! Camp tries to tear down these walls.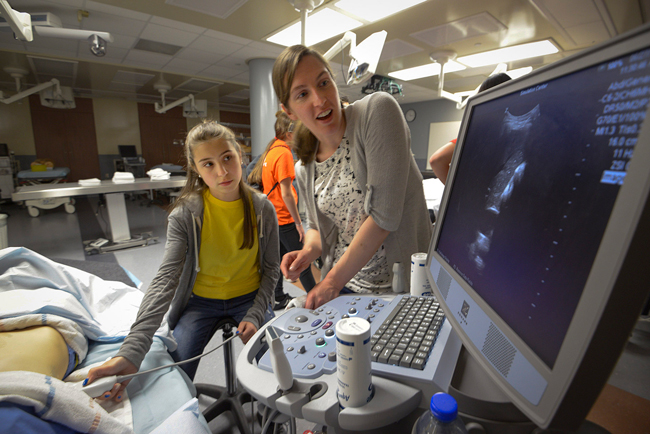 Juan Angelus Bustillo, aged 17, is from Pointe-Calumet, a one-hour drive north of Montreal. It's his second year at the camp, and he he really likes it. "It shows us the possibilities, and is really useful. I am hoping to go to medical school and become a plastic surgeon. The camp gives us ideas about what we can do, and is also a lot of fun."

Liang Chen is a volunteer counsellor in first year medicine. Chen heard about the possibility of volunteering at Clubs Day at the beginning of the school year.  "I wish there had been a camp like this when I was in high school," says Chen. "It can be difficult to understand university and how it works. This gives students a sense of what it's like. Since they stay in Carrefour Sherbrooke they get an idea of what residence is like, too, so it really imitates university life."

Sameer Zuberi, the diversity and engagement officer at the McGill Faculty of Medicine's Social Accountability and Community Engagement Office, says the students are from a cross section of schools in Montreal and in the regions. "We are really trying to get students from under-represented groups to consider careers in the health professions: visible minorities, rural students and students from families on low incomes," says Zuberi.  "If you see yourself reflected in a profession, if you see people like you practicing medicine or other health professions, for example, then you'll more readily seek services from that profession. And you will be more likely to try to pursue the goal of practicing that profession. "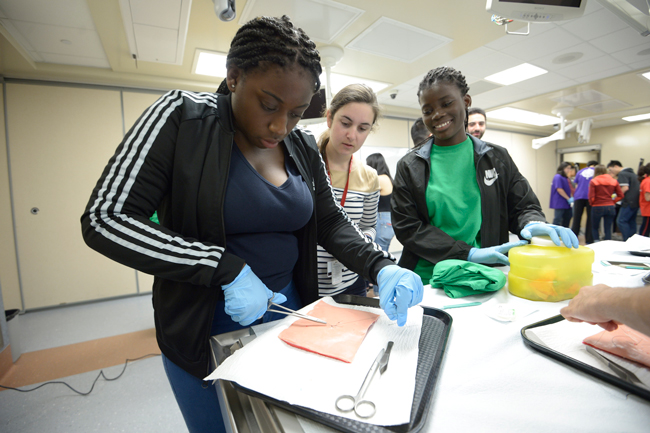 Participants are recruited for the Explore! Camp through high school guidance counsellors, and are selected based on a letter the students write explaining why they want to attend. Schools send letters of endorsement to support the applications.

The camp is completely financed by the Faculty of Medicine.

The lack of health care professionals from minority groups is a systemic problem across Canada. McGill is trying to address the issues through various means, including the Explore! Careers in Health Camp, and mentoring of students interested in careers in the health professions.

Related coverage
Montreal Gazette | McGill camp for high schoolers promotes diversity in health field
CTV News | Broadcast from July 28, 2017 at 20:55
July 5, 2017