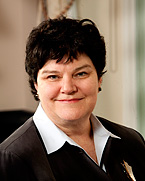 Dr. Jane Aubin, Chief Scientific Officer and Vice-President, Research, for the Canadian Institutes of Health Research (CIHR), will meet with the McGill community to discuss upcoming changes to CIHR's Open Suite of Programs and its Peer Review Process. CIHR would like to hear your feedback on the Design Discussion Document and to exchange ideas on how to move the reform process forward.
When: April 4, 2012 -11:00 AM to 12:30 PM
Where: McIntyre Medical Building, Martin Amphitheatre (Room 504), 3655 promenade Sir William Osler Montreal H3G 1Y6 Quebec Canada

The final design for these important CIHR programs is still evolving, so don't miss your chance to make your voice heard!

About Dr. Aubin
Dr. Jane Aubin was appointed Chief Scientific Officer (CSO) and Vice-President (VP), Research, at CIHR in July 2011. As CSO, Dr. Aubin is responsible for the oversight of all scientific affairs at CIHR and provides CIHR with expert advice on matters relevant to science and technology, potential opportunities and emerging orientations and trends in the national and international health research community. As VP, Research, she is responsible for all aspects of adjudication of grants and awards at CIHR. Finally, as a member of the Scientific Council, she participates in the development, implementation, and reporting on CIHR's research and knowledge translation strategy.