How one Toronto public health doctor is teaching the health impacts of racism and advancing equity in medicine.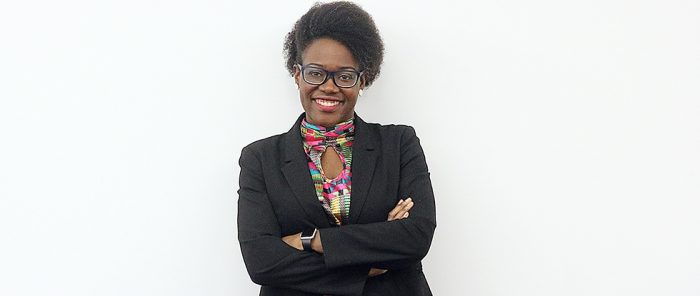 By Mark Witten

Growing up in Montreal's Nigerian and Caribbean communities, Onye Nnorom, MDCM'07, didn't see a career in medicine as a possibility. "I'm not one of those people who said they always knew they wanted to be a doctor," she says.

Despite her stellar grades and keen interest in the sciences and especially biology, Nnorom couldn't identify with the role of physician. "I saw older male physicians in the Nigerian community, but I didn't relate to them as career role models," says Nnorom, a public health physician, who is Black Health Theme Lead in the MD program at the University of Toronto's Temerty Faculty of Medicine and recently became the first Equity, Diversity and Inclusion Lead in the Department of Family and Community Medicine.

Through her advocacy work as president of the Black Physicians' Association of Ontario (BPAO), Nnorom has also been a leader in mentoring and promoting equitable representation of Black students and physicians in medicine provincially and nationally.

Nnorom's perception of medicine and career aspirations changed when her mother's endocrinologist, Dr. Eric Laryea, a McGill professor and staff physician at the Montreal General Hospital, encouraged her to enter a mentorship program he was running for young Black students. The mentors included a young Black female medical student, Ewurabena Simpson, BSc'01, MDCM'05, who is now a pediatric hematologist at CHEO (Children's Hospital of Eastern Ontario).

"Meeting and seeing Ewurabena as a young Black woman in medical school was when it clicked that I could be a physician. She's the person who influenced me most back then," recalls Nnorom, who applied to medical school at the last minute and, with a near perfect GPA from her undergrad science studies at Concordia University, was admitted.

Mentoring and educating in the broadest sense is how Nnorom is powerfully and passionately addressing the many ways in which anti-Black racism can negatively affect health, and working to advance health equity in medicine and improve heath outcomes for the Black population in Canada.

As Black Health Theme Lead, Nnorom provides guidance to her Faculty and develops curriculum content to educate future doctors about Black population health. "We're teaching the students about certain health disparities from a lens where they learn how anti-Black racism is a driver of disparities in health care and health outcomes for the black population in Canada. We're integrating this into the curriculum for all four years of medical education," she says.

In her role as Associate Program Director of the Residency Program in Public Health and Preventive Medicine at U of T's Dalla Lana School of Public Health, Nnorom is helping to educate the next generation of public health specialists on social issues, including economic inequality and racism, that impact and are social determinants of Black community health and wellness.

"Public health is a specialty that focuses on populations. I provide guidance in public health education on specific marginalized populations, including issues such as anti-Black and anti-Indigenous racism. As they become leaders in public health, these graduates will have a deeper understanding of how social factors and structural forms of injustice impact the health of specific populations," she says.

In her time as a medical student at McGill, Nnorom discovered there was an area of medicine, the specialty of public health, where she could focus on the social issues that impact Black immigrant populations, which she knew through her own lived experience as the daughter of Nigerian and Trinidadian parents.

"When I learned about social determinants of health in medical school, I realized that in medicine I could focus on these issues and became determined to apply into the specialty of public health, although I didn't fully understand until much later that a major driver of disparities in health among racialized groups is systematic discrimination, oppression and injustice," she says.

Like her immigrant parents, Nnorom had volunteered in the community for years to help newcomers access services. As a McGill medical student, she volunteered for a YMCA program that helped refugees access health and social services. "That kind of volunteer outreach is where I came from. It was a 'hobby' and I didn't recognize the connection with medicine at first. Someone asked me if I had considered community medicine as a specialty, which is essentially public health and preventive medicine. I looked it up and saw the perfect alignment with what I was doing intuitively. The key fit into the lock," she says.

After doing her family medicine training at St. Michael's Hospital in Toronto, Nnorom obtained a Master of Public Health degree in epidemiology and completed her fellowship training in Public Health and Preventive Medicine at Dalla Lana in 2012. She practised for five years as a family physician and chronic disease prevention lead at TAIBU Community Health Centre, which serves the Black community across Toronto and a highly diverse immigrant population in the local Malvern area.

"We engaged the community with an outreach strategy and were able to increase influenza vaccination and breast cancer screening dramatically. In serving the wider Black community as a physician, I also gained a much better understanding of the experience of systemic racism and its impact on Black population health," she says.

Nnorom's advocacy work with the Black Physicians' Association of Ontario has been seminal in organizing Black physicians and increasing the representation of Black students in medical schools across the country through its mentorship, outreach and other programs. "I've been involved in the BPAO since I was a resident. Over the years we've tried to raise awareness about the impact of anti-Black racism in medicine and have been working with many different groups including the Quebec Black Medical Association to advocate against anti-Black racism in medicine. I'm encouraged that we're now seeing a higher number of Black students going to medical schools across the country than ever before," she says.

But it is as an educator and mentor directly involved in effecting change in medical schools that Nnorom sees her greatest opportunity for advancing health equity in medicine and improving health outcomes for the Black population and all marginalized groups.

"Mentorship is key and needs to be embedded within the medical schools for sustainability," says Nnorom, who strongly supports initiatives led by U of T staff such as Ike Okafor, including outreach programs aimed at Black high school students and the Black Student Application Program, which offers Black students a culturally safe place to apply to medical school. "Those of us who experienced the power of mentorship know we stand on the shoulders of giants who came before us. We too want to lend our shoulders to mentoring the next generation of Black health care professionals."

Nnorom believes that educating and influencing all students in medical school from increasingly diverse backgrounds on these issues offers promise and hope in overcoming the challenges that impede Black health. "For me, the joy is in being involved with young people who are going to be leaders in health and public health, and who really have a great understanding and desire to see that the patients and the communities they serve will be treated with dignity and an understanding of the different factors that lead to better health," she says.

October 27 2020