Sponsored by the McGill Sustainability Project Fund and the Student Services Innovation Fund, Spin Bike Gardens is an excellent tool to destress and optimize the function of your mind and how you feel.  "Even short amounts of cardio exercise can be immediately beneficial to the function of your brain," says nurse Louise Lockhart, who has championed this initiative. "The increased blood to the brain can help you feel less stressed, less sleepy and perhaps even less distracted. Try the bikes for just a few minutes or 20 minutes and see how you feel differently." 

Located at various locations across the McGill campus, the bikes are available for all learners and staff to take an active break from studying or working.

No special attire is required to use the bikes. Users simply need adjust the seat to the proper hip joint height, and hop on. "There's no wrong way to spin," says Lockhart. "A few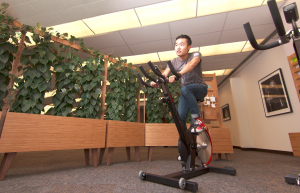 minutes of cardio exercise is a good alternative to coffee to help wake up and feel more alert for learning and studying and it only takes 10 minutes to achieve some of the mental health benefits of spinning." Those wanting a longer ride are asked to free the bike after 20 minutes to allow other users to give it a spin.

For hygiene and hydration purposes Spin Bike Gardens are conveniently located near washrooms and water fountains, and are equipped with quiet fans, and paper towels for wiping down the bike.

To find the Spin Bike Garden nearest you and learn more about the project, visit: https://mcgill.ca/healthymcgill/be-active/spin-bike-gardens

September 7, 2017