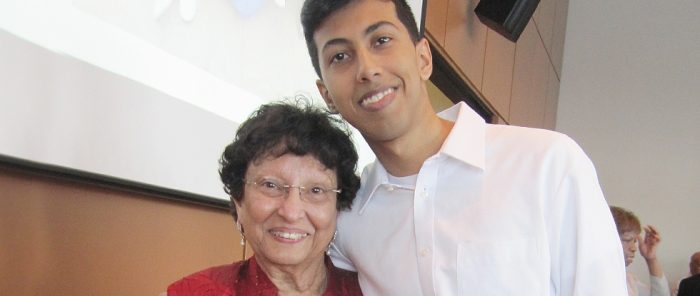 By Philip Fine 

Dr. Dolly Dastoor's contribution to the field of dementia care has been generous. During her decades as a clinical psychologist, she developed a now-standard assessment tool, brought innovative and compassionate design to patient care, and introduced the support group concept to Montrealers living with Alzheimer's. Her generosity has also spread to her religious community: she funded a scholarship and holds a longtime editor position for a Zoroastrian journal. Her generosity has now touched McGill, with the creation of a scholarship in her name that combines dementia research with physical and occupational therapy.

The Dolly Dastoor Research Award was established this year by Dastoor and family, on the occasion of her 80th birthday, to support a graduate student enrolled in the School of Physical and Occupational Therapy (SPOT). The award seeks out students who are conducting research in rehabilitation science, with a particular focus on dementia care.

Dastoor is now retired from her positions as Assistant Professor in the Department of Psychiatry, Co-Director of the Program for Dementia with Psychiatric Co-Morbidity in the Moe Levin Centre at the Douglas Mental Health University Institute and member of the McGill Centre for Studies in Aging. Her thinking behind applying physical and occupational therapy to dementia care comes from seeing the constant introduction of new pharmacological treatments (which she says are too often unsuccessful) and an insufficient focus on keeping patients at home as long as possible.

"When a new molecule would come up, I would always say 'But what about people who are with me? How am I going to treat them? I don't need drugs for them. I need new techniques,'" says Dastoor, who saw many treatment innovations coming from engineers and architects.

It was, in fact, the architect Dr. John Zeisel who she says helped bring about a "paradigm shift" in the early 2000s, with the opening of the Moe Levin Centre. The day centre, memory clinic and temporary overnight facilities at the Douglas were designed to treat dementia patients with respect, she says. "Each patient had a separate room with a separate bathroom. They were not wearing hospital clothes. In addition to hospital food, staff and patients would prepare some cakes and biscuits, bringing memories and giving an aroma of home-baked food. The whole place was designed as a home, with all sorts of furniture." Families of dementia patients coveted the centre, and staff delighted in working there long-term.

Innovation and a sense of humanity have been the themes in Dastoor's career. Born in India, she spent the first 10 years of her career in Nigeria working on projects for both the World Health Organization and the Rockefeller Foundation. One of those projects had her comparing the treatment of schizophrenics by traditional healers in their villages with those being looked after by doctors in hospitals. The outcomes were similar. "In the villages, they would adopt the person with the disease and treat them as family. They just brought them into the fold."

In 1973, Dastoor arrived in Canada and joined the Douglas as a research fellow in geriatrics, and was later hired as a clinical psychologist. In working on various pharmacological research projects, she got involved with the families of patients. One thing she noticed was a need for them to compare notes with one another on how to cope with managing their loved ones' home care. That led to the formation of the Alzheimer Society of Montreal and its first support group, along with a manual on how to organize and what to teach in such groups.

Much of her scientific work has revolved around assessment. She and geriatric psychiatrist and psychiatry professor Martin Cole, BSc'68, MDCM'72, developed the Hierarchic Dementia Scale for Assessment and Prognosis of Dementia. The test measures the loss over time of various cognitive and physical functions and is a dementia assessment tool widely used by physicians to this day.

Dastoor, wearing a McGill sweatshirt on the day of the interview at her South Shore home, says she set up the scholarship fund after a suggestion last year from her son Zubin, BEng'91. She agreed with him to leave a legacy for her at McGill, and for the many alumni in her family, namely son Farahad (BSc'88), daughter Natasha (MDCM'96), and daughter-in-law and SPOT alumna Jasmine (MSc'92), as well as grandson Jehan (pictured above), currently attending.

She is still active in the field of dementia care, giving public talks on memory and successful aging, as well as talking to caregivers on stressors and how to manage them.

The reflex to give has always been part of her family. She remembers cleaning out her late parents' house and finding so many donation receipts. "Our faith teaches us to give back," says Dastoor.

To the woman who has been giving her whole life, the very least we can do now is give to her a very happy 80th birthday wish.

October 20 2020